**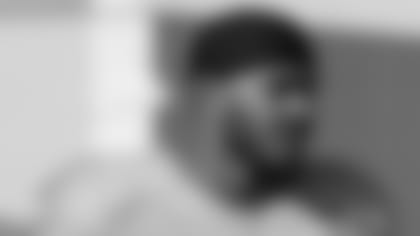 Top draft pick Derrick Morgan took part in training camp practice on Thursday.
NASHVILLE, Tenn.** - The Tennessee Titans are breaking training camp with a bit of good news. Their top pick actually practiced with the team for the first time since being drafted.
Defensive end Derrick Morgan missed most of the offseason, first with a strained hamstring, then a pulled left calf. The 16th pick overall then pulled that same calf early in his first practice of training camp on Aug. 1. He went out a little early for a few snaps against offensive linemen, then went through a session that was more a walkthrough Thursday.
"It felt good just to get some actual real football work in as opposed to just kind of running and conditioning,'' Morgan said (Watch Video). "It felt real good to be out there with teammates and in the swing of things.''
Morgan had gone through individual work Wednesday when the Titans practiced against the Arizona Cardinals, then watched with his helmet perched on his head. This isn't what the former Georgia Tech standout wanted for his first NFL season.
"It's not the ideal way to start off, but it's a little adversity. I've had adversity all through my life. I took it with a positive attitude, got better from it and learned a lot. It's going to be a quick turnaround. I feel confident I'm going to be able to adjust,'' he said.
The end is being counted on to boost the Titans' pass rush and help a defense that ranked next to last in the NFL in 2009 against the pass. He doesn't have much time to translate what he's been watching into action. He should get a few snaps Saturday night with the Titans (1-1) visit Carolina (0-2).
The Titans then wrap up the preseason Sept. 2 against New Orleans before the season opens Sept. 12 with a visit from Oakland.
"He's going to have to work into it, and he's going to have to do it on the field,'' coach Jeff Fisher said of Morgan. "It's one thing to pay attention and watch tape and then to do things and go through walkthroughs. It's another to go through full speed. We're just fortunate he's going to have some opportunities for some full speed reps before the season starts.''
The Titans aren't back at full strength just yet on defense, the unit with the most pressure to improve over 2009.
Defensive tackle Tony Brown (right knee) and linebacker David Thornton (shoulder/pectoral muscle) remain on the physically unable to perform list. Fisher said he's hoping both are getting closer.
"Now if I were to pick, I'd say Tony has probably a better chance than D.T.,'' the coach said.
Starting defensive end William Hayes is recovering from a sprained right knee and is targeting the season opener for his return. Cornerback Cortland Finnegan hasn't played in a preseason game yet as he heals up a groin injury.
And Tennessee has yet to decide on who will start opposite Finnegan, though a three-man competition seems to be down to Jason McCourty, going into his second season, and rookie Alterraun Verner.
Defensive tackle Jovan Haye still thinks the defense has taken a step forward.
"But it'll be very crucial and exciting when those guys come back. I think those guys are going to have big years this year. We need them. We need everybody on that line and looking forward to see those guys come back and get rolling,'' he said.
NOTES: OT Mike Otto had arthroscopic surgery on his right knee Thursday morning. ... Training camp ended with the traditional dizzy bat race for rookies (Watch Dizzy Batt Race). Veterans doused them with ice water and Gatorade, wrapped them with tape as each rookie took his turn going in circles with the bat. Vince Young and Chris Johnson upped the challenge by snapping rookies with wet towels. But RB LeGarrette Blount got the worst of it. Most of the Titans gathered around him and helped dump three coolers of ice water over his head. He showed impressive feet, breaking loose of the tape wrapped from his waist down below his knees.