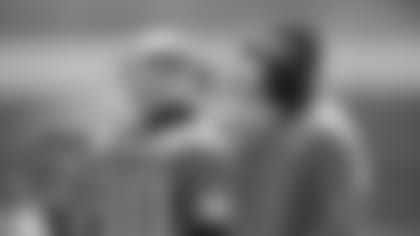 Secondary coach Marcus Robertson is counting on younger players like Jason McCourty to help improve Tennessee's pass defense in 2010.
NASHVILLE, Tenn.** - Safety Chris Hope sees an aggressive defense. Tackle Tony Brown thinks Tennessee is ready for a track meet this season thanks to all the fast, athletic guys around him. Linebacker Stephen Tulloch believes the Titans are group of unknowns ready to make their reputations.

So how much better is Tennessee's defense? Well, a full eight days into training camp, it's tough to tell for sure.

The Titans wrapped up the first week Saturday with Brown and linebacker David Thornton, starters in 2009, still on the physically unable to perform list. End Derrick Morgan, the top draft pick, has yet to practice with the full defense because of an injured calf.

This is a defense that must improve after ranking next to last against the pass last season.

"I think pride makes you improve in that,'' linebacker Will Witherspoon said Saturday.

Witherspoon, signed in March, wasn't part of the defense that struggled in 2009 with injuries, pressuring quarterbacks and allowed 258.7 yards passing per game.

The Titans went younger on defense this season, letting end Kyle Vanden Bosch leave for Detroit and linebacker Keith Bulluck sign with the Giants after tearing his anterior cruciate ligament last December. Cornerback Nick Harper is a third starter no longer here.

Tennessee invested in Brown, giving him a new contract in May, signed Witherspoon and used six of nine draft picks on defense starting with Morgan.

But Brown has yet to practice this offseason as he recovers from surgery on his knee. Neither has Morgan, at least not with the full defense thanks to first a hamstring and separate injuries to his same left calf. At least the Titans got tackle Jason Jones back to start camp, fully recovered from shoulder surgery last December.

Not that coach Jeff Fisher is concerned, not with four weeks left in the preseason.

"We're in good shape. We're going to make the assumption that Derrick is going to return and Tony is going to return with ample time before the season starts. Our front is playing pretty good ... We'll have a lot of competition, there will be some tough decisions we'll have to make there, but when it's all said and done and the dust settles, we'll have a good rotation,'' Fisher said.

Tackle Sen'Derrick Marks is looking much improved going into his second season. Tackle Jovan Haye is 25 pounds lighter and said he hasn't felt this good since 2007 when he had six sacks for Tampa Bay. Fisher said ends William Hayes and Jacob Ford also are doing well.

Hope said the Titans will be very aggressive.

"We're going to be a fast athletic defense, run to the ball. Once Tony Brown and David Thornton and guys like that return, it's only going to add depth to us,'' Hope said.

With Thornton out, Jamie Winborn, Colin Allred and Gerald McRath, suspended for the first four games of the season, are getting plenty of work. In the secondary, rookie Alterraun Verner is competing against Jason McCourty and Ryan Mouton to start at cornerback opposite Cortland Finnegan.

Tye Hill, another offseason signee, hurt a hamstring in the opening minutes of camp and also is working hard to return.

Tulloch said players must step up.

"This is a no-name defense right now. We have to make a name for ourselves. We didn't finish as good as we should've last season. ... People don't know who we are, and we want to make a statement this season,'' Tulloch said.

NOTES: Chris Johnson has a new pair of shoes thanks to Nike sitting in his locker Saturday. On the back of the red and white shoes? "CJ2K'' is written on the back of the left shoe, and "KNOWS'' on the right. He said he will use the shoes for workouts and running. ... The Titans were walking off the field after a padded practice when Hayes tossed a tray of ice water onto Johnson's back for a quick cool down. ... Offensive line coach Mike Munchak was back at work Saturday after getting Friday off to take part in Hall of Fame celebrations in Canton, Ohio. ... The Titans' first day off of camp will be Sunday.