**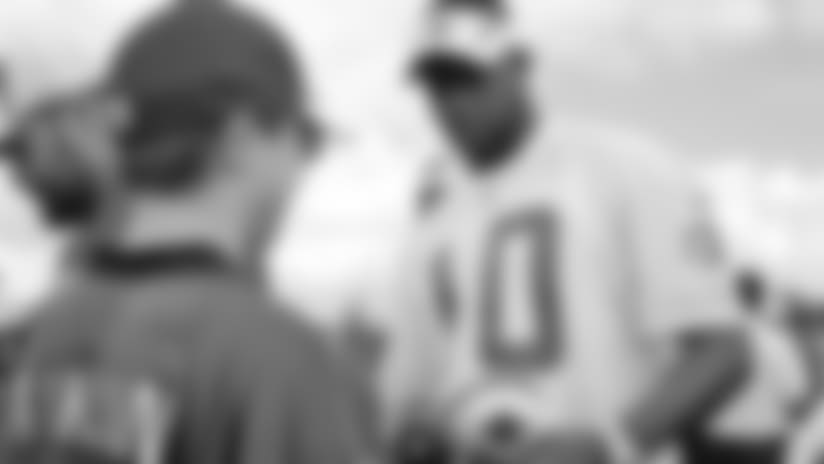 Titans QB Vince Young signs his autograph for a fan during Friday's Pro Bowl practice in Fort Lauderdale.
FORT LAUDERDALE, Fla. –** It was a laid back practice for the AFC Pro Bowl squad on Friday as players concluded their third of four practice sessions for Sunday's NFL all-star game.
It was a special day for the host high school, St. Thomas Aquinas, as students attending the campus had the opportunity to watch practice. The students cheered for many players, but they especially got the attention of Cowboys wide receiver Miles Austin, who took the time to run over and sign autographs and take a few pictures with them.
Titans running back Chris Johnson spent part of Friday's practice talking with Deion Sanders.
"I never thought in my life that I would be standing next to Deion Sanders and joking around with him," said Johnson, who soaked up every moment with the former All-Pro cornerback.
CJ2K continues to jab back and forth with Bengals wide receiver Chad Ochocinco. The players give each other a hard time, all in good fun. "He's a character and a good guy," said Johnson.
Vince Young seems to be on the same page with Ochocinco in just a few days work. They have a nice chemistry going as they have connected on long touchdown passes on consecutive days. Ochocinco presents a nice target and with his personality, will always let you know where he is at all times. 
Kyle Vanden Bosch spent time on the defensive line with Texans defensive end Mario Williams, playing alongside defensive tackles Casey Hampton of the Steelers and Baltimore's Haloti Ngata. Vanden Bosch stayed in on most plays, while Ngata and Vince Wilfork of the Patriots rotated. 
The Make-a-Wish Foundation brought several children to the practices today, including one
special visitor from Nashville. Vanden Bosch had the opportunity to speak with the child for a few minutes to sign autographs and take pictures. All decked out in his Titans gear, the child's face lit up when he got to spend a few moments with one of the players from his favorite team. 
The Titans offensive players lined up in multiple sets today with Mawae snapping the ball to VY in the shotgun with CJ in the backfield, a combination that led to Johnson's 2,000-yard rushing season in 2009. That was just one of the combinations the players were involved in as the offense worked on goal line situations, among other offensive packages.
NOTES: Rumor has it Ochocinco will kick at some point during Sunday's game for the AFC squad. He has been working on his kickoffs this week, and attempted a 40-yard field goal today which he put right through the middle of the uprights.
Asked if he thinks Ochocinco is a good kicker and deserves a chance to kick in the game, CJ2K said, "I'm better."
It remains to be seen if CJ2K adds to his repertoire.
The offensive linemen enjoyed a game of hacky with the football in the end zone during one part of drills. They continue to have a good time together, always making up games to pass the time.
Deion Sanders and Michael Irvin love to razz the players. Ochocinco said he'd find Sanders a pair of size 11 shoes to try and cover him. Deion said he could do it in his dress shoes, but unfortunately the matchup didn't develop. Irvin enjoyed giving a hard time to Darrell Revis of the Jets and said he only needed three yards to separate and score on him.