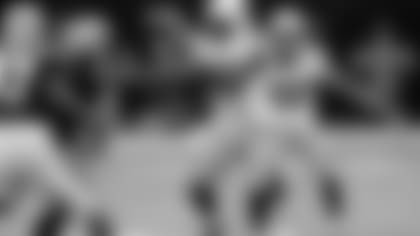 Safety Jordan Babineaux intercepts a pass in Tennessee's preseason finale at New Orleans.
NASHVILLE, Tenn. -Good habits have to start somewhere, and the Tennessee Titans think they've started a handful they plan to carry into the games that really count.
Forcing turnovers, taking care of the ball and playing without committing painful penalties. Those are areas where the Titans struggled in 2010, ranking 30th in total yards penalized, and finishing with a minus-4 turnover differential. This preseason, they allowed an NFL-low 10.5 points per game and forced 10 turnovers — compared to only one interception.
New coach Mike Munchak said numbers like those usually means playoffs, and he thinks that gets contagious whether a game is preseason or regular season.
"I think that's encouraging for a team that hasn't been together for a long period of time," Munchak said. "You can even see it in practice. Most of you are at practice most of the time, and you didn't see much of that happening in practice. I think we are getting to habits that way, so that's probably as much as wins and losses an important stat as there is as far as we are concerned."
The Titans will find out Sunday in Jacksonville if they can keep it up.
Left tackle Michael Roos isn't sure how much will carry over into the regular season. But he sees the trimming of penalties as each player being that much more focused. Faster-tempo practices also have helped because that's when a lineman gets tired and might false-start or jump offside on defense.
"You're constantly on edge, so you're thinking of your keys," Roos said. "I think it's been working so far."
They've also been shown statistics detailing how much a false start by an offensive lineman or offside penalty by a defensive lineman means during a 2-minute drive.
"If you hold a guy occasionally, that's going to happen. You get put in a bad spot. It's all those other ones, and obviously after the whistle ones, that are just a matter of the same thing of being focused and making sure you're smart about it," Roos said.
Tennessee had 29 penalties for 270 yards in the 2010 preseason and then racked up 1,040 yards off penalties in the regular season. Only three teams had more penalties than Tennessee's 128, and Philadelphia was the lone team making the playoffs from that group.
This preseason, the Titans were flagged 22 times for 170 yards.
"We don't want to shoot ourselves in the foot," linebacker Will Witherspoon said. "We don't want to go ahead and put ourselves behind the 8-ball. Do what we need to do to minimize the penalties and bad plays and move forward from here."
Defensive tackle Shaun Smith, who signed as a free agent after the lockout, remembers being on the practice squad in Dallas in 2003 when an offside penalty by a lineman meant a jog to the sideline to be chewed out by then-coach Bill Parcells. He doesn't want Munchak to get any ideas, but he thinks the Titans can continue limiting offside penalties.
He credits defensive coordinator Jerry Gray and defensive line coach Tracy Rocker with installing discipline up front.
"We want to be aggressive, but key the ball and get off. So far we've been good. Hopefully we don't get jinxed and have a bunch of offside in the regular season," Smith said. "We should be fine. Guys are getting after it and being mentally sound."
NOTES: Munchak said Monday that Jason McCourty will start at cornerback opposite Cortland Finnegan after alternating with Alterraun Verner during the preseason. McCourty was the starter last season until he broke his arm against the Giants, and Verner replaced him for the rest of the season. ... DE Jason Jones is expected to return to practice Wednesday. He hurt his left knee Aug. 20 against St. Louis. ... Chris Johnson said he isn't holding back in practice worrying about avoiding a hamstring injury, and he already feels comfortable with the changes to the offense made by coordinator Chris Palmer.