NASHVILLE – Josh Corey envisions brighter days ahead.
"At some point, the lines are going to be painted on the field, and the scoreboards are going to be turned on," said Corey, Football Outreach Manager for the Titans. "And at some point, the kids are going to be dressed out, and we're going to be playing football, hopefully this fall."
But for the time being, because of the coronavirus pandemic, football has been put on hold.
And right now, no one is sure when the clock will start on the return to meetings, practices, scrimmages, and eventually, games.
In the meantime, Corey and the Titans wanted to do something to support youth and middle school organizations in the area, in an effort help them get ahead of the game when it is time to hit the field.
During a time when NFL, college and high school football teams deal with plenty of questions, the Titans became the first and only NFL team to partner with USA Football to host a series of free webinars for local youth league coaches and commissioners.
Also, with youth and middle school football coaches currently quarantined at home and unable to attend certification classes or clinics, the Titans stepped up as USA Football began offering their online youth coach certification course. The Titans have decided to cover the $15 fee for up to 400 coaches in the region, across Tennessee and into north Alabama and southern Kentucky as well.
"What we are doing is a two-pronged approach to help support (these coaches)," said Corey, a former high school football coach who works in the team's community relations department, coordinating all of the team's football-related outreach efforts. "We were very pleased with the coaches' participation, and very pleased with the content that was offered to them.
"And now we want to see these coaches get their certification through USA for the upcoming season."
USA Football CEO and Executive Director Scott Hallenbeck lauded the Titans for their efforts.
"The Titans' commitment to youth football matches the excitement of their thrilling January playoff run – and it always has," Hallenbeck said. 
"The biggest winners from the team's coach certification scholarships and our co-hosted webinars are our kids. The Titans may be the first NFL team to hold a webinar series with us, but they won't be the last. We work with every NFL club and many college programs – they're learning of the innovation coming out of Tennessee and are pursuing similar initiatives with us to support young players and families across our sport."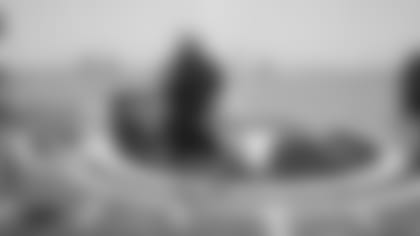 The webinars, which began on April 20 and wrapped up on Monday night, welcomed hundreds of registrants. The topics included USA Football's "Prep for Contact" to teach blocking and tackling, "Building Better Programs and Players," and "Technique and Scheme." The presentations were led by USA Football and top high school coaches, with consultation from Corey.
The online youth certification courses should be ramped up for youth and middle school coaches later this week. In previous years, the Titans held a youth and middle school certification clinic for coaches in June, in addition to a Coaches Clinic for high school coaches and a 7-on-7 passing tournament for high school teams in July.
USA Football's nationally accredited Youth Coach Certification is available online. The Titans will provide a registration code to youth and middle school coaches in the Nashville area for a certification to benefit their kids.
USA Football is the sport's national governing body and a member of the U.S. Olympic & Paralympic Committee. The independent non-profit offers the only youth football coach education accredited by the U.S. Center for Coaching Excellence. More than 700,000 coach certifications have been completed through USA Football since 2012.
"Obviously we are all trying to be creative and come up with different programming that still supports our coaches – youth and high school football in general – while we are all away from the office and aren't able to have those personal interactions," Corey said.
"We were trying to find some ways to think outside-the-box on how we could still serve our coaches and commissioners in youth football, and this was something that was definitely unique. I've gotten text messages from commissioners and some emails from different youth coaches showing their gratitude and appreciation for us thinking about them during this time. We are very happy with the attendance and the feedback from the coaches has been really good, so we feel good about that."