**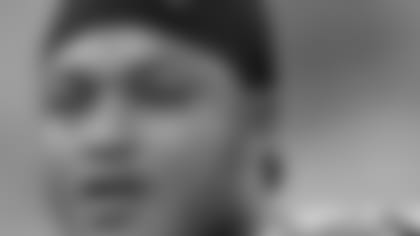 LenDale White (pictured) is now a Seahawk after the Titans traded the running back and defensive tackle Kevin Vickerson to Seattle on Saturday.
NASHVILLE, Tenn. -** A newsworthy trade involving running back LenDale White grabbed the spotlight as the final four rounds of the NFL draft began Saturday.
Cincinnati wide receiver Mardy Gilyard was chosen by St. Louis to begin the fourth round as the Rams further bolstered their anemic offense.
Moments later, new Seahawks coach Pete Carroll dealt for one of his mainstays at Southern California, getting White from the Tennessee Titans for Seattle's fourth-rounder and sixth-rounder. The Seahawks also got defensive tackle Kevin Vickerson, and the Titans selected UCLA cornerback Alterraun Verner with the spot acquired in the deal.
"Obviously, we had been shopping both players since early yesterday. I thought it worked out well, we'll move on and we'll replace them. Both of them were key members of this football team, but it was time to move on," Fisher said of the trade that came about this morning. "They were contributors to this football team. It's hard to evaluate value because value is strictly an opinion. But that shows you what kind of value there was. We wanted the pick, so we went ahead and made the trade."
Fisher was elated to get Alterraun, a player the Titans coveted on Day 1.
"We were able to get the player we coveted since late last night," Fisher added. "I got a call from a club immediately after we took him and they said 'Congratulations, that was our guy.' It went well for us. We felt like a trade was the best way to accomplish what we needed to do."
Of Alteerraun, Fisher said, "He's a great young man off the field. He is just an outstanding person, very, very dedicated, committed to the game and works hard. His success on the field is largely contributed to his ability to prepare and put himself in position to make plays."
The burly and bruising White helped Carroll win a national championship with the Trojans. But he lost his starting job to Chris Johnson in 2009.
"As far as Lendale falling out of favor, he practiced, he was prepared to play. I can't blame him for wanting him to play more...considering the circumstances, he handled things," Fisher said. "There were issues I don't need to bring up, but I think he handled things reasonably well.  There were just issues that sometimes players have."
Losing White likely forces the Titans to add depth at running back, but Fisher said the move was necessary to get the highly coveted Alterraun.
"It wasn't difficult at all," Fisher said. "We wanted to go get the player. We have a terrific running back (Chris Johnson) and a very talented backup in Javon (Ringer), and there's plenty of running backs out there to add depth, but Javon is having a great offseason."
St. Louis made quarterback Sam Bradford the first overall selection Thursday night and began the second round Friday by choosing offensive lineman Rodger Saffold from Indiana.
Gilyard was pick No. 99 overall and one of the most high-profile players still available. He should help the Rams on kick returns, too.
Among the notable players still waiting to be drafted were Mississippi quarterback Jevan Snead and USC running back Joe McKnight.