**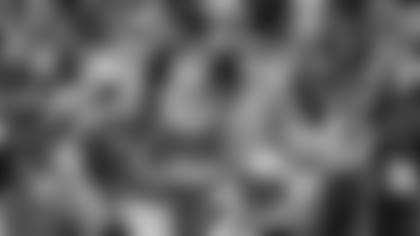 Chris Johnson scored both Titans touchdowns on his record-setting day.
SEATTLE --** Chris Johnson's blockers grinned widely as they posed for pictures on an emptying field, standing behind a young rusher they turned into a star.
Johnson became the sixth player in NFL history to rush for 2,000 yards in a season, then scored the go-ahead touchdown on a 1-yard run with 4:33 remaining to send Tennessee to a 17-13 victory over the Seattle Seahawks in the season finale Sunday.
The second-year dynamo ran right, cut back inside and jumped over center Kevin Mawae for a 4-yard gain early in the fourth quarter to join Eric Dickerson, Jamal Lewis, Barry Sanders, Terrell Davis and O.J. Simpson in the 2,000-yard club.
Dickerson is the only one to have done it as early into his career as the 24-year-old from East Carolina.
"There are a lot of great backs that have played this game that have never reached that milestone," said veteran tight end Alge Crumpler, who was hugging Johnson before and during the game. "For C.J. to do it at such a young age is a phenomenal performance."
The durable Johnson ran 36 times -- three short of Earl Campbell's franchise record set in 1981 against Seattle -- for 134 yards and both of the touchdowns for the Titans (8-8), against a Seahawks defense that banged him repeatedly while geared to stop him from making history on it.
"Those were hard yards today," Titans coach Jeff Fisher said. "And you have to compliment him, because throughout the season he practiced every single day. I think he took two days off the whole season.
"That's an amazing feat."
Johnson finished with 2,006 yards. But his teammates and his coach rued a penalty that negated his only breakout run of the day -- and a shot at the biggest record: Dickerson's mark of 2,105 yards rushing set in 1984.
Game officials tossed the ball to the Titans' sideline after Johnson passed 2,000 yards with 9½ minutes left in the game. Otherwise, there was little acknowledgment of Johnson's second major milestone of the day, which came on his 32nd carry and while Seattle's Colin Cole was helped off with an injury.
Four plays earlier, a holding penalty wiped out what would have been a far flashier way for Johnson to reach the milestone: a 62-yard touchdown romp.
"We were going for the big record," Johnson said on the field immediately after the game. "They called the long one back, and that kind of hurt.
Tennessee's linemen began to celebrate and Johnson was set to break into a celebration dance in the back of the end zone. Then they all realized referee Ed Hochuli had thrown a late penalty flag near the line of scrimmage. The flag nearly hit Mawae's arms, which were raised to salute Johnson.
Had Hochuli not called holding on fullback Ahmard Hall's lead block of linebacker David Hawthorne, Johnson would have been 52 yards away from Dickerson's record.
"The ruling was that (Hawthorne) was hooked with both arms at the point of attack, and pulled away from where the ball carrier ran right by him," Hochuli told a pool reporter after the game.
Crumpler said he walked up to Hawthorne after the penalty and said to the young fill-in linebacker, "You're messing with history."
Mawae pleaded to Hochuli. Hall said the referee told Mawae he had to throw the flag because the foul was so obvious.
Hall said it was a routine block.
"Yeah, I've done that in all 16 games," he said. "But I don't want to question the call."
Johnson simply put his hands on his hips and jogged to the sideline for a two-play breather, resigned to settling for the 2,000-yard plateau -- and the NFL record for yards from scrimmage in a season.
In the second quarter, Johnson broke Marshall Faulk's 1999 record on a 9-yard pass from Vince Young. That gave Johnson 2,254 yards from scrimmage.
Justin Forsett ran 10 times for 74 yards for the Seahawks (5-11), who have won nine games in two seasons. It's their worst two-year run since 1992-93.
Matt Hasselbeck was 15 for 30 with a touchdown, but he threw a harried interception at the Titans 27 on fourth down with 1:19 remaining. It was his 10th turnover in his last three games.
"If you have a season like this, you got to really take a long, hard look in the mirror, each of us," said Hasselbeck, who set a career high with 17 interceptions.
"It's just disappointing, frustrating."
NOTE: Johnson also passed Campbell to set a franchise record for rushing yards in a season when he gained his 1,935th yard on a 4-yard run late in the first half. Campbell's record had stood since 1980.