**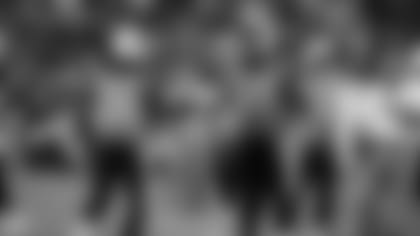 Fullback Ahmard Hall (45) congratulates Chris Johnson (28) after his 8-yard touchdown run gave the Titans a 7-0 lead in the first quarter.
NASHVILLE, Tenn. --** National championship, regular season or simply an exhibition. The setting doesn't seem to matter, not when Vince Young is playing Matt Leinart.
Young outdueled Leinart yet again, Chris Johnson ran for a touchdown and Tennessee beat the Arizona Cardinals 24-10 Monday night in the Titans' preseason home opener.
The Titans (1-1) never trailed as Johnson scored on his sixth carry, an 8-yard TD that capped an 85-yard drive. The All-Pro watched from the bench the rest of the night.
The top two quarterbacks taken in the 2006 draft didn't play very much in the preseason matchup. At least Leinart didn't have to watch Young drive his team down the field late for the win like he did in the 2006 BCS national championship or on this very field last Nov. 29 with a 99-yard drive for a 20-17 win.
"He felt excited about playing," Titans coach Jeff Fisher said of Young. "He was prepared, focused and made plays with his legs, made plays with his arm and was really good on the line of scrimmage as well."
Young has no competition for his starting job these days, and he was 9 of 13 for 128 yards. The former Texas star left after four series with a 10-0 lead, and he said the offense feels like it's coming together.
"We've got to ... keep working," Young said. "Don't get happy with ourselves right now because we still have a long ways to go. But I feel the confidence in myself as well as the receivers is very good right now."
Leinart is trying to hold off Derek Anderson for the starting job in Arizona. Leinart, who starred for Southern California in college, was 4 of 6 for 28 yards but produced no points for a second straight preseason game. The Cardinals (1-1) went three-and-out on each of his three series with the Titans blitzing and showing different looks on defense.
"I'm trying to work to get better," Leinart said. "Guys are counting on me, and I'm confident that we're going to get the job done and I'm going to get the job done. And that's the bottom line."
Arizona coach Ken Whisenhunt wasn't happy that the offense couldn't take advantage of the Titans' pressure, especially on third-and-1 on Leinart's final series with a ball down the sideline to rookie Stephen Williams.
"That's disappointing," Whisenhunt said. "It is a preseason game where we didn't prepare against those kind of blitzes, but we've seen looks like that from our defense so I expect us to handle it better than we did tonight."
Young struggled a bit early but completed three of four passes for 67 yards to set up Johnson's TD run.
On his fourth drive, Young fumbled the ball off his chest while scrambling only to see the ball bounce right back to him as he finished off an 8-yard gain for a first down. Three plays later, Nate Washington got his hands underneath a low throw initially ruled incomplete. Fisher challenged and the replay showed he made the catch.
Young drove the Titans to first-and-goal before they stalled. He tried to scramble up the middle on third down and was sacked by Paris Lenon and Adrian Wilson. Still, Rob Bironas' 29-yard field goal capped the clock-consuming drive.
Anderson replaced Leinart and gave the Cardinals a brief spark against the Titans' first-team defense. He completed a 13-yarder to Steve Breaston for Arizona's first first down of the game. He also found Williams, starting in place of Larry Fitzgerald (sprained knee), on a 37-yard pass.
Working from the Tennessee 6, Anderson overthrew Breaston in the end zone and couldn't connect with Williams before the Cardinals settled for a 19-yard field goal from Jay Feely in the second quarter.
The Titans certainly looked energized playing under the lights in the first game at LP Field since a May flood covered the field and parking lot with water. The Cardinals looked a bit tired from the trip east in an exhibition preceding a joint practice between the teams Wednesday at the Titans' headquarters.
The flood was remembered with a moment of silence before the national anthem.
"We were very, very fortunate here," Fisher said of minor damage to the stadium. "This was the last of Nashville's worries, and we were just very fortunate."
Samkon Gado, signed when rookie Stafon Johnson dislocated his right ankle in the Titans' preseason-opening loss at Seattle, scored on a pair of 4-yard TD runs in the third quarter.
Max Hall was intercepted in his brief duty behind Anderson, but he did find Max Komar for a 22-yard TD midway through the fourth.
NOTES: Titans CB Pete Ittersagan suffered a concussion on the team's second punt of the game. He laid on the field for a few minutes before walking off. ... Titans rookie WR Marc Mariani had a 60-yard kickoff return as the seventh-round pick out of Montana competes for a roster spot.