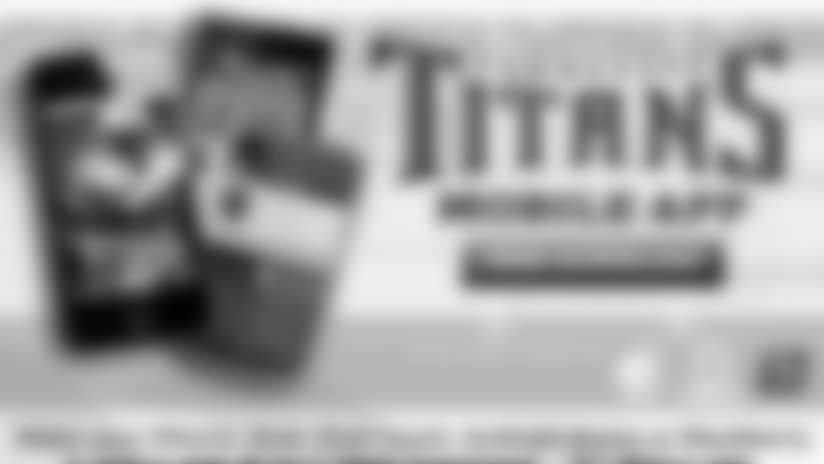 ](http://apps.yinzcam.com/nfl/ten)


NASHVILLE, Tenn. -- The Tennessee Titans will stream periods of their 2013 training camp practices live on Tennessee Titans Mobile, the team's official app available for free on iPhone, iPad, iPod Touch, Android and Blackberry devices.
The beginning portion (warm-ups and individual drills) of each of the select training camp practices will be streamed live (weather permitting) on Tennessee Titans Mobile, giving fans who can't be at Saint Thomas Sports Park an exclusive look at the 2013 team.
See and hear the excitement of Titans training camp in the palm of your hand, while getting an early look at an improved Titans squad that added several new players through free agency and the NFL Draft in 2013.
The Titans take the field for their first training practice on Thursday afternoon, July 25. The team will conduct 12 open practices, free to the public, starting Friday, July 26 and through the weekend.
TITANS APP/TRAINING CAMP LIVE STREAMING START TIMES (all times CST)
• Thursday, July 25 - 4:00 p.m.
• Friday, July 26 - 6:45 p.m.
• Saturday, July 27  3:15 p.m.
• Sunday, July 28 - 6:45 p.m.
• Tuesday, July 30 - 6:45 p.m.
• Wednesday, July 31 - 3:15 p.m.
• Thursday, Aug. 1 - 3:15 p.m.
• Friday, Aug. 2 - 3:15 p.m.
• Monday, Aug. 5 - 4:00 p.m.
• Tuesday, Aug. 6 - 3:30 p.m.
• Wednesday, Aug. 7 - 10:45 a.m.
• Saturday, Aug. 10 - 3:25 p.m.
• Sunday, Aug. 11 - 6:45 p.m.
• Monday, Aug. 13 - 3:15 p.m.
• Thursday, Aug. 15 - 3:30 p.m.
• Monday, Aug. 19 - 2:45 p.m.
](http://apps.yinzcam.com/nfl/ten)
Additional Features on Tennessee Titans Mobile:
• Live video and on-demand press conferences with Titans players and head coach Mike Munchak
• Exclusive video content, including daily practice reports and episodes and features from "Titans All-Access"
• Latest news, game previews, community headlines and blogs
• Push notification alerts with real-time breaking news from the Titans
• Aggregated twitter feed with real-time updates from fans and the team
• One-click social media sharing of all Titans content, live check-ins
• Photo galleries from games, community events and Titans cheerleader photo shoots
• Fantasy football tracker allowing fans to keep track of their favorite fantasy players
• Team roster, depth chart, schedule, statistics and injury reports
• Real-time statistics and scores from the official NFL stats engine, head-to-head stats of the matchup, player stats, drive-by-drive stats, box score, out-of-town scores around the league
• NFL standings, scores, schedules, draft recaps and analysis
• Schedule of upcoming games, and scores/stats of previous games from the season, ticket purchase for games
• Interactive LP Field maps
• Titans cheerleaders section
• Evolving home-screen: Pre-game, in-game, post-game, off-season countdown, draft-day
• More features to come in 2013!