**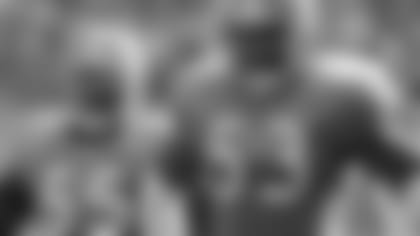 Titans middle linebacker Stephen Tulloch (55) said he learned how to be a pro watching from the veteran Bulluck (53).
NASHVILLE, Tenn. --** Keith Bulluck stormed from sideline to sideline in a Titans uniform for 10 seasons, upending opposing running backs and tossing down quarterbacks.
On Sunday, however, the team's third all-time leading tackler will be on the opposing sideline wearing his No. 53 in a New York Giants uniform and trying to get his red-gloved hands on Tennessee running back Chris Johnson and quarterback Vince Young.
New York (1-1) hosts Tennessee (1-1) in New Meadowlands Stadium at noon (CT) Sunday as both teams try to rebound from disappointing performances in Week 2.
Titans fullback Ahmard Hall said Bulluck is one of his good friends off the field, but it will be "strictly business" as Hall blocks Bulluck and other Giants defenders in hopes of giving Johnson a window for big gains.
"I was here with him for four years, so I definitely understand how he approaches the game, how he takes on blocks, what he's looking for," Hall said. "He's the same with me. He's had four training camps with me so he understands I'm going to come in there and bring it every play. He's probably relaying that message. We definitely know each other well, but it's strictly business between the white lines."
Johnson had 142 yards on 27 carries in Tennessee's season-opening win over Oakland, but Pittsburgh held him to 34 yards on 16 carries by building a lead from the opening kickoff and capitalizing on seven turnovers by the Titans. Johnson broke free for a 76-yard touchdown run against the Raiders, but had an 85-yard score against the Steelers nullified by a holding penalty.
Johnson said he anticipates a fun game against Bulluck, based on seeing the linebacker at practice the past two seasons.
"He's going to talk a lot," Johnson said. "It will be pretty strange. Seeing him in a blue jersey is going to be kind of different."
Full-contact will be the norm, unlike most Titans practices.
"I definitely noticed that the Titans were coming to town," Bulluck said. "I'm just trying to find ways to get on the field. I would like to play more. I think I can help this team out a lot. I feel like this will be my first football game of the year. The only difference between this and when I was practicing with them is that I get to tackle them."
Hall said taking care of the football is an area of emphasis this week.
"It's the No. 1 thing we're going out there to change," Hall said. "Protect the ball, no turnovers, no penalties, nothing that can kill a drive without their defense making plays."
Johnson added:  "The bounce-back is going to be pretty easy, just no turnovers. If we don't have seven turnovers, it will be a whole different game. The defense is playing great, so if our offense can put up some points, we should be alright."
Tennessee drafted Bulluck out of Syracuse in 2000, and he still has a home in the Nashville area. He was leading the Titans with 118 tackles in 2009 when he suffered a torn ACL late in the season. The first major injury of his career ended his consecutive games played streak at 135, which is tied for the fourth-longest span in franchise history. Bulluck recorded 1,265 tackles, which trails only Gregg Bingham (1,970) and Robert Brazile (1,281) in franchise history.
From 2002-08, Bulluck led the Titans in tackles six times, and went to the Pro Bowl in 2003. He said it will be interesting to play against former Titans teammates that he watched mature and develop.
"I've seen them go from young pups to big dogs … to the very good football players that they are now," Bulluck said.
Bulluck signed with the Giants as an unrestricted free agent in the offseason, and he and the Titans have had different perspectives on how negotiations for a new contract went. His impact in the Titans' locker room remains fresh.
Tennessee middle linebacker Stephen Tulloch said Bulluck took him under his wings when Tulluch arrived as a "wide-eyed, 21-year-old player." Tulloch said Bulluck told him to keep working hard, stay in his playbook and take care of his body.
"It's going to be interesting," Tulloch said. "The man has done wonders here in Nashville, and I'm happy for his success. As you know, Ahmard Hall is our fullback, and he'll be looking for him, and CJ will be looking to break some big runs.
"We know (Bulluck is) motivated," Tulloch added. "He's geared up for this one for sure. We look forward to the challenge."