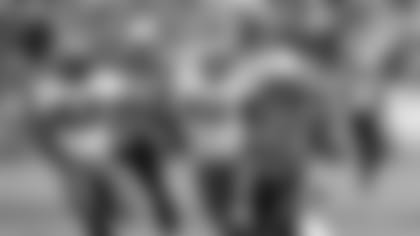 Chris Johnson was back on track, rushing for 190 yards in Tennessee's 23-17 victory over the Bucs.
NASHVILLE, Tenn. - Chris Johnson and the Tennessee Titans are coming off their best game in two years running the ball. Now they face a new challenge.
Prove they've really worked out all the kinks.
The timing would be perfect if the Titans and Johnson finally are back on track and stay around the playoff chase. They head to Buffalo (5-6) on Sunday looking to put together their first winning streak since September trailing the Houston Texans (8-3) in the AFC South, but tied with the Jets and Denver at 6-5 a game out of the last wild-card spot.
"We're thinking yeah, we're heading in the right direction,'' Titans coach Mike Munchak said. "We'd rather run the ball well now than necessarily the beginning of the season so we'll look at it that way. We think we're doing a lot better things in the last few weeks than we had been earlier in the season so we need these next five weeks to be the best games we've had.''
Munchak said the key is building on that now.
"When you have success at something finally ... the confidence builds for everybody. For Chris, for the line, for the play-caller, the whole bit. Going up to Buffalo, you feel good about what you're starting to become and now you see what happens the next five weeks.''
The Titans had been mired at the bottom of the NFL in yards rushing per game for the past few weeks. Rushing for 202 yards as a team in the 23-17 win over Tampa Bay bumped Tennessee up to 30th averaging 88.6 yards per game. They did it on a day so wet Johnson tried two different types of gloves before opting to go barehanded.
Johnson is the one who has taken the brunt of the criticism and the boos after sitting out all preseason before getting his $53.5 million deal for leading the NFL in yards rushing between 2008 and 2010. After his best rushing effort since Nov. 1, 2009, he said it's just one game.
"We've got five more games to go so it's a situation where I just want to be consistent to finish out this year going up, standing up, keep going on until you start to have a good game, then have a bad game. I just want to be consistent,'' Johnson said.
That might be because Johnson ran for a season-high 130 yards in a win at Carolina on Nov. 13 only to be held to a season-low 13 yards in a loss Nov. 23 at Atlanta.
The Titans knew they'd have the chance to run against Tampa Bay even with right tackle David Stewart out with a calf injury. They clicked across the board with linemen, tight ends and receivers holding their blocks and Johnson running through some big holes compared to what he's seen much of this season.
Johnson also showed flashes of the speed he appeared to have lost.
"It was just giving me room to run and make plays and the receivers did a good job getting some blocks down the field and things like that,'' Johnson said. "I feel like a lot of the running plays we ran we executed well.''
It really was the first time Matt Hasselbeck saw the running game that helped convince him to sign with Tennessee after the lockout ended. Johnson was responsible for six of the Titans' 10 biggest plays with runs of 34, 25, 24, 20, 15 and 12 yards.
"We just had some explosive runs there,'' Hasselbeck said.
The Titans need to be able to run in December. Munchak is taking the approach that they need to win out regardless of how many injuries the Texans have at quarterback to make sure Tennessee's regular season finale at Houston on Jan. 1 means something.
After Sunday's trip to Buffalo, the Titans host New Orleans (7-3), travel to winless Indianapolis and host Jacksonville (3-8).
"We're aware of where we are in the standings every week and what our situation is, and that's why we have to realize how important this game is for us,'' Munchak said. "We can't have any slip-ups. ... We've got to win if we're going to have a chance to play more than 16 games.''
NOTES: Munchak said CB Tommie Campbell sprained his left shoulder, but did not dislocate the joint. Whether he's able to play against Buffalo will depend on how much soreness he has in the shoulder. ... TE Jared Cook said he passed all concussion tests and felt fine Monday. ... Munchak said RT David Stewart, who missed only his second start since 2006 against the Bucs, is feeling better and may be able to practice Wednesday.