DRAFT POSITION SET:  Based on their 7-9 finish in the 2013 regular season, the Titans own the 11th pick in the first round of the 2014 NFL Draft.  The seven-round draft order is set by the reverse finish in the league standings, with the non-playoff teams occupying slots 1-20.  There were nine teams that finished with records of 6-10 or worse and four total teams, including the Titans, Detroit Lions, New York Giants and St. Louis Rams, which finished with 7-9 records.  Ties between teams with identical records are broken based on strength of schedule (lowest opponents' winning percentage picks first, etc.), and of the 7-9 teams, the Titans finished with the second-lowest strength of schedule (.504) behind Detroit.  In the second round, the Titans will rotate up to the 10th position, the 42nd overall selection. 
FOUR TAKEAWAYS BY THE DEFENSE:** With two interceptions and two fumble recoveries against the Texans, the Titans tied their season high, set Sept. 29 vs. the New York Jets, with four takeaways. They were plus-three in turnover margin, their second-highest of the campaign and their highest since the Jets game. 
TITANS TOTAL 80 CARRIES OVER TWO WEEKS: The Titans totaled 36 rushing attempts for 151 yards against the Texans.  Over a two-week span, including their 44-carry outing at Jacksonville on Dec. 22, they accumulated 80 carries for 333 rushing yards.
WINNING AT LP FIELD: The Titans returned to the win column at LP Field, where they last won a game on Sept. 29 against the New York Jets.  The team has an all-time record in the regular season of 72-48 in 15 full seasons at LP Field.  All 154 preseason, postseason and regular-season games at the venue have been sold out. 
2014 OPPONENTS: The Titans now know all 16 of their opponents for the 2014 regular season.  At LP Field, they will host the Houston Texans, Indianapolis Colts, Jacksonville Jaguars, Cleveland Browns, Pittsburgh Steelers, Dallas Cowboys and New York Jets.  On the road, they will face the Texans, Colts, Jaguars, Baltimore Ravens, Cincinnati Bengals, Philadelphia Eagles, Washington Redskins and Kansas City Chiefs.  Exact dates and times for regular-season games as well as the preseason schedule are typically released by the NFL in April.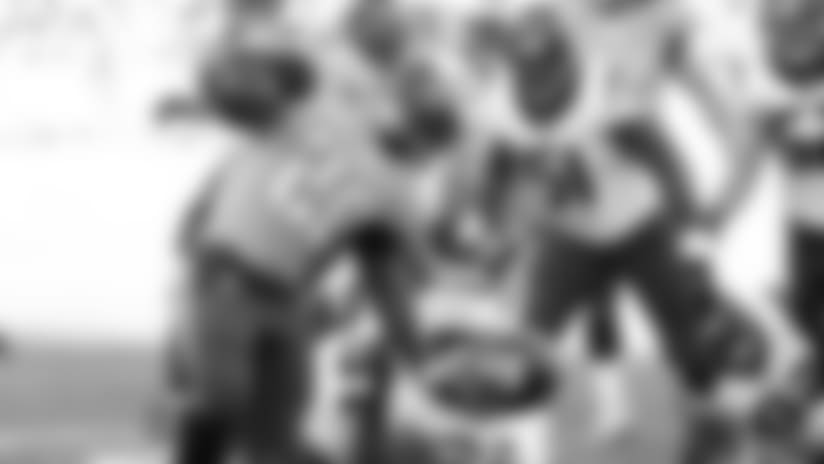 ](http://www.titansonline.com/media-center/photo-gallery/Week-17-Houston-Texans-at-Tennessee-Titans/b554e1e3-34dc-4319-b129-0431b1632409)
Chris Johnson rushed 27 times for 127 yards and this touchdown for his sixth consecutive season with at least 1,000 rushing yards.
Click here for a slideshow from Tennessee's win.
CHRIS JOHNSON IN RARE COMPANY: Chris Johnson carried the ball 27 times for 127 yards and a touchdown against the Texans, notching his 35th career game with at least 100 rushing yards and his second in 2013.  On a 23-yard run in the second quarter, he went over the 1,000-yard rushing mark for the season.  In doing so, he became the sixth player in NFL history to record at least 1,000 rushing yards in each of his first six seasons, joining the select company of Barry Sanders, Curtis Martin, LaDainian Tomlinson, Eric Dickerson and Corey Dillon.  Johnson's 7,965 rushing yards rank eighth in NFL history after a player's first six seasons, trailing only Dickerson (9,915), Tomlinson (9,176), Emmitt Smith (8,956), Adrian Peterson (8,849), Sanders (8,672), Walter Payton (8,386) and Earl Campbell (8,296). 
JOHNSON OVER 2,000 CAREER RECEIVING YARDS: Chris Johnson reached the 2,000-yard receiving mark for his career in the first half.  He became the second player in franchise history to have 7,000 career rushing yards and 2,000 career receiving yards, joining Eddie George.  He also is the fourth active NFL player to do so, joining Steven Jackson, Frank Gore and Maurice Jones-Drew.                                                                                                                               
WRIGHT'S TOTAL AMONG BEST IN FRANCHISE HISTORY:**Kendall Wright totaled five receptions against the Texans for 50 yards, including a 34-yard reception in the second quarter.  For the season, he led the team with 94 catches and 1,079 receiving yards and scored a pair of touchdowns.  His reception total ranks fifth in franchise history for a single season, behind only Charlie Hennigan's 101 receptions in 1964, Haywood Jeffires' 100 receptions in 1991, Derrick Mason's 96 receptions in 2004 and Mason's 95 catches in 2003.  Wright's 1,079 receiving yards are the most by a Titans player since 2004, when Drew Bennett (1,247) and Mason (1,168) each finished with more than 1,100.
WALKER REACHES 60 RECEPTIONS IN 2013: Delanie Walkerrecorded three receptions for 29 yards.  His third reception of the game gave him a career-high 60 catches on the season.  Also, Walker became the only tight end in franchise history other than Titans Ring of Honor member Frank Wycheck to reach 60 receptions in a single season.  Wycheck accomplished the feat five times from 1997 through 2001, including 70 receptions in both 1998 and 2000 to establish the record for Titans/Oilers tight ends.
GRIFFIN SEALS VICTORY WITH INTERCEPTION: Safety Michael Griffin sealed the victory with his first interception of the season, picking off a Matt Schaub pass with 1:01 on the clock in the fourth quarter.  Griffin's 22 career interceptions tied with Marcus Robertson's career output (1991-00) for 12th place in franchise history. Among franchise safeties only, Griffin and Robertson are tied for fifth on the list. 
MORGAN GETS SIXTH SACK OF 2013: Derrick Morgan notched his sixth sack of the season, taking down Matt Schaub for a six-yard loss in the fourth quarter.  Morgan has 16.5 sacks in his four-year career.
AYERS INTERCEPTION: In the second half, Akeem Ayers was involved in his second takeaway of the game.  After forcing a fumble in the second quarter, he snared a Matt Schaub pass in the third quarter that first ricocheted off the helmet of safety Bernard Pollard.  It was the second interception of Ayers' career (first of 2013).
BIG PLAY BY WILLIAMS: In the third quarter, Damian Williams caught a pass from Ryan Fitzpatrick for 32 yards to convert a 3rd-and-17.  It was Williams' longest reception since a 48-yard catch against the Jacksonville Jaguars on Dec. 24, 2011. 
BIG KICKS BY BIRONAS: Rob Bironas made a pair of field goals in the first half (42 and 55 yards) and another field goal in the second half (37 yards).  His second field goal of the game was from 55 yards as time expired in the first half.  The effort tied for the fourth-longest field goal in franchise history. It gave Bironas four career field goals of 55-plus yards (60, 56, 55 and 55).  He entered the weekend as the third-most accurate kicker in NFL history from at least 50 yards.
BIRONAS SCORES 116 POINTS IN 2013: Rob Bironas finished the season with 116 total points, the 10th-highest single-season total in franchise history.  He made 25 out of 29 field goal attempts and all 41 extra point attempts.  He now holds five of the top 10 season scoring totals in franchise history. 
TITANS WIN CHALLENGE: In the second quarter, DeAndre Hopkins appeared to catch a pass from Matt Schaub before fumbling and recovering the ball.  It would have given the Texans a first down.  However, Titans coach Mike Munchak challenged the call, and it was reversed to an incompletion, leading to a Texans punt.  It was the second call reversed by a Titans challenge in 2013.
AYERS AND BROWN COMBINE FOR TAKEAWAY: In the second quarter, a pair of Titans linebackers combined for a takeaway.  Akeem Ayers knocked the ball away from Jonathan Grimes, and Zach Brown was there to recover it.  It was Ayers' third career forced fumble (first of 2013) and Brown's third career fumble recovery (first of 2013).
BIG PLAY BY WASHINGTON: In the first quarter, Ryan Fitzpatrick connected with Nate Washington for a 32-yard pass. It was Washington's 10th reception of 20 or more yards in 2013.  Washington's two receptions for 39 yards against the Texans gave him season totals of 58 catches (third on team) for 919 yards (second on team) and three touchdowns (fourth on team).  His reception and yardage totals were the second-best of his nine-year career in each category. 
KERN SETS TEAM RECORD WITH ALL SIX PUNTS INSIDE THE 20: Brett Kern had one of the best days of his six-year career, punting six times for a 42.2-yard gross average and a 42.2-yard net average.  All six of his punts were placed inside Houston's 20-yard line, giving him a new career high and a new franchise record (statistic kept since 1976).  Late in the fourth quarter, he helped seal the game with a 56-yard punt that pinned the Texans on their own nine-yard line.  On the next play, the Titans defense recorded an interception. 
SECOND CONSECUTIVE STINGILY START: For the second consecutive week, right tackle David Stewart was out of the lineup due to injury.  Byron Stingily filled in for Stewart again, giving the third-year lineman four career starts.  
CASEY OUT WITH KNEE INJURY, FINISHES WITH 10.5 SACKS: Jurrell Casey missed the finale due to a knee injury, unable to add to his total of 10.5 sacks in 2013.  Among Titans/Oilers defensive tackles since sacks became an official individual statistic in 1982, his 10.5 sacks were second only to the 13.0 posted by Ray Childress in 1992.  Antonio Johnson started for Casey against the Texans.
TITANS INACTIVES: The Titans' seven inactive players were quarterback Tyler Wilson, wide receiver Michael Preston, wide receiver Kenny Britt, cornerback Khalid Wooten, offensive lineman Kevin Matthews, tackle David Stewart and defensive tackle Jurrell Casey.