NASHVILLE – Titans tight end Tommy Hudson, like so many others across the state, was locked into the weather alerts early Saturday morning as tornadoes ripped across the region.
In Hudson's mind, protecting his wife and eight-month-old daughter was paramount, and on this day, he considered himself lucky when the sun came up in Nashville.
This time, tornadoes spared the city.
But not far away, others were far less fortunate, as a deadly tornado outbreak claimed lives, and flattened towns.
Later that day, Hudson did get some disappointing personal news. The Titans placed him on Injured Reserve on Saturday because of the ankle injury he suffered against the Patriots. Since it was his second stint on IR, Hudson knew his 2021 season was over.
And, after seeing the news coverage of the catastrophic destruction a mammoth tornado did in Mayfield, Kentucky, Hudson also knew this:
"This was the first time in my life I had the time to help, and the financial means to help," Hudson said on Tuesday night. "I knew I wanted to do anything I could do, to try and do something positive for people who were in desperate need at a dark time. I could only imagine what some of those people were going through."
He got in his truck at 5 a.m. on Sunday morning and drove to Mayfield, Ky, roughly two hours north of Nashville.
Then on Tuesday morning, Hudson went back to Mayfield again, this time with Titans teammate and fellow tight end Anthony Firkser.
"It's devastating, what those people are going through," Hudson said. "The foundation of their houses, they've been ripped up, and everything is mangled from as far as you can see. It's total destruction. The downtown brick buildings are rubble, churches are rubble, peoples' homes are gone.
"The pictures you've seen, they don't do it justice. It looks like a bomb went off. Everything is flattened, trees are uprooted."
"I can only imagine how it feels to lose everything," Hudson continued, after recalling some of the people he talked to in the town in recent days. "You wake up one day, and it's a normal day, and by the time you go to bed your house is flattened and you don't have anything. … You are left picking through rubble, trying to find anything.
"They are still searching for bodies, people who are missing. It's the saddest thing I've ever seen in my life."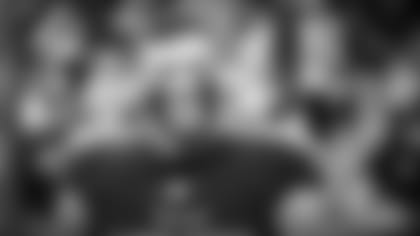 Officials say residents of Kentucky counties where the tornadoes killed dozens of people could be without heat, water or electricity in frigid temperatures for weeks or longer.
At least 88 people — including 74 in Kentucky — were killed by the tornado outbreak. Kentucky Gov. Andy Beshear called the storm the "most severe tornado event in Kentucky's history." Mayfield, a town of roughly 10,000, appears to have suffered the brunt of it. The storm leveled the Mayfield Consumer Products candle factory, where more than 100 people were working, and many were killed there.
Hudson, who initially signed with the Titans as an undrafted free agent from Arizona State, played in five games for the Titans this season before suffering the ankle injury.
Hudson made the drive to Mayfield on Sunday by himself, and he said he did what he could to help any way he could.
Firkser volunteered to join him on Tuesday, and they had a jam-packed day.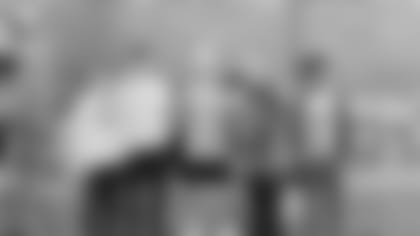 Hudson and Firkser went to Costco on Monday and loaded up Hudson's truck with food and water, batteries, diapers and wipes, along with two generators. Dream Center gave them supplies as well, from tarps to gloves to First Aid kits.
Hudson and Firkser dropped some of the supplies off at Catalyst Church in Mayfield on Tuesday. The Titans teammates delivered goods, and some Titans shirts and hats, while lifting spirits. They also spent part of the day in Paducah, Ky., where many of the residents of Mayfield, roughly 30 miles to the south, are now living in hotel rooms – their property in garbage bags, since their homes were destroyed.
Titans tight ends coach Luke Steckel, after learning of Hudson's efforts, said he wasn't surprised. At the time, Steckel wasn't aware of the fact Firkser used his day off on Tuesday to help as well.
"He is a special person, and he is always thinking of what he can do to help others," Steckel said of Hudson. "Him going up to Kentucky and lending a helping hand doesn't surprise me one bit. To go up there and bring awareness to that area, it was a tragedy. Far too many lives were lost, there's been countless destruction all over that state.
"But he is committed to serving those around him. It makes me proud to be his coach, and to know him, that he would take that opportunity to go up and help our neighbors in need in Kentucky. It speaks to his maturity, his selflessness, and how he is not just as a football player but as a citizen."
Hudson said he and Firkser probably got the most satisfaction from putting smiles on the faces of those devastated by the storms.
The NFL players spent time with the Mayfield High football team, and coaching staff.
When they handed them Titans gear, they lit up, he said.
"The supplies we brought, it obviously is going to help,' Hudson said. "But the experience of just being there for them to lift them up, to take their minds off of everything they've been though, that was the coolest part. It was nice to be a positive in a dark times in their lives."
Hudson hopes others will continue to do their part to help.
He said he's encouraged by the massive amount of donations and supplies made to help those in the community in recent days.
"We did whatever we could, but hopefully we lifted some spirits by being there, too," Hudson said. "And hopefully more people will continue to donate and help. Everybody cares right now, but in a few weeks, when it's out of the news cycle, a lot of people will forget. But this is not something you recover from in a week or two. These people are going to need help for a long time."
Hudson said the lasting image from his time spent in Mayfield will be of a woman who crawled out from under her heavily damaged house as he came by.
Like so many others, the woman was desperately trying to find any items she could that might be worth saving.
Hudson gave the woman water, a blanket, and a Titans shirt.
"And when I told her I was with the Titans, she started crying and gave me a hug," Hudson recalled. "She told me she'd been a Steelers fan her whole life, but she said, "I'm a Titans fan now."
"I think about that moment, and that made me feel really good. The only thing I did for that woman was give her a blanket and water, and a shirt, but just to see what it meant to her, it's something I'll never forget. And, for at least a little while, instead of her looking through the rubble of her home, she was talking to someone she felt cared about her, and wanted to help. It was nice to be a positive at such a dark time in her life."