**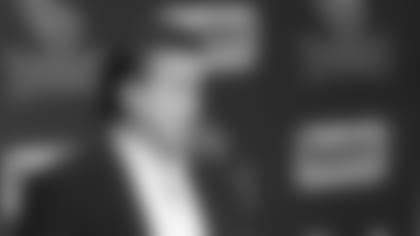 Titans head coach Jeff Fisher addresses reporters Monday at Baptist Sports Park.
NASHVILLE, Tenn. —** Titans owner Bud Adams isn't rushing into a decision yet on whether it's time to fire the NFL's longest-tenured coach in Jeff Fisher or part with Vince Young, the franchise quarterback he ordered drafted back in 2006.
"I will make the decisions that I feel are in the best interest of the team," Adams said in a statement released Monday just before Fisher spoke to reporters. "I do understand the time element involved and would expect to make these decisions in the near future."
Adams met Monday morning in Houston with general manager Mike Reinfeldt and senior executive vice president Steve Underwood, while Fisher wrapped up physicals and held a team meeting in Nashville. More meetings are expected over the next few days.
The Titans had very high expectations for 2010 after winning eight of their final 10 in 2009 to rebound from an 0-6 start that led to Kerry Collins being benched by Adams. They started this season 5-2, then lost receiver Kenny Britt to a strained right hamstring that kept him out of six straight and Young reinjured his right ankle in the same game.
Tennessee lost that game, the first of another six-game skid that turned an AFC South lead into last in the four-team division. The Titans finished Sunday with a 23-20 loss at Indianapolis — their eighth in the final nine games.
The franchise has missed the playoffs two straight years, and Fisher's last playoff win was January 2004. The 6-10 record is the worst since going 4-12 in 2005.
Adams said Fisher's history with the team, the NFL's labor situation and "other challenges" must be considered in his evaluation. Fisher said he would be talking with Reinfeldt and Underwood and also with Adams over the next few days, possibly with a trip to Houston.
This is the first time that Fisher's future with this franchise has been at question at season's end in his 273 games coached here.
Fisher said he would like a decision "the sooner the better" but still believes he has been the best coach for this team. He's under contract for 2011 and repeated that he wants to retire here. He said he knows about the speculation his job's at risk in a hot seat but called it part of the profession.
"It's the same seat I've been sitting in for years," Fisher said. So that's the perception out there. Again, I'm trying to assist the organization in a process that's complicated."
If Fisher stays, then Young's future could be elsewhere. Fisher would not answer if he would coach this team with Young still on the roster, and he said any discussions between Adams and himself on the quarterback would be kept between them. Fisher isn't saying what he thinks about Young until a decision is made.
"We have to address the quarterback situation for the future," Fisher said.
Young did not attend the team's final meeting Monday or show up for an exit physical. Fisher said not all players on injured reserve attend. Pressed on why Young wasn't at the team headquarters, the coach said the quarterback never was instructed not to come in.
"You have to ask him," Fisher said.
The rift between Fisher and Young came Nov. 21 when Young suffered a season-ending injury to his right thumb before telling the coach he was running out on him in front of the locker room as he stormed out.
"The depth of it is between him and V, so that's something you're going to have to ask them," said tight end Bo Scaife, a college teammate of Young's at Texas.
Scaife, a six-year veteran not likely back after being deactivated in two of the Titans' final three games, said he thinks his teammates probably want Fisher back.
"Everyone that leaves talks about how much they miss playing for Fisher and stuff like that. he's loved all across the league by current and former players," Scaife said.
Chris Johnson denied that the team's collapse had anything to do with what happened between Fisher and Young. He noted they already were mired in the six-game skid at the time.
"So I can't sit here and blame it on that," Johnson said.
Johnson said he'd love to play with Young if he returns. Young would be very costly. He is due a $4.25 million roster bonus on the 10th day of the new league year — whenever that starts with a new labor agreement — and an $8.5 million salary for 2011.
Young is 30-17 as a starter but only 13-14 against teams that finished a season at .500 or better.
The Titans have other issues to resolve this offseason.
The defense ranked 26th in total yards allowed and 29th against the pass. The unit that intercepted 12 passes and recovered six fumbles through the first five games came up with only seven turnovers combined through the final nine games. They ranked 30th in total yards penalized with 1,040 yards off 128 penalties with only Oakland (1,276) and Philadelphia (1,101) worse.
Johnson followed up his 2,006-yard rushing season by finishing fourth in the NFL with 1,364 yards. It was the second-best follow-up by any of the NFL's six 2,000-yard rushers, but Johnson said Monday a banged-up thigh limited him during the six-game skid.
His production didn't help as the Titans ranked 27th in total offensive yards and 17th in rushing.
First, Adams has to make his decision.
"We're in a position where we haven't been before," Fisher said. "When you add to that the uncertainty of the labor situation, I can stand up and say the only thing that is certain is uncertainty right now and we have to work through it."