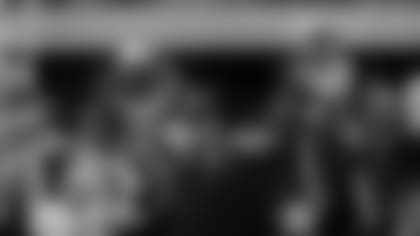 Defensive tackle Jason Jones (91) accounted for two of Tennessee's six sacks on Cowboys QB Tony Romo.
ARLINGTON, Texas --** Dallas made one mistake too many, by an offensive lineman, no less. It was enough for the Tennessee Titans to finally put away the Cowboys.

The Cowboys overcame defensive flubs that got them down by 14 early. They even bounced back from two tipped-pass interceptions thrown by Tony Romo.

But when Marc Colombo was penalized for a celebratory somersault in the end zone, and a breakdown on special teams followed, it was what Tennessee needed for a 34-27 victory Sunday. The Titans (3-2) won their 11th straight against an NFC team, the NFL's longest active non-conference win streak.

Chris Johnson scored a pair of 1-yard touchdowns in the fourth quarter, handing the Cowboys a defeat they won't soon forget.

Dallas (1-3) thought it revived its hopes of playing in the Super Bowl at home because of an impressive victory followed by a bye. This game showed what a mess this club is. Each unit can look at the other and say, "What happened?!"

There were three pass interference penalties on the game-opening drive, the third declined because Tennessee's Nate Washington caught a 24-yard touchdown pass. A sack that would've forced the Titans to punt from midfield was erased by a penalty, leading to the touchdown that put Tennessee up 17-3.

Romo rallied the Cowboys to tie the game at 17 and 20. David Buehler missed a 44-yard field goal that would've put Dallas ahead and Romo had a tipped pass intercepted on the end zone to kill another scoring threat.

Then came another tipped-pass picked off at the 13 and returned to the 1, setting up Johnson's first touchdown of the fourth quarter.

Romo tied it again at 27 on a touchdown throw to Jason Witten, but Colombo was penalized 15 yards for celebrating. Dallas had to kick from farther back and Tennessee's Marc Mariani returned it to the 11. A penalty on the tackle moved the ball to the 5, setting up Johnson's next touchdown.

Romo had the ball twice more, but turned it over on downs and threw another interception -- no tips, just a horrible throw right to a linebacker.

Johnson ran 19 times for 131 yards. Vince Young was 12 of 25 for 173 yards and two touchdowns.

Romo was 31 of 46 for 406 yards, with three TDs and three interceptions. He was sacked six times after going down only once coming in. The Titans came in tied for the NFL sacks lead.

Miles Austin caught nine passes for 166 yards, including a spectacular 69-yarder for a touchdown.

Dallas had won at least three straight after a bye in each of coach Wade Phillips' three seasons.