**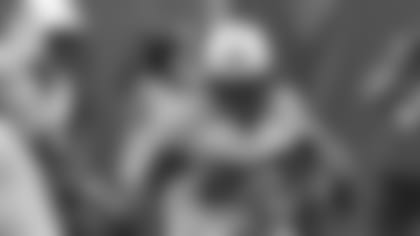 Johnson has no problem carrying the ball as many times as Titans coaches want him to.
NASHVILLE, Tenn. — **The Tennessee Titans have the NFL's best running back in Chris Johnson, and they make sure they give him the ball.
Over and over and over again.
The back who became just the sixth player in league history to run for 2,000 yards last season now leads the league with 75 carries through the first three games. The Associated Press 2009 NFL Offensive Player of the Year had 32 rushes in last week's 29-10 win over the New York Giants.
The only time Johnson has had more carries in a game was the 2009 season finale when he had 32 rushes to reach 2,006 yards.
It's a heavy workload, but Johnson doesn't seem to mind.
"We are 2-1 right now," Johnson said Wednesday when asked on a conference call with Denver reporters if he was getting the ball too much. "Basically what they're doing is working me right and the plays they are calling are working for us right. So whatever the coaches ask, that's up to me and the players to execute what they call."
Johnson came into this season as the NFL's top rusher since entering the league in 2008. Now he ranks fifth this season with 301 yards rushing. Fullback Ahmard Hall said that only pales in comparison to the standard Johnson already has set for himself.
"If any other back rushes for 100 yards a game, they'd be praising him. Everybody expects so much more of CJ. He's having good stats," Hall said.
Johnson ran for 142 yards in an opening win over Oakland, and he had 125 last week against the Giants. But he's had to work hard with those numbers boosted by a 76-yard TD run in the opener, and he had a long run of 42 in New York. An 85-yard touchdown was erased against Pittsburgh by a holding penalty.
Titans coach Jeff Fisher has talked frequently about how Tennessee has surrounded Vince Young with the most talent yet on offense. But those receivers and tight ends have been busier blocking downfield than catching passes.
Through three games, Young has the fewest pass attempts (43) of the top 32 rated quarterbacks in the NFL. But only seven have a better passer rating than his 96.9, and he's second only to Drew Brees in completion percentage at 69.8 percent.
Fisher said winning - whatever it takes - it's all that matters. The coach isn't worried about how many carries Johnson gets.
"He's touching the ball and playing well for us, and he's helped us get the two wins," Fisher said. "One could make the case that if (85-yarder) had not been called back, he could have maybe helped us get three wins in a row."
This is nothing new for the Titans under Fisher. This franchise ranks third in the NFL averaging 124.2 yards rushing per game since the start of 1995, the coach's first full season. So they're used to defenses stacking defenders near the line of scrimmage.
The results show the Titans win giving defenses a heavy dose of Johnson. They are 14-4 when he runs for 100 yards or more, 22-8 when he has at least 15 carries and 8-1 when he is handed the ball at least 25 times a game.
Denver coach Josh McDaniels has studied film of Johnson from last year and the first three games this season in preparing to defend Johnson on Sunday when the Broncos (1-2) visit Nashville. He said they know Johnson will touch the ball a lot.
"We're going to have our hands full, our work cut out for us in terms of trying to contain him and really try to limit the big plays. I think that's the best thing you can say," McDaniels said.
Even with the few passes thrown by the Titans, Johnson remains Young's second-favorite target. Nate Washington had 10 catches for a team-high 152 yards receiving, but Johnson has nine catches.
Some of the Titans do worry about wearing out the 5-foot-11, 191-pound Johnson with the heavy workload. Receiver Justin Gage said they also understand Johnson wants to work.
"He's ready for it. He's built for it, and we have confidence in him carrying it that many times," Gage said.
So how do all those carries feel at the end of the game?
"I play running back so course at the end of the game I'm going to be sore and all of those things," Johnson said. "I just thank the coach, a great coach, and he will do what he thinks to have healthy and keep me healthy through the year and have me feel good the rest of the year.