Each week this season, Titans Online is taking a look back at a game in franchise history against the upcoming opponent.
Dec. 21, 2008: Titans 31, Steelers 14
This flashback highlights fill-in performances by a pair of rookie defensive linemen, two interceptions by Michael Griffin and a balanced offensive attack by the Titans.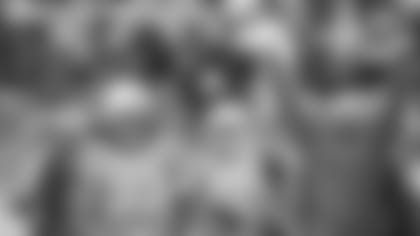 William Hayes and Jason Jones played because of injuries to Albert Haynesworth and Kyle Vanden Bosch and combined for 4.5 sacks, three forced fumbles and a huge fumble recovery at the Tennessee one-yard line in the first quarter.
Jones accounted for 3.5 of the sacks of Ben Roethlisberger and three forced fumbles. Hayes returned a Roethlisberger fumble four yards to deny Pittsburgh's first trip to the red zone in the first quarter and recorded a sack fumble against Roethlisberger that Tony Brown recovered in the second quarter. Brown split the half sack with Jones.
After Pittsburgh claimed a 14-10 lead in the third quarter, Tennessee's defense held the Steelers scoreless the final 24:41.
The Titans reclaimed the lead on the ensuing possession, marching 78 yards in 11 plays. Kerry Collins connected with Justin Gage for a 21-yard completion, and Collins responded to a 10-yard loss on a sack and an incomplete pass with a 19-yard throw to Justin McCareins to set up fourth-and-1 from the Pittsburgh 21. Tennessee opted to go for it, and Chris Johnson not only converted the first down but made his way to the end zone on the play.
Michael Griffin ended Pittsburgh's next possession when he intercepted a pass intended for former Steelers and current Titans receiver Nate Washington and returned it 32 yards to the Pittsburgh 37 with 3:24 left in the third. Tennessee scored on a 1-yard run by LenDale White one play into the fourth quarter to go up 24-14.
Johnson finished with 69 yards on 16 carries and White added 48 yards on 15 attempts. Collins efficiently completed 20 of 29 passes for 215 yards, including a 34-yard TD pass to Gage. McCareins had six catches for 55 yards, and Gage had five receptions for 104.
Griffin sealed the game with emphasis when he picked off Roethlisberger again and returned it 83 yards for a touchdown with 16 seconds left. The interceptions were the sixth and seventh of the season by Griffin.