**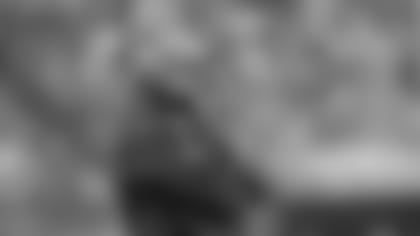 Offensive coordinator Mike Heimerdinger was interviewed for the team's head coaching vacancy on Tuesday.
NASHVILLE, Tenn. -** The Tennessee Titans are staying in-house so far in their search for a new head coach with offensive coordinator Mike Heimerdinger the second coach to interview for the job.
Heimerdinger had been in the news when diagnosed with cancer the day before Thanksgiving. But the 58-year-old Heimerdinger didn't miss a game as he privately went through chemotherapy.
He wasn't asked about his status during the interview and said he is doing fine.
"All my blood tests are good, and every book marker and all, everything's doing good right now. So I've got a couple more rounds to go, but right now I'm doing good," Heimerdinger said.
If the Titans continue talking to head coach possibilities from their own staff, linebackers coach Dave McGinnis could be next to interview as the only former head coach still on staff. He was head coach at Arizona.
San Diego special teams coach Rich Bisaccia, a former associate head coach at Tampa Bay, has been mentioned as a possible candidate, but Chargers team spokesman Bill Johnston said they had not been contacted for permission to talk to the assistant Tuesday.
Heimerdinger has helped produced top offenses both on the ground with Eddie George to Chris Johnson and through the air with the late Steve McNair to Jay Cutler.
In his first stint as coordinator with the Titans between 2000 and 2004, they reached the AFC championship with playoff berths in three of his five seasons. That also included Steve McNair earning co-MVP of the NFL honors in 2003 when the team scored 435 points, the second-highest total in franchise history.
Heimerdinger left for the same job with the New York Jets in 2005. He was with Denver in 2006 and 2007 as assistant head coach working with the offense when Cutler took over as starting quarterback. The Broncos ranked 11th in total offense in Cutler's first full year as a starter in 2007 with the quarterback ranked fifth in the AFC in passer rating.
He rejoined the Titans in 2008 as coordinator when the Titans set a franchise-low with 12 sacks allowed with four players selected to the Pro Bowl.
In 2009, Johnson became the sixth player in NFL history to run for 2,000 yards in Heimerdinger's offense. Johnson also set the NFL record for yards from scrimmage in a season with 2,509 while earning the AP NFL Offensive Player of the Year award. The Titans racked up the second-most yards rushing in franchise history, while ranking second in fewest sacks allowed.
Heimerdinger started coaching in the NFL at Denver where he worked with wide receivers Rod Smith and Ed McCaffrey.
He started coaching in 1975 in Illinois where he was a head coach before moving to the college ranks as a graduate assistant at Florida. He also coached at Air Force, North Texas State, Cal-State Fullerton. He played receiver at Eastern Illinois where he also played baseball.