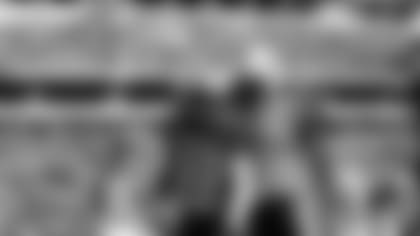 Wide receiver Nate Washington scored twice in Tennessee's 27-10 victory over Indianapolis.
NASHVILLE, Tenn. --The Tennessee Titans are happy to win a game again and avoiding becoming the first team to lose to the Indianapolis Colts.
A running back controversy may be inevitable.
Matt Hasselbeck threw for 224 yards and a touchdown, and Nate Washington scored twice and the Titans beat Indianapolis 27-10 Sunday.
Rob Bironas kicked field goals of 51 and 50 yards, and Jason McCourty recovered a blocked punt in the end zone as the Titans (4-3) snapped a two-game skid that seemed longer with the losses wrapped around the bye week.
"Obviously, the win's the bottom line, and there's things we know we've got to improve upon," Titans coach Mike Munchak said. "But it's good to get to 4-3 the way the last two weeks went. We're going to enjoy this."
The Titans also sacked Curtis Painter twice and intercepted him twice, turning those turnovers into 14 points for their first win in this AFC South rivalry since Oct. 27, 2008.
Hasselbeck credited defense and special teams with helping an offense that had four three-and-outs against a Colts defense giving up 416 yards a game.
"There's a lot to correct, but I'm very excited about the win," Hasselbeck said. "I wish we were all more excited. That's a good win for us at home. It would not have been good if we did not win after two games of losing. It was nice to get back to winning a game."
The Colts (0-8) never really threatened to win their sixth straight in this matchup.
Already without Peyton Manning, who signed autographs in the end zone during warmups, the Colts trailed 20-0 by halftime coming off a 62-7 loss to the New Orleans Saints.
The Colts outgained Tennessee 399-311, but couldn't overcome 10 penalties for 66 yards.
"I think we had eight in the first half or something like that, which is highly uncharacteristic of us," Colts coach Jim Caldwell said. "You couple that with a couple turnovers, and it's a tough day."
The Titans came in with the NFL's worst running game, and Chris Johnson said they thought they'd have a chance to run against a group giving up 150.9 yards per game.
Johnson struggled again and heard more boos from the home fans as he ran 14 times for 34 yards.
This time, backup Javon Ringer was more productive as he ran 14 times for 60 yards. He also caught a team-high five passes for 42 yards and was on the field late in the fourth quarter.
Titans coach Mike Munchak said they were just rotating the backs trying to fix a running game that remains a work in progress. Johnson said people must not be used to the rotation, which Tennessee really hadn't used since 2008 with LenDale White.
"The running game hasn't been where we wanted it to be all year, so I guess they just trying new things," Johnson said.
Indianapolis reshuffled its offensive line again due to injuries with left tackle Anthony Castonzo, left guard Joe Reitz and right guard Ryan Diem out. Jeff Linkenbach swung from right to left tackle.
The Colts pulled within 20-10 when Donald Brown capped an 80-yard drive with a 4-yard TD with 13:29 left. The Colts got their lone sack of Hasselbeck and forced the Titans to punt with 9:38 left. But Titans defensive end Jason Jones tipped Painter's pass into the air, and linebacker Barrett Ruud hauled in the interception with 8:18 remaining.
Hasselbeck found Washington alone in the end zone for a 14-yard TD pass to seal the victory with 5:20 left.
Indy tried to rally and had 1st-and-goal twice down the stretch. But Michael Griffin broke up a fourth-down pass to Dallas Clark with 2:37 left, and Painter missed connecting with Pierre Garcon on the second with 26 seconds remaining.
"We certainly know what we're capable of doing," said Painter, who threw for 250 yards and ran for a team-high 79 yards. "We came out in the second half and moved the ball well and played well. We've just got to get sharper and not be inconsistent."
Tennessee relied on special teams most of the first half as the offense bogged down early, settling for field goals of 51 and 50 yards from Bironas.
Patrick Bailey broke through and blocked Pat McAfee's punt, and McCourty grabbed the ball out of the air before falling to the ground for the TD and a 10-0 lead with 9:52 left in the second.
McCourty also tipped a pass intended for Garcon to Griffin for the interception. That seemed to give the Titans a spark on offense along with Ringer at running back and Johnson watching from the sideline.
With first-and-goal at the Colts 3, Washington ran in for his first rushing TD just before halftime for a 20-0 lead.
NOTES: The Titans improved to 63-37 in their 100th game at LP Field. They are 3-1 at home this season under Munchak. ... The block was the first for McAfee in 172 punts. ... The TD was McCourty's first of his career. ... Griffin has 16 career interceptions. ... Colts WR Blair White hurt his leg in the first quarter and returned. But he left again in the second quarter and did not return. ... Colts CB Terrence Johnson was helped off the field putting little weight on his right leg, but he returned. ... The Colts had been intercepted only three times coming into Sunday, tying St. Louis for the second fewest in the NFL.