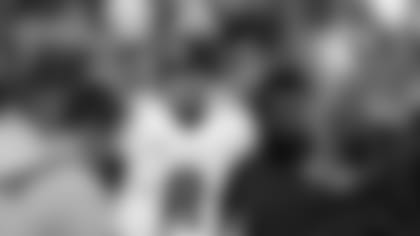 NASHVILLE, Tenn. —Six thoughts after Sunday's loss to the Patriots…
The Titans would love to see quarterback Marcus Mariota play down the stretch. And Mariota would love to play. The last thing the Titans want to do, however, is have Mariota do more damage to his right knee that would require him rehabbing the injury during a good part of the offseason. Interim coach Mike Mularkey said after the game he doesn't think the injury is serious. We'll find out more today. The Titans won't play Mariota if the injury is more serious than initially believed, or if he could do any further damage by playing. A case could be made for playing Mariota, of course. At this point in his career, game experience – and developing better chemistry with other teammates -- is valuable. But the Titans have to think about his long-term health status as well here.
Walker deserves to go to the Pro Bowl**
Tight end Delanie Walker leads NFL tight ends in catches (76), and he's behind only New England's Rob Gronkowski (1,072) and Carolina's Greg Olsen (1,048) in receiving yards among tight ends. Walker has 935 receiving yards on the season. Pro Bowls teams are announced on Tuesday night. Walker barely cracked the Top 10 (he was 9th) in fan voting, which counts one-third. Coaches and players also count one-third each in the voting process. Walker deserves to represent the Titans in Hawaii. He's consistently produced even when opposing defenses know he's Tennessee's top target.
Last two games mean something
I hear the sentiment of some fans – the Titans would be better off losing the last two games because it would help with the positioning for the NFL Draft.  I don't subscribe to that line of thinking, and no one else around the team does either. In the grand scheme of things, the last two games against the Colts and Texans don't mean a lot. The Titans aren't in the playoff hunt. But finishing 5-11 after last year's 2-14 finish would be a decent step. Plus, the Titans have lost 7 of their last 9 games against the Texans, and 11 of 12 to the Colts. It's time to start winning more games against AFC South rivals.
After Mariota returned from his first knee injury in November, the Titans did a much better job protecting him. He was sacked just once in the next two games combined. In his first four games back, he was sacked seven times in four games. Not bad. The Titans haven't done as good a job protecting him in recent weeks, however. Mariota was sacked three times in less than a half on Sunday, a week after being sacked five times against the Jets. On Sunday, one of the sacks was on running back Antonio Andrews, who missed an assignment. But others have been on the o-line. This needs to get cleaned up.
Titans shouldn't trade Mettenberger**
Already, the questions have resurfaced about back-up quarterback Zach Mettenberger's future in Tennessee. After a respectable performance in relief on Sunday against the Patriots, some observers believe the Titans should trade him this offseason while his value is high. In my mind, what happened on Sunday is the exact reason I wouldn't consider trading him. The Titans are solid at the game's most important position. If something should happen to Mariota, they have solid insurance in Mettenberger. He's capable of stepping in and performing well. I'd keep 'em both.
Yeah, I get it – no one wants to see the punter on Sundays. His presence on the field means the offense stalled. But let's recognize the day punter Brett Kern had against the Patriots. Kern punted five times on Sunday, and he averaged 54.4 gross yards and 47.2 net yards, with one punt placed inside the 20. His five punts went for 51, 48, 61, 56 and 56 yards. The gross average was the sixth best in franchise history, and the net average was the ninth best in team history and the eighth best of his career. With a 47.2-yard average, Kern isn't far off from his career-best 47.6-yard average in 2012.
The Tennessee Titans take on the New England Patriots in Week 15 at Gillette Stadium. (Photos: Donn Jones, AP)