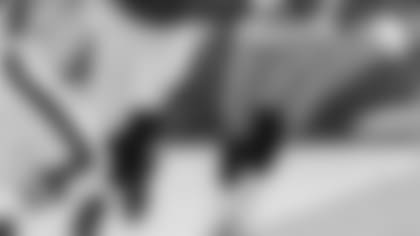 Second-year cornerback Alterraun Verner came up with one of two Tennessee interceptions vs. the Ravens last week.
NASHVILLE, Tenn. — Alterraun Verner remembers every short completion thrown by Denver quarterback Kyle Orton against Tennessee last season.
Verner, the second-year cornerback, made his first career start against the Broncos almost a year ago. Verner was called quickly into action because Jason McCourty fractured his arm the week before. Verner didn't give up huge plays, but Orton methodically moved the ball down the field by completing 35 of 50 passes for 341 yards, averaging 9.7 yards per completion.
The Broncos played possession football, keeping it for more than 35 minutes, despite only rushing  for 19 yards on 20 carries.
"I remember everything about that game," Verner said. "We know he's a top-tier quarterback, so we have to bring our "A" game. I think they're going to see a lot better, more confident player out there — not over-confident but … I feel like since I've got some games under my belt, I know I can trust some things. I think what they saw toward the end of that game is going to be more like what they see now, maybe a little better."
McCourty and Cortland Finnegan started Sunday for the Titans against the Ravens, but Verner moved to cornerback and Finnegan moved to the slot during passing situations. The use of the three cornerbacks led to big plays — an interception by Verner early and an interception by McCourty off a pass tipped by Finnegan in the second half —which helped the Titans defeat Baltimore 26-13.
Titans coach Mike Munchak, who recorded his first career win Sunday, said a big hit by Finnegan early was an important tone setter against the Ravens. Baltimore quarterback Joe Flacco completed 15 of 32 passes for 197 yards and was sacked three times by Titans' defenders.
Munchak said it will be important for Tennessee's defensive line and secondary to work together to disrupt Denver's rhythm on Sunday.
"I think it's up front and the secondary. I think it's just dislodging them with hits, coming up with big hits like Cortland and some of the guys had last week," Munchak said. "Orton is very efficient with the ball. He throws the ball well, they play-action well. He's a good quarterback, so when he throws the short one, you've just got to punish the receivers and try to get that ball out and let them start worrying about what hit they're going to take."
Munchak said he reminded players that the Titans were going into last season's game against Denver after a win, but didn't finish off the Broncos. Denver scored 10 points in the fourth quarter, with help from a 49-yard pass interference penalty with less than two minutes remaining, to upend the Titans 26-20 at LP Field.
"I brought up the fact that we had a very similar situation," Munchak said. "We had just come back from beating New York — a great win for us — and had a home game, didn't play very well, but still had a chance to win the game and didn't. It was a really tough loss for us last year. I'm big on history and know what happened. Some of these guys weren't here for that."
Opposing passers are a combined 32-for-56 passing for 372 yards and one touchdown this season against the Titans.
Finnegan said the early success is partly a function of the direction the defense is receiving under new coordinator Jerry Gray.
"With Coach Gray coming in and definitely helping all of us out and trying to improve our games with technique football, I think that's been huge for all of us," Finnegan said. "Jerry Gray has played the position, so he's got little tidbits that he tells us all the time."
Brandon Lloyd caught 11 passes for 115 yards, and Eddie Royal added eight catches for 113 yards against the Titans last season. Lloyd and Royal didn't play last week because of groin injuries, but Lloyd returned to practice for the Broncos Wednesday.
Verner said the Titans must play well, no matter who is on the field.
"They're a prolific offense. They've got a stable of good players. Eddie Royal is hurt, but they've had Eric Decker stepping up," Verner said. "I don't think we can get overconfident against anybody. We've got to treat every opponent with respect. We definitely have tremendous respect for them, especially since they beat us last year."