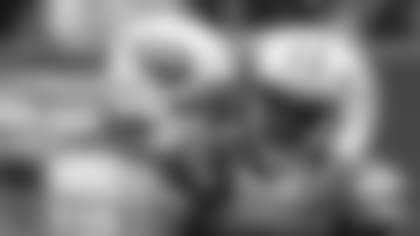 A victory on Sunday would give the Titans a 4-1 record for the fourth time since 1999.
NASHVILLE, Tenn. — The Pittsburgh Steelers may be battling the injury bug, but don't expect any sympathy from Titans players as they prepare for Sunday's AFC matchup of former AFC Central rivals.
Pittsburgh quarterback Ben Roethlisberger, running backs Rashard Mendenhall and Mewelde Moore, and outside linebacker James Harrison were among nine Steelers who didn't practice Wednesday because of injuries. Roethlisberger (foot) spent Wednesday in a walking boot while the team waited on further evaluation, Mendenhall is dealing with a hamstring and Moore has an ankle injury. Harrison suffered a broken eye socket Sunday and is out for several weeks.
Titans head coach Mike Munchak said his team (3-1) must focus and bring intensity regardless of who steps on Heinz Field for the Steelers (2-2).
"They've done a great job with injuries over the years," Munchak said. "They've had trouble on their offensive line, it seems like the last few years, but they've been to the Super Bowl. They seem to find a way to win, and they make big plays. They overcome those things and win football games."
Roethlisberger told reporters Wednesday that doctors are evaluating a foot injury that he suffered in a 17-10 loss at Houston Sunday.
"We'll take it day-by-day and see how it goes," Roethlisberger said. "I can deal with pain. We just want to make sure it's structurally sound and we give our team the best chance to win."
Roethlisberger, who has been sacked 14 times, said the loss of Harrison will be tough for the defense, but Pittsburgh is expected to have starters on its offensive line return.
"That's one of the things that we've kind of prided ourselves here in Pittsburgh is that when one guy's down the next guy steps up and plays even better," Roethlisberger said.
If Roethlisberger can't play, Charlie Batch would likely start at quarterback. Batch relieved Dennis Dixon in Week 2 last year—a 19-11 Steelers' win in which they forced seven Titans turnovers. Dixon had started because Roethlisberger missed the first four games last season because of a suspension.
Titans fullback Ahmard Hall, who returned this week from a four-game suspension, said "it's never a good time to catch the" Steelers. Hall said, however, he has observed missed tackles by Pittsburgh on film from this season's games. Steelers coach Mike Tomlin planned to have two practices in full pads this week.
"All I see is they're missing a lot of tackles—more than they usually do. They usually tackle a lot better," Hall said. "I feel like he thinks he needs to get that stopped up right now, so he'll get that fixed and we'll probably see those guys come out fired up on Sunday."
Pittsburgh ranks second in the NFL in total yards allowed (277 per game), first in passing yards allowed (157.5 per game) and fifth in points allowed (18 per game), but the Steelers rank 22nd in the league in rushing yards allowed (119.5) per game.
Titans receiver Nate Washington, a former Steeler who leads Tennessee with 23 receptions for 320 yards, said he is excited about going to Pittsburgh early in the season. The weather is expected to be sunny and about 70 degrees Fahrenheit.
"This is a big opportunity for our football team," Washington said. "We don't want to be looked at as the fluke team. We want to put together some quality football, and that's what we believe we can do."