**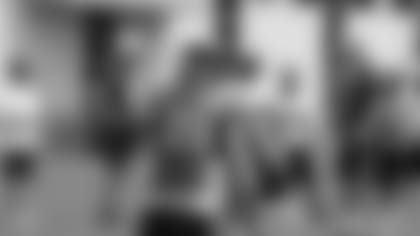 Ryan Mouton (29) is one of four Titans competing for the starting cornerback spot opposite of Cortland Finnegan.
NASHVILLE, Tenn. —** The Tennessee Titans are looking for a new starting cornerback, and they can only hope to be as fortunate as the last time they threw open competition for that job.
Cortland Finnegan won the job in his second year back in 2007 during Adam "Pacman" Jones' season-long suspension and became an All Pro.
The competitors include Jason McCourty, Ryan Mouton, Tye Hill and rookie Alterraun Verner. A young player could earn this job too. McCourty and Mouton are both entering their second season. Hill is a former No. 1 pick signed as a free agent sidelined by a hamstring injury, while veteran Rod Hood was lost with a torn ACL.
So some young cornerbacks have a big opportunity when training camp opens July 31.
"Clearly we've got some great competition at the corner spot," Coach Jeff Fisher said. "Whoever is going to win that job is going to be a good player for us and get the job done. Some of the younger guys like McCourty and Mouton, have really taken advantage of the offseason."
McCourty and Mouton were forced into action last year as rookies, and the results were not good. McCourty started three games and Mouton two with both on the field together during the 59-0 drubbing the Titans took at New England last October.
For now, McCourty has gotten most of the starting reps in the team's organized team activities, which conclude Friday. But no final decision will be made until likely deep into the preseason.
Verner, a fourth-round pick from UCLA in April, is now trying to put himself into the competition as well. He has been taking lots of second-team reps since returning this month after missing the May minicamps with school obligations.