**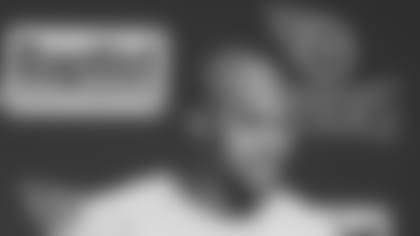 Safety Chris Hope speaks to reporters about returning to Pittsburgh for the season opener.
NASHVILLE, Tenn. -** The Tennessee Titans are in hurry-up mode.
They started the process of trimming their roster to 53 Friday with coaches finalizing their game plan for the NFL's season opener Thursday night in Pittsburgh. The clock already started on the shortest opening week in the league thanks to a travel day as the visitors.
The final roster cuts might be difficult. Fifteen players were released, with seven still go to by Saturday's deadline. The Titans getting their minds right and ready for the defending Super Bowl champs? Not a problem, according to Pro Bowl safety Chris Hope.
"If you can't get ready for a game like you're going to play next Thursday, you're in the wrong business,'' Hope said.
Coach Jeff Fisher refused to discuss any of his team's roster cuts at a news conference Friday . The agent for Mark Jones confirmed the returner and receiver had been released despite signing a two-year contract this offseason. Jones was hampered by a hamstring injury, lost a fumble in his first preseason game and only played in two exhibitions.
Asked about Jones, Fisher refused to comment.
"We've got competitive issues. We've got the process ongoing. We've got a lot of things we have to discuss. That's started, and it's not easy. We'll turn the list in tomorrow,'' Fisher said.
The Tennessean and The Nashville City Paper reported on their Web sites that 18 Titans had been released by Friday night, including punter A.J. Trapasso, whose punt scraped Cowboys Stadium's massive video board this preseason; receiver Paul Williams despite being a third-round pick in 2007; and linebackers Josh Stamer and Rocky Boiman. Stamer missed the preseason with injuries.
But the release of Jones, first reported by The Tennessean, was surprising because it leaves the Titans without anyone on the roster who has returned kicks or punts in the regular season. The best options left are rookie running back Javon Ringer for kickoffs, and rookie cornerback Ryan Mouton, who is recovering from a high ankle sprain.
"We have returners,'' Fisher said. "I'm not concerned about that. We've got guys on the roster that can do it.''
The Titans didn't come into this preseason with many holes to fill anyway after going 13-3 last season.
Tennessee returned 10 starters each on offense and defense. Defensive tackle Jason Jones played in the preseason finale after missing the Titans' other four games with a bruised foot, and he will be starting against Pittsburgh in the spot opened when Albert Haynesworth left as a free agent for Washington. Jones had 3 1/2 sacks against the Steelers last December.
Offensively, Nate Washington is the receiver Tennessee signed in the offseason to take the open spot in the lineup. He is recovering from an injured left hamstring, and his status to play against his old team isn't known.
That's about the lone injury concern for the Titans, and Fisher said the challenge for his team now is going to work.
"It's a commitment to prepare to play as best as you possibly can. It's a little unusual that it falls over the weekend, Labor Day weekend,'' Fisher said.
Not to the Titans. The starters knew they would play very little Thursday night, and they didn't in a 27-13 win over Green Bay, so they've been thinking Pittsburgh for a week already.
"We've been focused forward on what the task is at hand, and that's opening up Thursday night and trying to get a win on the road,'' tight end Alge Crumpler said.