**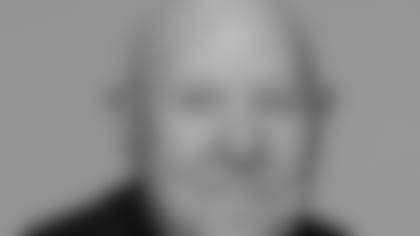 C.O. Brocato has played a key role in identifying the organization's talent for 35 years.
NASHVILLE, Tenn. --** While 80 Titans battle for 53 roster spots at training camp, a plethora of current college players desire to be in an NFL camp next summer.  After observing practice in Nashville this week, Titans scouts are hitting the road as college football season is on the horizon. Looking to continue draft day success, they will analyze hundreds of players in preparation for April's NFL draft.
Scouting seems like a very desirable job, but it is one of the most pressure-packed jobs in sports. Millions of dollars are often at stake when an organization drafts a player. Fortunately for Titans scouts, recent draft picks have panned out really well. Last year's draft investments were pivotal assets in the Titans 2008 season, going 13-3. The Titans are the only team to have their last two first-round draft picks earn a Pro Bowl berth. Michael Griffin, the team's 2007 first rounder, and Chris Johnson from the 2008 draft both made the AFC squad last year.
C.O. Brocato, Titans national supervisor of college scouting, has played a crucial role in acquiring the organization's young talent for 35 years. With 17 years of coaching experience under his belt before he became a scout, he knows the kind of player it takes to be successful in the NFL. Brocato has established an unmatched reputation around the league and was nominated to the Pro Football Hall of Fame three times (2008, 2007 and 2005). ESPN.com featured him in a 2006 story that showcased the NFL's most respected scouts.
"C.O. let me know what they are looking for and what you need to do as a quarterback," said Vince Young, the club's 2006 first-round draft pick. "When you see him come in the building, he is coming in happy, goofy and just to teach you. It is neat to come in contact with that kind of guy because he has a lot of respect for the players. He always wanted to see us succeed and make it to the NFL."
This fall, Brocato, along with nine other Titans college scouts, will search every part of the country to gather information on players. As a member of the National Combine, Titans scouts have access to a list of the top draft eligible players which will grow to about 1,200 players by draft day. Once on the road, scouts will usually visit a school every day for two-week stretches. Watching practices and games is just a small part of the process. While on campus, scouts spend time with coaches to see who they think are the best prospects. Scouts value a coach's input, but they evaluate some players that the coaches do not mention. Communication between college players and scouts is not as prevalent today as in previous eras.
"You used to," said Brocato. "College coaches don't frown on it, but they still have in the back of their minds that if a pro guy talks to one of his players, he might leave early."
Each February, up to 335 draft-eligible players are invited to showcase their abilities at the Scouting Combine in Indianapolis, Ind. The Combine serves as the NFL's intense job interview. Players are tested through exercises including bench press, vertical jump and its marquee event, the 40-yard dash. In 2008, Titans running back Chris Johnson was invited to the Combine after his stellar play at East Carolina University. After showing his explosive speed by running the 40-yard dash in 4.24 seconds, the Titans made Johnson their first pick in the draft. The nationally televised Combine provided him with a level of exposure that was lacking at East Carolina.
"It was a big knock on guys coming from the Conference USA," said Johnson. "Going to the Combine and the Senior Bowl, you get a chance to play against and compete with all of the big time athletes."
Although the Combine is an exceptional opportunity to showcase talent, some top players don't believe they will benefit by working out at the Combine. They may choose to have a pro day on their home turf. Players don't like the possibility of poor Combine results lowering their draft value.  If out of shape or injured, they may only participate in the interviews with coaches and scouts because a disappointing performance at the Combine could mean less money in the NFL.
"The Combine is just part of the puzzle," said Blake Beddingfield, Titans scouting coordinator. "Red flags are raised if a guy comes in out of shape and doesn't perform, but many more factors are calculated. You spend so much time on one individual player. If a scout has a player, he's going to see him on the last year's film, at two-a-day practices, probably at two more fall visits to the school, and at games and practices. The Combine is just another part of the equation."
Players have been successful in the NFL who weren't invited to the Combine during school. Many hidden gems from small schools go unnoticed. Titans starting cornerback Cortland Finnegan was not invited to the Combine when he played at Samford. Proving many scouts wrong, Finnegan has excelled in the NFL. In February, the Milton, Fla., native vacationed in Hawaii after making the Pro Bowl team.
Talent and character are major factors, but the draft room also considers a player's mental game. The Wonderlic Personnel Test is given to evaluate a player's learning and problem-solving abilities.
"You have to see if they can learn," said Brocato. "A lot of people think you just huddle up, line up and run plays. There is a lot more to it than that."
Every day, Titans players spend a lengthy amount of time with coaches in a classroom-type setting. Players and coaches study video for hours to analyze their strengths and struggles.
From 2005-2008, the Titans are the only team to draft five Pro Bowlers. Scouts hope to continue their success in finding players that make an immediate impact.