The Titans said they could see elements of the run game improving when they last played, and it showed Sunday in their first action in two weeks.
Chris Johnson led the way with 150 yards, including a 19-yard game-winning touchdown with less than three minutes remaining, and Tennessee's defense held on late for a 28-21 win over St. Louis at the Edward Jones Dome.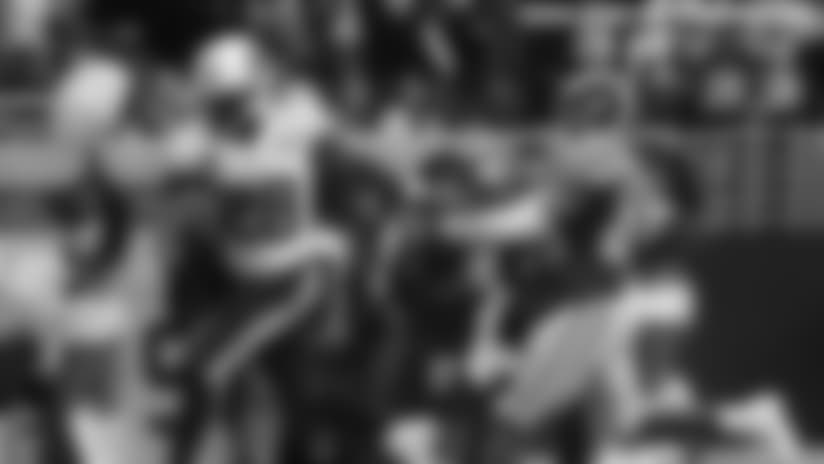 ](http://www.titansonline.com/media-center/photo-gallery/Week-9-Tennessee-Titans-at-St-Louis-Rams/5353bc58-3015-4ce7-9110-9490531eaf40)
Chris Johnson runs for his second rushing touchdown that proved to be the decisive score in the Titans' 28-21 win over the Rams.
Click here for a slideshow from Tennessee's victory.
Johnson said he was looking forward to the Titans' return from their bye week for multiple factors, including the quick artificial surface and the Rams' 4-3 defensive front (for different running lanes than the 3-4 front used by six of Tennessee's first seven opponents). He acted on that enthusiasm by speeding to the edge of the defense as blocks developed and shifted gears on multiple runs.
After the game, Johnson credited the Titans' refinement of details and a joint meeting between running backs and the offensive line after practice Thursday also helped the running game hit its stride.
"This week we did a couple different things," Johnson said. "(The joint meeting) was something we were doing earlier in my career when Kevin Mawae was here, so we switched it up and did that so the offensive line knows what I'm thinking on certain plays and I know what they are thinking on certain plays. It was a situation that corrected the small, minor things."  
Johnson ripped a 23-yarder on the first play from scrimmage of the game to set up a 5-yard TD run by Shonn Greene, scored from 14 yards to tie the game at 14 in the third quarter, and had a 24-yard rush to set up a 5-yard scramble TD by QB Jake Locker early in the fourth quarter.
"We lost the edges. CJ, obviously, when he gets on the edge, he goes," said Rams coach Jeff Fisher, who formerly coached the Titans for 16-plus seasons (1994-2010). "We edged it up all week and we emphasized it and so I haven't looked at it, but I'm sure we had a number of guys who made mistakes."
The 19-yard touchdown came one snap after Tennessee's Jurrell Casey forced a fumble as he sacked Rams QB Kellen Clemens. Kamerion Wimbley kept Clemens from recovering the ball, and Derrick Morgan corralled it.  
Johnson went to the right side of the line through a hole created by tight end Craig Stevens and right tackle Mike Otto. Fullback Collin Mooney led the way with a block on linebacker Alec Ogletree, and Nate Washington deterred former Titan Cortland Finnegan to allow Johnson to streak to the end zone.
"That guy (is) extremely fast," Finnegan said. "(It was) not being gap sound and not making the tackles on the tail-end when we needed to. You've got to credit CJ. He's an electrifying runner, he's got speed, and he did a good job today."
Tennessee (4-4) finished with a season-best 198 yards on 35 carries (second-most this season), and also relied on running backs in the passing game on screens and check-downs, appearing more like the team that Titans coach Mike Munchak envisioned during the offseason.
"When you are not running the ball it is a drag and a drain on your team," Munchak said. "There is no way around that, no matter who it is. You still want to be winning; you want to be a physical team. CJ is a special runner, and we think we have a good offensive line, but we just weren't having results. To watch it finally come together, I didn't think it was going to take this long, but I am glad it happened." * *
The Titans welcomed the comprehensive return of Greene, the five-year pro signed during free agency who suffered a knee injury in the season-opener. Greene rushed nine times for 38 yards. He converted a critical third-and-1 in the third quarter with a 2-yard run on the drive that ended with Johnson's first touchdown. Greene also had a 28-yard catch-and-run.
In addition to solid blocking throughout the game, Mooney had a career-long 22-yard reception on a screen.
It was the 34th career game with at least 100 yards rushing for Johnson, and the Titans improved to 25-9 when Johnson hits that mark. Johnson moved ahead of Charlie Hennigan (51) for the third-most total touchdowns in Titans/Oilers franchise history. Johnson has 52 (46 rushing, six receiving) and is behind Eddie George (74) and Earl Campbell (73).
The Titans host Jacksonville (0-8) on Nov. 10 before hosting Indianapolis on Nov. 14, and Johnson said the progress made Sunday was encouraging as Tennessee enters the second half of the season.
"It's a whole offensive effort. If we can stay in games and execute the game plan that the coaches give us and just work on the little things we can get big runs, because when we went back and looked at the first seven games the main problem with the running game was just little mental mistakes," Johnson said. "We saw a lot of plays that could have been big plays for us in the first seven games. The thing we did was just have everybody worry about the little things and it turned out that it worked."