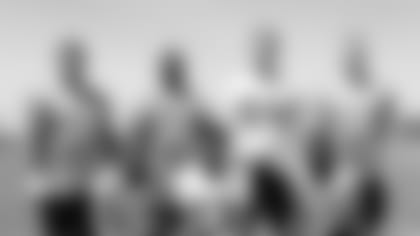 The Titans' 2012 rookie class poses for a group photo after the Friday morning practice.
NASHVILLE, Tenn. --
An NFL education isn't passed along in one day.
Titans coaches know this, and rookies who didn't already know this, learned it Friday during a minicamp. The schedule spanned more than 13 hours at Baptist Sports Park where the classes are taught by position coaches using playbooks, erasable marker boards and film projectors.
Football is also taught on the practice fields, which in a normal classroom setting would be considered recess, but here it is taking care of business.
"The NFL is kind of like school, cause you're learning all day," linebacker and second-round draft choice Zach Brown said.
The day started with a team meeting, followed by offense and defense meetings, a practice without helmets, a session in the weight room, a break for lunch, a special teams meeting, more offense and defense meetings, a practice with helmets, a dinner break and another round of offense and defense meetings.
All seven members of the Titans' 2012 NFL Draft class participated with players who signed undrafted free agent contracts immediately after the draft two weeks ago.
"It's great to get everyone in town," Titans coach Mike Munchak said. "It's been nice having the veterans here for the last four weeks. After you draft them, it's one thing, but to get them out here, it's great to get them in meetings and kind of start their orientation and get them used to the way we do things around here. It was a good start for our first day, a lot of learning, a lot of teaching, time in the weight room, special teams, a little bit of everything, and we'll continue that (Saturday)."
Rookies will continue their minicamp Saturday with another session in the weight room, more position meetings, another practice and a player development dinner. They have Sunday off before joining the veteran players Monday.
"The nice thing is they're staying in town for about six weeks or seven weeks," Munchak said. "They'll have plenty of opportunities to learn, to show us what they can do. I told them to relax, do what they need to do. It's hard to do that because they're anxious to show what they can do, but obviously, no one is going to make the football team in the next three days. It's more of a learning experience for them and then see how they fit in once we get them with the whole group starting next week."
Munchak said the minicamp offers a chance for coaches to observe conditioning, how the players move around and "how well they take to coaching."
"That's what I like about this weekend, you have two or three guys per coach almost, so you get a chance to do a lot of individual attention and see how they respond to the coach, respond to the terminology, some of the drills they're doing out here," Munchak said. "So it's a great teaching experience cause we've had two sessions and you're really able to start teaching these guys the drills, the techniques, start teaching the routes, coverages."
Receiver Kendal Wright, the Titans' first-round draft pick and 20th overall selection, said he and undrafted rookie receivers are diving into the playbook so they can deliver on the practice field as quickly as possible.
"You've been working for this your whole life, so you've just got to get out here and learn what you've got to do and compete," Wright said. "For me, it's learning everything. I've never had a playbook at my school, so I'm new to all this. I didn't have a playbook at Baylor. I was just out there. We had a lot of different stuff we ran at Baylor, but right now, I have a playbook that I'm studying every night. It's a different learning process for me."
Wright is heralded for his speed and the ability to separate from defenders that he showed at Baylor. He   said Munchak met with everyone Thursday night and encouraged them to not be afraid of making a mistake while learning the new system.
"That's real helpful when a head coach is talking to you and saying those kinds of things," Wright said. "If you make a mistake, make it full speed, and we can learn off it on film."
Brown is also expected to add speed at his position. He said when he put on his Titans jersey for the first time, he thought, "Wow, let's get to work."
"For me, I want that (roster) spot, so I'm going to do everything I've got to get it," Brown added.
He and other rookies were joined on the field by defensive coordinator Jerry Gray during some of the seven-on-seven drills during the second practice.
"It was fun," Brown said. "Coach Gray knows a lot. He left me on one play, but I ain't going to kill him on that. He's good. He gives you a lot of tips, and you pick up on what he's got to say. He doesn't talk just to be talking, so you listen because it's a tip for me to get better.
"They're trying to get you caught up (during the minicamp) to get better because once you are there with the veterans, there's no slowing down," Brown continued. "You've got to live in the playbook, you've got to live football."
Cornerback Coty Sensabaugh, a native of Kingsport, Tenn., and fourth-round pick said Friday "was probably 100 miles an hour for everybody." He said, like other rookies, that he found comfort in the talk that Munchak had with them Thursday night.
"That's super encouraging, because when you're learning new things, it's tough to play as fast as you can because you're thinking so much," Sensabaugh said. "He just gives you that confidence to go out there and cut it loose, and you may make mistakes, but as you go on, as long as you learn from your mistakes, that's what it's all about. A coach told me one time, 'Never make the same mistake twice.' That's the thing I try to apply."
Quarterback Nick Stephens, a native of Flower Mound, Texas, who played part of his collegiate career at the University of Tennessee before transferring to Tarleton State in his home state, took all of Friday's snaps. Stephens said he appreciated the talk from Munchak and the opportunities that the minicamp has provided so far.
"It's unreal, how, I don't want to say laid back, but how he's able to communicate with us in a way that makes us feel comfortable with the situation that we're all in," Stephens said. "On the other hand, we all know the reality of this business. At least it puts me at ease when you have a head coach that's able to stand up there and make you feel like you can just go play ball and not have to worry about anything at the moment. It's real encouraging."
The Titans have veteran Matt Hasselbeck, 2011 first-round draft pick Jake Locker and third-year reserve QB Rusty Smith on the roster at the quarterback spot. Stephens briefly introduced himself to Locker and Smith Friday morning, but had the quarterback room all to himself with position coach Dowell Loggains Friday.
"That hasn't happened before," Stephens said. "It's actually been amazing, just learning hours at a time and asking questions and getting that one-on-one attention. I don't know of a better way to learn."