**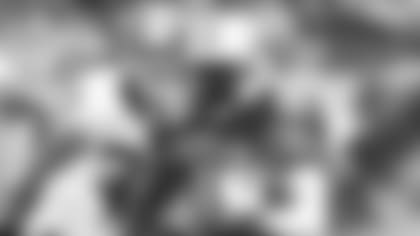 Despite losing three consecutive games, the Titans remain just one game behind first place Indianapolis and Jacksonville in the AFC South.
NASHVILLE, Tenn. --** The Titans said they want to move forward moments after suffering their third consecutive setback on Sunday.
Tennessee suffered a 19-16 overtime loss to the Washington Redskins. The Titans (5-5) visit AFC South foe Houston (4-6) next Sunday to start a span of four straight divisional games.
"Go forward. That's the only thing you can do," linebacker Will Witherspoon said. "We've got a lot of division games left to play. We've got a lot of season, and we've got to go and conquer that."
Mistakes—early and late—cost the Titans a chance to move into a three-way tie for first with Indianapolis (6-4) and Jacksonville (6-4). Tennessee quarterback Vince Young fumbled inside the red zone on the Titans' second play from scrimmage, and the Titans committed 11 penalties for 81 yards, including three infractions in overtime that resulted in first downs awarded to the Redskins.
"We're 5-5 right now, and there's a lot of reasons for that," rookie receiver and kick returner Marc Mariani said. "We just need to regroup. There's a lot more football to be played, and that's the good part. We still have our future in our hands. We've got five division games coming up, and we've got to learn to make the plays to get these close games. This locker room has a great group of guys, and we're going to go back to work."
Washington snapped its two-game losing streak with a 47-yard field goal by Graham Gano with 8:22 remaining in overtime. Tennessee received the ball to start the extra session but its drive stalled at its own 48-yard-line. The Redskins received the ball at their own 13 and cobbled together a 10-play, 57-yard drive to get within Gano's reach. Penalty yardage accounted for 35 of the 57 yards gained by the Redskins in overtime.
On a second-and-22 play, Titans rookie cornerback Alterraun Verner appeared to intercept Donovan McNabb at the Washington 40. Tennessee defensive end Jason Babin was flagged for unnecessary roughness at the end of the play. The replay of the interception was reviewed and ruled an incompletion, with the Redskins maintaining possession. The penalty against Babin gave Washington a first down.
"Everybody makes mistakes," Babin said. "I was celebrating with Verner off the field. A guy pushed me, and an instinct, I just turned around to protect myself and pushed him back."
Tennessee was flagged for roughing the passer on the very next play, resulting in 30 yards on the two straight penalties and back-to-back first downs. Officials ruled that Witherspoon led with is helmet in pressuring McNabb during an incompletion.
"I think he said it was helmet-to-helmet, but I'm not paying attention at that point in time," Witherspoon said. "It's one of those you look at and think, 'How can this happen?' You're trying to make sure you put pressure on a quarterback. I feel like we beat ourselves in a lot of ways."
Washington also received 5 penalty yards and an additional first down after Verner was called for illegal contact on a receiver during an incompletion. 
"It's cliché to say, but we beat ourselves I guess," defensive end Dave Ball said. "We need to get back to where we were at the beginning of the year. We were doing a lot better on third down. They had a lot of answers for what we were able to do. We were getting pressure on them and they were just able to find guys who were slightly open."
McNabb completed 30 of 50 passes for 376 yards with one touchdown and one interception. Washington ran 83 plays on offense, compared to 50 for the Titans, and went 8-for-16 on third-down conversions, compared to 3-for-11 by Tennessee. Washington kept the football 40:09, compared to 26:34 by Tennessee.
Titans coach Jeff Fisher said improving on third downs on both sides of the ball is an area the Titans will try to improve.
"Third down was a problem again," Fisher said. "We have to get better there or we are not going to win many games. You know, we had opportunities for turnovers, at least one we didn't get, but third down is the issue." 
Tennessee received help from New England Sunday, which defeated Indianapolis. The Titans are one game behind the Colts, who they will play twice in their final six games, and Jacksonville, which won its second straight game. The Titans host the Jaguars on Dec. 5.
Witherspoon said he thinks the Titans will respond by fixing the mistakes in upcoming games.
"I'm not worried about where the team is at all," Witherspoon said. "We're still a team that's going to come out and play every Sunday. We made some mistakes today, and we didn't capitalize on some of the positives we had. In the end, that's what beat us. Overall, we've got a lot of football left to play."
Mariani streaks for touchdown
Mariani put the Titans up early with an electrifying 87-yard punt return for a touchdown, which tied the second-longest punt return (Billy Johnson against Cleveland in 1997) in Oilers/Titans franchise history. Pacman Jones (90 yards against Philadelphia in 2006) holds the franchise record.
"They pushed me out wide and stretched it a little bit and I got around the corner," Mariani said. "A couple of key blocks later we were running down the sideline. It was fun to get a little momentum early for us and make a big play to start it off."
Mariani also has one kickoff return for a touchdown (98 yards against Denver) in his first pro campaign. He returned three kickoffs for 82 yards against Washington.
Rookie quarterback Rusty Smith made his professional debut Sunday when he relieved Young in the third quarter. Fisher said Young "tore a flexor tendon in his thumb, and I was not satisfied with his ability to control the ball, so I stayed with Rusty."
Young finished 12-for-16 for 165 yards and a passer rating of 107.6. Smith went 3-for-9 for 62 yards, connecting with Nate Washington (five catches for 117 yards) on a 52-yard play that set up Tennessee's fourth field goal from Rob Bironas and gave the Titans a 16-13 lead with 8:45 left.
Smith moved up the depth chart in place of Kerry Collins, who was out with a calf injury.
"Definitely a long way to go," Smith said when a reporter asked him to grade his performance. "I think I did make a couple of good decisions, a couple of good throws, but way too many mistakes to become complacent."
Smith appeared to throw a touchdown to Randy Moss in the third quarter, but Moss was flagged for offensive pass interference. Moss, a 13-year NFL veteran that the Titans claimed off waivers on Nov. 3, did not record a catch in his home debut with Tennessee. He was thrown to three times.
Fisher said Young may require surgery, and the Titans will prepare as if Smith will start at Houston.
Johnson moves up rushing list
Titans running back Chris Johnson moved into third place on the Oilers/Titans all-time rushers list. The third-year pro passed Lorenzo White (4,079 yards) with a 130-yard performance on 21 carries Sunday. It was the sixth 100-yard rushing game for Johnson this season and 22nd of his career. Johnson has 968 yards on the season and 4,202 career rushing yards.
Bironas breaks own record
Bironas recorded his 20th straight game with at least one made field goal, breaking a streak of 19 games that he set with the Titans in 2006-07. Bironas connected from 25, 32 and 40 yards, accurately delivering on all three of his attempts.