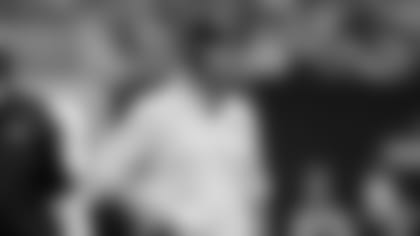 NASHVILLE, Tenn. - The Ken Whisenhunt era is over with the Tennessee Titans.
Just 23 games into his tenure as head coach, Whisenhunt was informed on Tuesday morning the organization wants to go in a different direction.
The final decision came just two days after the Titans lost their sixth straight game, in Houston, where the team's ownership group watched from the visiting owner's suite at NRG Stadium.
"After thoughtful consideration, the decision has been made to relieve Ken Whisenhunt of his head coaching duties," said Titans controlling owner Amy Adams Strunk. "We have expected more progress on the field, and I felt it was time to move in a different direction. I would like to thank Ken for his efforts with our team, as he worked very hard to try to move us forward."
Whisenhunt released a statement later Tuesday morning.
"My family and I are grateful for our time in Nashville and my opportunity to work for the Titans. I am sorry we weren't able to get it done in our time here," Whisenhunt said. "Our players and staff were great to work with and I want to thank them for their dedication and hard work.  I also want to thank the fans for their support and I wish the organization success moving forward."
Mike Mularkey, who served as assistant head coach/tight ends under Whisenhunt, will take over as interim coach. Mularkey has 20-plus years of NFL coaching experience, including three seasons as a head coach. Mularkey served two seasons as head coach of the Buffalo Bills (2004-05), where he went 14-18, and one season as head coach of the Jacksonville Jaguars (2012). In his first season with the Bills, the team went 9-7 to post their only winning season in over a decade.
Mularkey was a highly successful offensive coordinator with the Steelers and Falcons. He joined the Titans as tight ends coach in 2014 before being elevated to assistant head coach in 2015.
A press conference is scheduled for Tuesday at Saint Thomas Sports Park.
Whisenhunt's record with the Titans: 3-20. The Titans finished 2-14 in his first season with the club in 2014, and the team is currently 1-6. The Titans have lost 16 of their last 17 games dating back to last season.
Whisenhunt was considered a successful hire when the Titans signed him to a five-year deal in January 2014, making him the 17th head coach in franchise history. Most NFL observers agreed he was the top candidate available as the Lions, Vikings and Browns were also looking for head coaches at the same time.
Whisenhunt, after all, had taken the Arizona Cardinals to Super Bowl XLIII during his six years (2007-12) as head coach, and he won a Super Bowl ring as offensive coordinator with the Pittsburgh Steelers in 2005. He had success with quarterbacks Ben Roethlisberger (Steelers), Kurt Warner (Cardinals) and Philip Rivers (Chargers) during his previous NFL stops. Prior to joining the Titans, Whisenhunt posted a 45-51 record as a head coach.
Whisenhunt couldn't find success in Tennessee, however.
After winning his first game as head coach at Kansas City last season, the Titans finished last season with losses in 14 of 15 games, including 10 straight losses. The Titans got off to a promising start with a win at Tampa Bay this season, but they haven't won since.
With Amy Adams Strunk and minority owner Kenneth Adams IV of the board of directors among those watching on Sunday, the Titans lost 20-6 to the Texans.
Leading up to Sunday's game against the New Orleans Saints, the ownership group decided to make a change.
On Monday, when asked about fan unrest and his team's struggles, Whisenhunt acknowledged "I'm operating from a position here where I don't have much I can say.
"Our win-loss total is not good, so no matter what I say, it's not going to be good enough. All I can do is tell you we're going to work hard to swing it hard the other way,'' Whisenhunt said.
"We're in here working. We're trying. We feel like we've done some things that have been good, but they're obviously not good enough."
In recent weeks, the fan base has been outspoken about their disappointment in the team, and Whisenhunt in particular. The Titans blew late leads in close losses against the Colts and Bills, and the team was blown out against the Dolphins, 38-10, on October 18.
The Titans lost nine of 16 games last season by at least two touchdowns.
"There's not a lot I can say,'' Whisenhunt, who has an overall record of 52-73 as a head coach, said on Monday. "Anything I can say you're certainly going to not say something good about. I certainly feel (the fans') pain. We want to win just as bad as everybody else. We haven't done as well as we would have liked or expected, but we're humans, too. It does affect us. It's not a lot of fun."
During Monday's press conference, Whisenhunt pointed out areas where he felt the team improved. After the unit finished 27th last season, this year's defense is ranked 5th under the direction of assistant head coach/defense Dick LeBeau.
But Whisenhunt couldn't get his offense going in Tennessee. The Titans are currently ranked 31st in the NFL in total offense, and the unit has really struggled of late without quarterback Marcus Mariota, who has missed the last two games with a sprained MCL.
The Titans have scored just four touchdowns in the last four games combined, and just one touchdown — and 13 points overall — in the last nine quarters.
Whisenhunt also couldn't deliver on one of his biggest promises back on January 14, 2014 – the day he was introduced as head coach. On the day he replaced Mike Munchak, who went 22-26 in his three seasons as head coach, Whisenhunt talked about bringing excitement – and wins -- back Nissan Stadium.
"From my experience as an opponent coming in here, the fan base is great, and they are loud,'' Whisenhunt said. "Now we have to give them a product to be proud of."
The Titans went just 1-11 in home games with Whisenhunt at the helm, including a disappointing 0-4 mark this season, however. It's just one of the reasons ownership decided to make a change.
RECOMMENDED: