NASHVILLE, Tenn. — Shawn Jefferson says a revolution is in the making, and every catch by Kendall Wright is giving it another spin.
One of the best seasons by a receiver in Titans/Oilers franchise history is a product of the second-year pro "clicking on all cylinders," the wide receivers coach said. Instead of cubic centimeters, Wright's engine is measured in competitiveness and confidence.
Kendall Wright shows his elusiveness earlier this season against the New York Jets. Wright enters the final game of his second season in the NFL with 89 catches for 1,029 yards.
"He's revolutionizing the slot position. He's got a stranglehold on that position, and it's hard for people to cover him one-on-one," Jefferson said. "This kid is taking that to another level. People from around the league are beginning to see him as that guy but he's a lot more athletic than Wes Welker so he's able to get a lot more after the catch than Wes Welker can. In that way, he's revolutionizing the position."
Wright said he's always had the goal of playing bigger than his 5-foot-10, 191-pound frame. He has team bests of 89 catches for 1,029 yards this season, one shy of becoming the fifth player in Titans/Oilers franchise history to have 90 catches in a season.
"When I'm playing, I try to leave my mark on everybody, let them know that the little slot from Tennessee is a hard guy to cover," Wright said. "I'm just competitive. I don't like losing, but nobody does. I don't like people outdoing me. I'm not going to let a (defensive back) get the best of me. I'm going to keep coming back."
In Tennessee's game against Arizona, Wright set career highs with 12 catches for 150 yards and helped the Titans rally from a 17-point deficit to tie the game near the end of regulation. According to Pro Football Focus, Wright was matched up directly against Patrick Peterson, the fifth overall pick of 2011, seven times and had six catches for 96 yards against the All-Pro and two-time Pro Bowl defensive back.
"It's hard for defenders to cover him. Patrick Peterson, who is probably one of the top two cornerbacks in the league, he didn't know what to do with Kendall," Jefferson said. "I think it got to the point where he said, 'OK, he's going to catch it. I've just got to make sure I tackle him when he catches it.' Pretty much, Kendall wore him down over the course of the game."
Wright said Denver defenders — the same ones that see Welker every practice and game — told him that they planned to vote for him for the Pro Bowl, and Peterson paid him another compliment during a post-game handshake.
"He told me he thought we should exchange jerseys, so it's a lot of people respecting my game and I respect every opponent I play," Wright said. "I don't take anyone lightly. He's real talented. They let him play offense and defense."
The Titans selected Wright with the 20th overall pick in 2012 and he tied for the NFL rookie lead in receptions with 64. His 65th catch of this season was for the game-winning touchdown with 10 seconds remaining at Oakland on Nov. 24 after finding the correct opening in the Raiders' zone defense, a component of the game where Wright has improved with experience.
Wright's confidence was high when he arrived and has only grown stronger to join his competitive nature that Jefferson compared with Lions receiver Calvin Johnson's.
"I think in every good athlete you have one good quality that puts them over the top. With this kid, it's his competitive nature," Jefferson said. "He truly thinks no one in the whole world can cover him. If I said Jesus Christ is going to come down and cover you, he'd say no he can't. He believes it. It's a mindset with him and he takes that competitiveness to another level."
Wright confirmed, "I'd probably say that, but he could cover anybody, Jesus can, but I would try my best to beat him."
Teams haven't deployed divine intervention but have tried double teaming Wright, particularly in games at Indianapolis and Denver that Delanie Walker missed with a concussion. QB Ryan Fitzpatrick was able to connect with Justin Hunter on a pair of deep throws against the Broncos in part because of the attention Wright was garnering.
Jefferson said Wright must continue with a "sharp" mindset that's produced the results so far, even if teams try to reduce his production next season with double teams.
"On third downs, people are going to have two defenders on him, but at the same time, that creates a one-on-one situation for us with other receivers so our other receivers have got to do their job when he's getting doubled," Jefferson said. "The more he gets doubled and the other guys make plays, they can't double him because the other guys are making plays."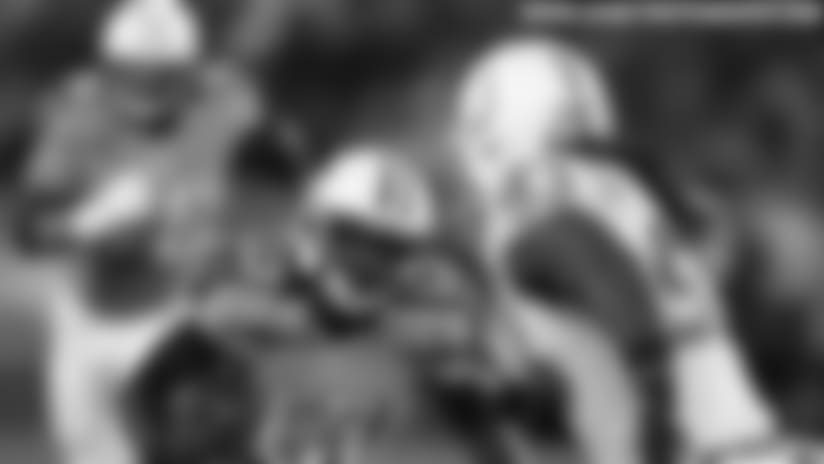 Wright said glancing at defenders across the line of scrimmage before the play gives him an idea of if he will receive double coverage, but he tries to run every route to the best of his ability.
"I can tell when I'm lining up, as far as if the linebacker is on me or the nickel back is on me. If the nickel back is playing way outside, like two or three yards outside of me, I know he has help and that I'm probably going to get doubled," Wright said. "If it comes to me, I'll try to catch it, and if it doesn't I know one of my teammates will catch it. If you double one, then you have nine other people on the field and you've got to cover the rest of our receivers and we have great backs, too."
Walker said Wright is succeeding because he's "relentless."
"At practice, he catches everything so I don't expect anything less of him in the game," Walker said. "I don't think anybody can cover him. He's that type of guy. You might think that because he's so short, but other than that, he makes plays."
Jefferson is pleased by the way Wright is combining his gifts and talents with what the receivers coach who played 13 NFL seasons calls the "non-talent issues."
"It doesn't take talent to block. It just takes want to. You've got to want to block your guy. You've got to want him to not make the tackle," Jefferson said. "It starts off in practice and it's really having a mindset when we talk about being a complete receiver and not just a pass catcher but a blocker. Everything we do in this room is to become complete so I told him if you want to be treated as a great receiver, you've got to be complete. I always talk to him about Jerry Rice and how complete he was. For as many balls as he caught, you can see him downfield making a crucial block for that running back."
Titans coach Mike Munchak said Wright's progress and future are promising. Munchak said the hard work that Wright put in during the offseason in workouts at Wright's alma mater of Baylor helped his conditioning.
"I think he's going to continue to get better and better at what he does. He's blocking better, he's become more of a complete receiver that way, his endurance has gotten better, he's staying in the game," Munchak said. "Last year he was coming out (of the game) a lot more on his own. This year he felt like he was in better shape. He knew what the NFL is all about and how physical a game it is and how you have to take care of your body."
As this season comes to an end, Wright said he plans to channel his competitive energy back into the weight room under the direction of Baylor strength coach Kaz Kazadi.
"I take a lot of hits out there and I've just got to keep my body right, stay healthy and get ready to play the next season," Wright said. "I'll go work out with my strength coach at Baylor, play a little basketball, stay in shape and be ready to compete when I get back."