NASHVILLE – Titans running back Derrick Henry continues to make a difference on and off the field.
Henry recently surprised kids – and teachers – with gifts and supplies as part of a back-to-school effort.
Henry purchased Nike shoes for 60 kids from the Boys and Girls Club, and they were delivered earlier this month.
Henry also provided backpacks and school supplies for 150 Metro Nashville students as well.
Additionally, Henry donated school supplies for 39 first-year teachers in Nashville to help them in their classrooms.
"Just trying to do God's work, do my foundation's work, Two All Foundation, which is giving back, leveling the playing field for the youth and being a resource whenever it is needed," Henry said. "The kids are our future, and I want to be a helping hand any way possible. I have a great relationship with the Boys and Girls Club, and I'm trying to do my best to have my hands in the community and be a positive impact on these kids.
"I want to be a blessing whenever I can."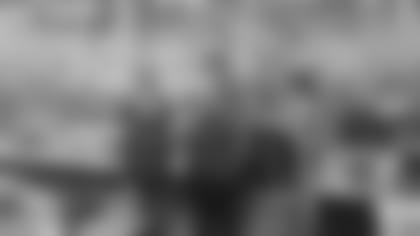 Henry said he wanted to do a few back-to-school giveaways.
His foundation identified 150 kids from two different Metro Nashville Public Schools that didn't have backpacks or school supplies, so Henry purchased backpacks and supplies for the kids in need. Also, 60 kids from the Andrew Jackson Boys and Girls Club needed new shoes for the school year, so he purchased new shoes for all of the kids.
Henry also purchased supply kits for first-year teachers in need of classroom supplies.
In 2021 and 2022, Henry was named the Titans nominee for the Walter Payton Man of the Year. Henry is the founder of the Two All Foundation, which exists to level the playing field for today's youth by giving back to both the Nashville community and Henry's hometown of Yulee, Fla.
"My feeling of the appreciation is seeing the smiles on the kids' faces, seeing how happy they are," Henry said. "Their reactions, that brings joy to me. Just to be able to help. God put me in this position to help, and I'm just fortunate to be able to do so."