NASHVILLE, Tenn. --** John Shulby likes to dream big. Spend some time around him and it's clear he's a shoot-for-the-stars kind of guy.
If he gets his wish, he'll be a drummer in a band one day, preferably alongside country music star Luke Bryan. Shulby thinks that would be really cool.
But that's not No.1 on his bucket list.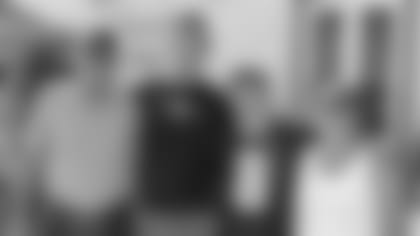 "My main dream,'' Shulby said with a grin, "is to be a coach with the Tennessee Titans."
Accomplishing that one would allow him to be around his good friend, Titans quarterback Marcus Mariota.
Shulby, born with Down syndrome, has a special relationship with Mariota. The two met at a college football awards banquet back in March, and have remained in contact ever since.
This week, Shulby traveled from his hometown of Jamison, Pennsylvania, with his parents to watch Mariota and the Titans practice. It was a part of his 22nd birthday celebration. He was a guest of Mariota, who spent time with Shulby and his family after practice on Tuesday. The family came back again on Wednesday, and mingled after practice with a number of Titans.
For the Shulbys, it's a trip they'll never forget.
"I want to be his brother,'' Shulby said of Mariota. "I want to adopt him, I do. Marcus is a terrific guy and I love him."
Mariota, who's 21, said the feeling is mutual.
"He's a good guy, and he has a good family,'' Mariota said of Shulby. "Once I spent time with him, we had a really good rapport really quick. I'm glad to know him and have him as a friend."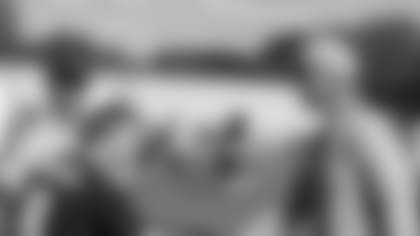 Shulby's budding relationship with Mariota is one that brings a tear to the eyes of Bill and Kathy Shulby, who said their son – and his winning attitude – changed their lives for the better on August 10, 1993.
In the 22 years since, they've felt blessed. Recently, John Shulby ran on the field with the Penn State football team at its spring game, guest of football coach James Franklin. He's had his picture made with Peyton Manning. Back home, he's an inspirational leader and assistant coach at Archbishop Wood High School.
Mariota's kindness has meant the world to the family, they said.
"We will always remember when John was born,'' Bill Shulby said. "When he was born, for lack of a better word, we got sympathy cards. And to see him grow, and to experience what he has, it's special to see. And to see how happy a gentleman like Marcus has made him, and the acceptance. Marcus has been so wonderful to him. The kindness he has displayed, it is so uplifting."
Shulby, who became an Oregon fan while living just outside of Philadelphia, first met Mariota when he attended the Maxwell Football Club awards banquet in Atlantic City back in March. Mariota, last year's Heisman Trophy winner, was college football's player of the year, and Shulby was there in attendance.
Prior to the ceremony, Shulby approached Mariota. The two immediately hit it off. At one point, Mariota took the Oregon lapel pin off his tuxedo, and presented it to his new friend.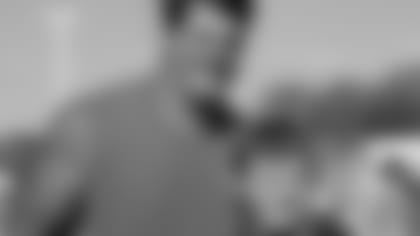 "He pinned it on John,'' Kathy Shulby recalled. "And it was such a sweet gesture, and John was so excited and so happy. It was a very, very sweet thing."
After talking for 45 minutes about everything from golf to music to football backstage, Shulby then walked the red carpet with Mariota that night. The two ended up exchanging phone numbers, and they've remained in touch ever since.
Long-time college football coach Lou Holtz was also in attendance that evening, and witnessed the interaction with Mariota and Shulby. He sent Mariota's family a note the next week, praising him for his kindness.
But it wasn't a one-time encounter.
The two texted one another before the NFL Draft, and after Mariota was picked second overall by the Titans. After the Shulbys planned a trip to Nashville to see Mariota in training camp, the quarterback saw to it his buddy got VIP treatment.
Mariota sent Shulby a text on Monday, wishing him Happy Birthday.
"We text back and forth to each other,'' John Shulby explained. "I became an Oregon fan because of Marcus. I am a Titans fan now."
Shulby lived it up in Nashville over the past two days. Outfitted in bright yellow Oregon gear on Tuesday, Shulby looked overjoyed when he watched Mariota practice. His excitement boiled over when the two hugged, and chatted for 10-15 minutes afterward. During the course of an interview, the energetic, red-haired Shulby gave a high-five to a new friend with a notepad and tape recorder.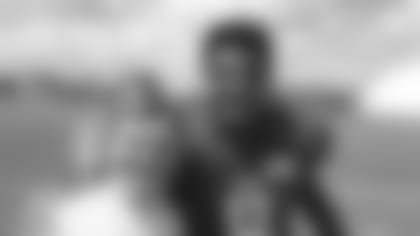 Later that day, Shulby got a glove that belonged to another Titan as a souvenir. He bought some Titans gear, and wore it on Wednesday, when he spent some time with coach Ken Whisenhunt as well. Shulby was wearing a Titans shirt with Mariota's name, and No.8 on the back.
He even got a chance to introduce former Titans tight end Frank Wycheck to Mariota. Wycheck went to the same high school as Bill and Kathy Shulby, and he caught wind of the back story behind the two friends.
It left him even more impressed with Mariota, who generated a ton of Internet buzz earlier in camp by lifting the spirits of a crying Ducks fan by sending him a video message, and a Titans jersey, thanking the youngster for his support.
"How much better a guy can you get than (Mariota)? It is unbelievable, really,'' Wycheck said. "For him to put in the time and build a relationship with (John). It is really cool."
Annette Hargis, a Titans season ticket holder, also had a connection to the story. Hargis has a grandchild with Down syndrome, and received a letter from John as part of a "Congratulations Project" at a camp he attended for children with Down syndrome.
Hargis and the Shulbys became friends on Facebook. Hargis was at Saint Thomas Sports Park with the family on Tuesday.
"To see what kind of person Marcus has been to John, and how he has treated him. There's not too many people who would go out of his way not only as a football player, but as a person,'' Hargis said. "It's incredible really. He's just a super nice guy. We are so blessed to have him in Tennessee."
Mariota and Shulby plan to remain in contact.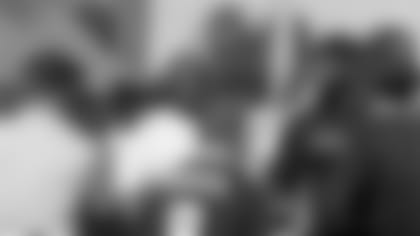 In their minds, they'll be friends forever.
"Over time I am sure we will continue to keep in touch,'' Mariota said. "He has actually been to the University of Oregon and now to Tennessee. Maybe we'll get him out to Hawaii sometime."
When John Shulby left Nashville after an action-packed trip that also included a trip to the Grand Ole Opry and a behind-the-scenes tour of the athletic facilities at Vanderbilt, where he was given a baseball jersey by the team, suddenly becoming a drummer in a band didn't seem quite as important.
Heck, he's already buddies with a rock star.
"John has such an enthusiasm for life. And to be honest, he doesn't really understand the "celebrity" surrounding Marcus because he treats everyone the same,'' Kathy Shulby said. "John doesn't understand what all the hoopla about Marcus is, because Marcus is a football player just like everybody else.
"To him, he's just a good friend."
RECOMMENDED: