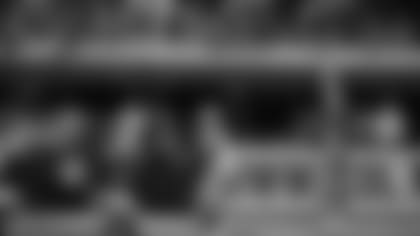 Kerry Collins closed out the 2010 season with one of his best games in five seasons with the Titans.
NASHVILLE, Tenn. --** Kerry Collins ended his 16th NFL season as a starter last Sunday at Indianapolis, but the 38-year-old quarterback isn't necessarily ready to retire.

Collins had one of his best games in five seasons as a Titan, completing 28 of 39 passes for 300 yards, two touchdowns and no interceptions. His 111.1 passer rating was his third rating over 100 in the last four games.  Additionally, his yardage total set a personal high in a Titans uniform and was his highest total since a 331-yard performance as a member of the Oakland Raiders against the New York Giants on Dec. 31, 2005.

"I don't feel like I've lost anything," Collins said after the game. "I still feel good physically. My arm is still as live as its always been. I'll take all those things into account."

Collins said he hasn't ruled out anything for next season, even starting in the NFL.

"I'll just take some time, get away from it a little bit. I'll see where things are, what my options are. At this point, I'm not ruling anything out. I can still throw it. Physically, I still feel well enough to play, so we'll see what happens."

Collins started in the majority of Titans' games only once in the past five seasons. That was 2008, when he led Tennessee to the AFC South title, then signed a two-year contract that expired after this season.

Collins started in the Titans' previous five games -- rookie Rusty Smith took over in Week 12 -- after tension between Titans coach Jeff Fisher and quarterback Vince Young came to a head following a Week 11 loss to the Washington Redskins, when Young injured his throwing hand.

Fisher, reluctant to speak about his situation with Young, is quick to point out Collins' positives.

"He's still making good throws, and he takes good care of himself," Fisher said. "He has the arm strength left. Those kinds of guys are hard to find.

"He's not throwing with the accuracy that he'd like to, but he's still adjusting and making good throws for us."

The accuracy issues sprouted, in part, because of two injuries to Collins' throwing hand during the season, but he's not one to make excuses, according to backup quarterback Chris Simms.

"There's no doubt that when your fingers are beat up as a quarterback, that's about as annoying as it gets," Simms said. "But you know, Kerry is the same guy every day. He doesn't tell anybody that anything's bothering him.

"He's old school, Pennsylvania, just sucks it up and comes out and gives his best every day."

Collins, a country music writer in his time away from football, will continue to call Nashville home, no matter where he's playing quarterback.

"We're going to live here in Nashville regardless, that's the thing," he said. "If I'm going to go play somewhere else and it's the right opportunity, the right situation, I'll go do it.

"We do love it here. We're going to stay here whenever football is done, whenever that is. But I need to keep in consideration that as long as I can still play and there are opportunities, and it's an opportunity that fits, then I'm going to do it."