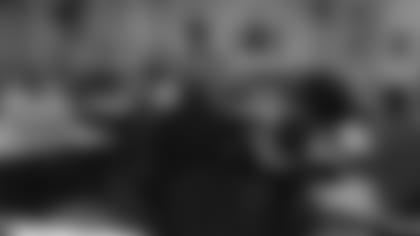 NASHVILLE, Tenn. --** Thursday afternoon had the feel of a new school year at Baptist Sports Park as Titans players reported for the start of the 2009 training camp.
One by one, Titans players – new and old – filed into the team's training facility, each anticipating the team's first practice Friday at 3:30 p.m. Players and coaches appeared anxious to start the new season, fully aware of the hard work that lies ahead.
"This is like year one for me," Titans head coach Jeff Fisher told reporters Thursday afternoon. "I'm excited about it and the players are too. Every team is different, every year is different and this is going to be a fun camp."
Many of the rookies were among the first to arrive on Thursday, some in awe as they entered the facility in which they will spend countless hours over the next month undergoing the rigors of training camp.
"This opportunity is something you dream about, so to actually be here is kind of like a rush," said rookie cornerback Jason McCourty. "It's real exciting to just get out there and start practicing."
Like many of his teammates who are new to the NFL, the sixth-round pick from Rutgers has been focusing on learning the playbook and getting himself into game shape.
Troy Kropog, a rookie offensive lineman from Tulane, was getting acquainted with his new locker on Thursday. "It's going to be a pretty good deal. I love the bonding that goes on and the melding of the team during camp," Kropog said. "I have no experience with it here at this level, but if it's anything like college, everybody should have a good time working hard and getting better."
Coming off of a season in which the Titans finished 13-3, but fell short in the playoffs, the team is hungry and has shown a high level of intensity throughout off-season workouts. Many players have been at the training facility on their own time, and Fisher has repeatedly said he was happy with the team's progression during organized team activities (OTA's).
"I'm especially pleased right now with the condition level of this football team," Fisher said Thursday. "The commitment - last year I talked about how important that was - they have pushed themselves even further. Their conditioning tests were excellent this morning, so with that being said, we are looking forward to this."
Recently signed rookie second-round pick Sen'Derrick Marks, a star defensive tackle from Auburn said, "I expect for it to be tough, and I expect to come in and learn everything that I'm supposed to learn. I'm looking forward to getting into it and going full-go."
This year's training camp will be slightly different than most with the Titans playing in the Hall of Fame Game against Buffalo Aug. 9 in Canton, Ohio, giving the team five preseason games and forcing it to prepare earlier than normal.
Coach Fisher elaborated on the need to adapt, but also gave a confident message about his team.
"As a staff, we start from scratch based on the needs, and we adjust it. It can change next week and the following week depending on our needs, but this team is ready to go to work and they have high expectations," Fisher said. "They've worked well this offseason and they are ready to come in and compete."