**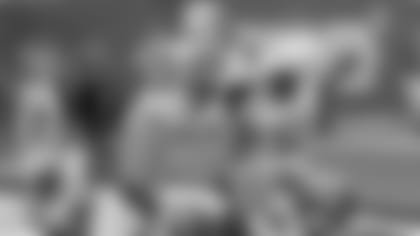 Cornerback Jason McCourty, a native of Nyack, N.Y., intercepts an Eli Manning pass in the end zone, one of three Giants turnovers on the day.
EAST RUTHERFORD, N.J. --** Tennessee safety Michael Griffin is skilled at tracking opponents and sending them to the turf, but the biggest play he made Sunday involved the flight path of a punt that Griffin downed at the
New York Giants
' one-yard line.
With the score tied at 10 early in the third quarter, Titans punter Brett Kern lofted a punt that Griffin corralled with an over-the-shoulder catch. He immediately stopped his momentum from going into the end zone and backed up the Giants. It was a play that Titans coach Jeff Fisher said "made the difference for the ball game" in a 29-10 road victory for Tennessee at New Meadowlands Stadium.
"I guess you think you're a backup on special teams and then you get your opportunity to go out there and make a play," Griffin said. "Special teams wins ballgames. I think that might have been the turnaround. Defense stepped up. Offense stepped it up, started putting points on the board. So from that point on, the whole team turned it on, got some points on the board and prevented touchdowns."
Three plays later New York was flagged for a chop block in its end zone that negated a 43-yard pass from Eli Manning to Mario Manningham on third-down. Tennessee defensive tackle Tony Brown was pressuring Manning when Brown was blocked low by New York running back Ahmad Bradshaw. Since the foul occurred in the end zone, the Titans were awarded two points for a safety and received the ball back after a free kick.
Tennessee scored on its ensuing possession -- a six-play, 51-yard drive that ended with a 13-yard touchdown pass from Vince Young to Kenny Britt. Young went 4-of-4 passing for 48 yards on the drive.
Britt, a second-year pro who grew up in Bayonne, N.J., and played collegiately at nearby Rutgers University, said the high throw across the middle was something he and Young worked on in practice last week.
"It's like a dream come true because I lived five minutes down the road," Britt said. "I was here when the Giants played [here] for 21 years of my life and things like that. Coming back to play in this stadium, especially their new stadium that they have down here, it's a beautiful stadium. I had my friends and family here. I was feeling great."
YOUNG, JOHNSON BOUNCE BACK
Young finished the game at 10-of-16 passing for 118 yards. More important, he committed no turnovers. It was a solid rebound for Young one week after he threw two interceptions and lost a fumble before he was benched in the fourth quarter against Pittsburgh.
Young said the Titans did a good job of putting the seven turnovers committed against the Steelers to rest last Monday and preparing for the Giants the rest of the week. He said it was important for him to advance his leadership role.
"I wanted to show those guys that it was a rough week," Young said, "but overall I wanted to show those guys that I put that in the past and got myself prepared to play so I could lead them to a victory. The guys understood that, and from the slapping hands on the sidelines and smiling and joking in the locker room, guys learned that. That's why I respect my team. Guys respect me, and I'm always going to give them the same respect back."
Tennessee committed no turnovers against New York and patiently handed the ball off to Chris Johnson 32 times. Johnson churned and churned, scoring on a 1-yard run in the first half, and finally broke free for a 42-yard gain in the fourth quarter. Johnson finished with 125 yards rushing and two touchdowns, bouncing back from his 16-carry, 34-yard performance against Pittsburgh.
"We were trying to be able to sustain drives and stay close enough in the game where we didn't have to go away from the running game," Johnson said. "My hat's off to the coaches to never get away from the running game when it's not working in the beginning. At the end of the day for us to be a great team and go deep into the playoffs and possibly the Super Bowl, a lot of teams are going to try to play us like the previous team played us and put a lot of people in the box, so it's going to take the players on the outside to step up and make plays. We've been getting better week after week and making plays out there. I think it's just going to be tough for defenses to contain us."
Johnson said Titans players liked the way Young came back strong.
"I like the way that Vince rebounded," Johnson said. "He didn't come in pouting or with his head down or mad at the coaches. He just came in not saying too many things to a lot of people, but he just came in with a business face and worked on his game to complete good throws in practice. He knew what defense they were going to be in and was ready to get back on the field and make plays."
DEFENSE YIELDS YARDS, NOT POINTS
The Titans' defense entered the game leading the NFL in total yards allowed (206.5) and passing yards allowed (85.5). The Titans will lose their top ratings but will gladly trade stats for a win anytime. 
Manning completed 34 of 48 attempts for 386 yards, the Giants ran 20 times for 107 yards and New York outgained Tennessee 471 to 271 in total yards, but the Titans forced three turnovers, including two in the red zone. New York's possessions in the second half ended with the safety, a fumble, a missed field goal, two turnovers on downs and the time expiring.
"We buckled down, and they didn't collect," Fisher said. "It happens. We got the stop."
FIRST CAREER INTERCEPTIONS
The Titans picked off Manning twice in the first half, with two Tennessee players notching their first career interceptions.
Rookie defensive lineman Sen'Derrick Marks snatched the ball after it ricocheted off Giants receiver Hakeem Nicks and Titans cornerback Cortland Finnegan in the first quarter. It was the first interception by a Tennessee defensive lineman since Dave Ball registered one at Detroit on Thanksgiving Day in 2008.
Tennessee also forced Manning into an uncharacteristically bad decision in the red zone. The quarterback scrambled and switched hands, attempting a shovel pass with his left that linebacker Will Witherspoon deflected and second-year pro Jason McCourty corralled in the end zone for a touchback. It was the first interception for McCourty, a native of Nyack, N.Y., who played with Britt at Rutgers.
In the third quarter Griffin forced a fumble by Bradshaw that Titans rookie cornerback Alterraun Verner recovered at the Tennessee five-yard line. Griffin finished with 12 tackles, which was second on the team behind Stephen Tulloch's 13.
Fisher said the Titans "may be without" McCourty "for a week or two" with what Fisher thought is a "slight forearm fracture."
Witherspoon recorded a sack for the third straight game, becoming the first Tennessee linebacker to notch the trifecta since former Titan Keith Bulluck did it in 2004.
The Titans signed Witherspoon as a free agent in the offseason. The nine-year pro last played in Philadelphia, where he went against the Giants twice last season. Ball added a sack of Manning, and the Titans now have 10 on the season.
Bulluck played 10 seasons, recording 1,265 tackles in Tennessee (third most in franchise history) before signing with the Giants in the offseason. He made six tackles Sunday.
TITANS EXTEND WIN STREAKS
Tennessee has won 10 consecutive games against NFC East opponents, dating back to a 2007 win against Carolina. That streak includes sweeps of NFC North teams in 2008 and NFC West teams in 2009.
The Titans also won their fifth straight against the Giants, who have not beaten the Titans/Oilers franchise since 1994 in Jeff Fisher's first game as Tennessee coach.