NASHVILLE, Tenn. —Titans players circled up and shouted in anticipation.
Coach Mike Munchak decided to add the "Oklahoma" drill to the start of practice, pitting an offensive player against a defensive player to block for a ball carrier in a confined area.
The first matchup was tight end Craig Stevens, one of Tennessee's top blockers, against Akeem Ayers, its leading tackler from 2012. The matchup set the tone for a segment that established an aggression that lasted throughout the Titans' first practice of 2013 in full pads.
"I actually thought we were going in the two-minute drill and found out we were going into that," Stevens said. "It's a good way to get going and the first day in full pads, so you're trying to get everyone excited and hit heads a little bit.
"(Ayers and I are) battling constantly in practice," Stevens added. "That's our matchup. We're about the same matchup, so it was cool. It was good to go against him."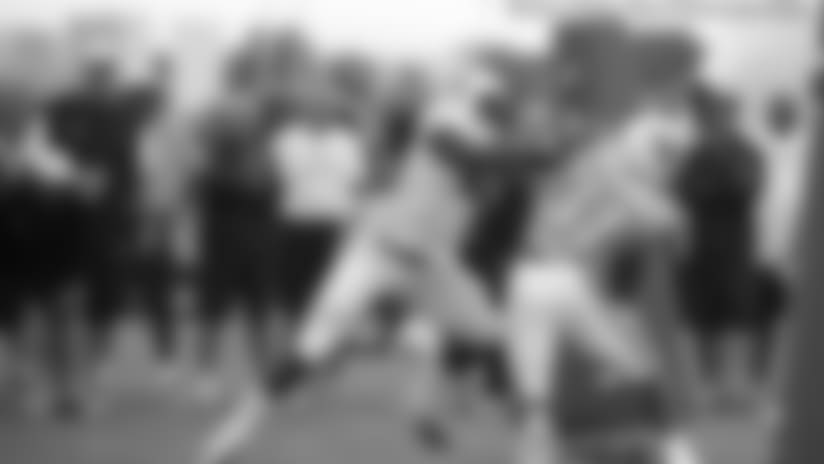 ](http://www.titansonline.com/media-center/photo-gallery/2013-Titans-Training-Camp-Day-4/78ce52c1-8b1e-4c3f-9cbc-ef466a6d017b)
Fullback Quinn Johnson and safety Bernard Pollard compete in the "Oklahoma" drill that coach Mike Munchak used to start practice. Click here for a slideshow of Sunday's action.
Colin McCarthy vs. Fernando Velasco, Bernard Pollard vs. Quinn Johnson, Moise Fokou vs. Rob Turner, Kamerion Wimbley vs. Michael Roos, Blidi Wreh-Wilson vs. Justin Hunter and Michael Griffin vs. Taylor Thompson followed, generating a buzz among players and a crowd estimated at 1,500 fans on Academy Sports + Outdoors Night at Saint Thomas Sports Park.
"You want to do those things earlier at practice for that exact reason," Munchak said. "We get to the point where we started out the other day with the pads doing it with just the linebackers and offensive line.
"I thought it would be good today to get with the coaches, get some matchups," Munchak continued. "Every day in pads we want something competitive like that. They enjoy it. They enjoy the competition, and I think it's a safe thing, so there's not a whole lot that can go wrong there. There's only a couple bodies in the way, and it's low impact."
Pollard said that particular drill favors the offense in terms of a defender trying to get contact on a running back.
"For the defensive side of the ball, we're at a disadvantage," Pollard said. "Whatever way we go, the running back is going to go opposite. It's just one of those things where it's a contact thing to kind of set the tone. That's what coach and them wanted, and that's what we gave them and I think it kind of set the tone for the rest of the day. We had a really good practice."
Players seemed to respond the loudest when they saw rookies Wreh-Wilson and Hunter lining up for a matchup where Wreh-Wilson got the better of the second-round pick who signed autographs 45 minutes after practice.
"We wanted to get some rookie-on-rookie there," Munchak said. "They've been teasing Justin I think, and I think they all wanted to see him out there. You saw the response when he got out there. So, we thought it would be nice taking him out and seeing the rooks battle out there. It was fun to watch.
"A lot of those guys have never been in that type of drill before, so I don't think (Hunter) knew quite what the heck was going on," Munchak continued. "I think he was still in shock we called him up there. Those are drills we'll continue to do. They'll all get an opportunity. They do those drills even on their own against the defensive backs quite often so he'll get another shot."
RED ZONE WORK: The Titans spent a considerable amount of time in the red zone on Sunday for the first time this camp, and the offense delivered some crisp plays.
It will be another point of emphasis for the Titans this year. The offense needs to improve on its 50 percent success rate (18-for-36) from 2012, and the defense wants to be stingier than the 63.8 percent rate (37-for-58) it allowed opponents.
"It's real good for us to have a crisp day, especially in the red zone," Kendall Wright said. "We weren't really good in the red zone last year so we've just got to keep working on the red zone. We've got to score touchdowns, so that's our goal, just to score and get points every time."
Wright made one of the most dazzling plays of the night and camp by diving toward the sideline for a speeding pass by Jake Locker. Wright got up with grass stains on his white jersey and pants, and the play carried over to the following snap when Locker connected with Nate Washington for a deep gain.
"It felt good. Coach tells us there's a time in a practice where we just need to play so I went out there and caught the ball," Wright said. "Jake made a great throw and it's my job as a receiver to catch everything Jake throws. We've got to make him look good. It keeps his confidence and makes him a better quarterback and helps him believe in us and trust us."
EXTRA DAY OF REST: The Titans scheduled Monday as a day off for players, and opted to elongate the rest period for Kenny Britt, Marc Mariani, Brian Schwenke, Rob Bironas and Ropati Pitoitua.
Mariani is making his return from a broken leg he suffered last preseason. He said he's happy with the progress so far but thinks the extra rest was good timing before the Titans return to the practice field at 6:30 p.m. Tuesday for another session that is free and open to the public. Click here for the list of players scheduled to sign autographs.
"I'm grinding. It's a lot of volume right now, with two-a-days, four or five days in a row," Mariani said. "It's been kind of a day-to-day grind for me as far as how far I can push this thing, and every day we keep pushing on is unchartered waters, I guess, things I haven't experienced yet in my recovery, but all in all I feel great and I'm there. I'm ready to get out there and make some plays. I feel great. My body feels good, and the leg's right there, so it's all good."
Munchak said at first he didn't like rules that established more days off for players during training camp, but said he thinks the way the Titans worked them into their schedule might benefit players and coaches.
"This is the fifth day of work, four days of practice, one day of a lot of meetings, so it's almost good to give them a day. Rest your legs. Rest your bodies," Munchak said. "It's probably good for the coaches too. Then when we come back, we can go five more days and then our Saturday deal at the stadium."