NASHVILLE, Tenn. – When Derrick Morgan reached the NFL in 2010 as a first-round pick of the Tennessee Titans, he thought he'd made it.
Then, four games into his rookie season, he suffered a torn ACL that left him wondering if his career might be over.
Today, Morgan is preparing for his ninth NFL season. He's played in 105 games, and has 383 tackles and 44 sacks to his name. He also has a wife and two children, and as he told campers at his football camp at Antioch Middle School over the weekend, he has God on his side.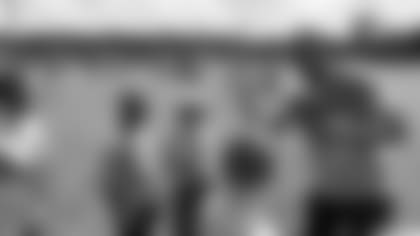 More than 125 campers in grades 6-12 attended Morgan's All Pro 2.0 Football and Tech Camp, presented by Bethel World Outreach Church. So did a bunch of Morgan's teammates.
Morgan was hands-on, working drills. He also talked to the kids about his experiences growing up, and where he is today with his career, and faith.
"It is all about having goals, and having a desire and determination to reach those goals," Morgan said. "But also hopefully having a foundation in God. I feel like this is my platform, this is my outreach. I just try and use every chance I get to speak about my relationship with God, and that's what it all boils down to.
"A lot of people out here are hurt, lost, and a lot of people have voids. … I just try and give people my testimony and my experience and hopefully they can take something from it. It's all about trying to help these kids be the best they can be."
Nearly a dozen of Morgan's teammates and coaches worked the camp, where former Titans receiver Chris Sanders also gave a motivational speech about his climb to the NFL.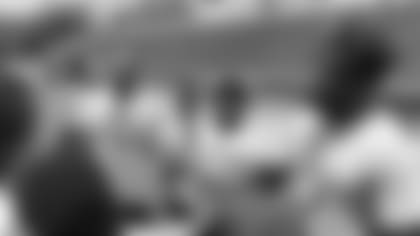 Titans tight end Delanie Walker, defensive lineman Jurrell Casey, linebacker Aaron Wallace, linebacker Jayon Brown, linebacker Josh Carraway, linebacker Nate Palmer, defensive lineman David King and safety Johnathan Cyprien were among those working drills. Titans running backs coach Tony Dews was also there, in the middle of the action.
In addition to work on the field, campers also got a look at technology behind the game. Activities included remote control drones, 360 Virtual Reality, Play Impossible (CES's last gadget standing) along with the full non-contact football camp.
Morgan has hosted a camp three years in a row in Nashville.
"It's just important to get out and get into the community, let the kids see your face, interact with you. And try and teach them something," Morgan said.
"I think the whole point of this is to get kids to have a better relationship with God. I think this is my outreach in a sense, to have an event like this that I put on with my church. We have fun going through football drills, teaching them a bit about technology. But at the end of the day, (faith) is the foundation of all of this. … Hopefully they had fun."