NASHVILLE, Tenn. — The Oilers traded down then up in the first round of the 1996 NFL Draft and wound up with a player they likely wouldn't have traded for anyone else.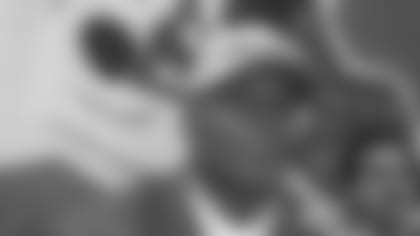 Eddie George addresses media after he was drafted by the Oilers with the 14th overall pick in 1996. George is the franchise's all-time leading rusher.
Before the team played its final season in Houston, the Oilers selected a player that became an icon that transcended the team's move to Tennessee and helped build the identity of the Titans when they chose running back Eddie George from the 14th overall spot.
The Oilers had been slated to pick ninth, but traded that spot to Oakland to receive the Raiders' first (17th overall), second (48th) and fourth (109th) round picks. That wasn't the end, however, as the Oilers traded that spot to Seattle along with DT Glenn Montgomery to move up to 14 and continue a chain of events.
Oakland selected George's former teammate at Ohio State, TE Rickey Dudley, and the Oilers picked G Jason Layman and T Jon Runyan with the picks they received from the Raiders. Seattle traded down again in the first round, going from 17 to 21 and getting a third-round pick after a deal with Detroit. The Lions selected LB Reggie Dwayne Brown, and the Seahawks picked T Pete Kendall at 21 and RB Reggie DeWayne Brown at 91.
George became the Titans/Oilers franchise leader in career rushing yards (10,009), yards from scrimmage (12,153), combined yards (12,153), touchdowns (74), attempts (2,733) and seasons with more than 1,000 yards rushing (seven).
George never missed a start (128 games in eight seasons with the franchise — the fifth most overall and second best for an offensive player in team history). He gained the second-best total for rushing yards by a rookie (1,368) in franchise history and ranks second with 36 games of at least 100 yards rushing. The team went 30-6 when George rushed for at least 100 yards.
George delivered his biggest single-game performance in the Oilers' debut game in Tennessee. He rushed for 216 yards, tying Billy Cannon's record from 1961 (Chris Johnson broke the mark with 228 in 2009), on 35 attempts and scored a touchdown in the Oilers' 24-21 overtime defeat of Oakland at the Liberty Bowl in Memphis. Two years later, this time during the team's first season as the Titans, George rushed for 199 yards and two touchdowns in a 21-14 win against Oakland.
Layman played in 61 games, and Runyan started 48 of 58 games in their four seasons with the Oilers and Titans. The later rounds of that year's draft also yielded players who made the roster multiple seasons.
Third-round pick Terry Killens played in 78 games in five seasons, fifth-rounder Rayna Stewart made five starts in 31 games in two seasons and later became an assistant coach of the Titans. Sixth-round DB Anthony Dorsett played 56 games in four seasons with the Oilers and Titans, and seventh-round RB Mike Archie played in 23 games in three seasons.
The chart below shows the players selected in the 1996 NFL Draft:
1a-pick traded to Oakland for first (17th overall), second (48th overall) and fourth (109th overall) round picks
1b-pick acquired from Seattle for first (17th overall) round pick and Oilers DT Glenn Montgomery
1c-pick acquired from Oakland and traded to Seattle
2b-pick acquired from Oakland
4b-pick acquired from Oakland