NASHVILLE, Tenn. — The 98th overall selection of the 1997 NFL Draft made the biggest mark of his class for the Titans/Oilers franchise.
Derrick Mason was selected in the fourth round but became a dependable wide receiver and dangerous return man. Mason worked hard through his first three seasons and emerged in his fourth year in the pros when he set an NFL record with 2,690 all-purpose yards in 2000 (Darren Sproles edged the record with 2,696 yards in 2011).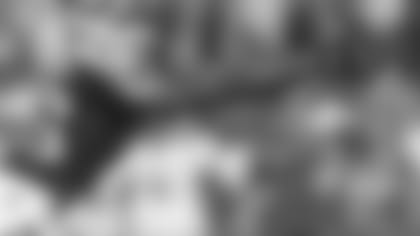 ](http://www.titansonline.com/media-center/photo-gallery/Revisiting-the-1997-NFL-Draft/5f9b0a98-6322-49ca-95cd-c14ef1af7b89)
The selection of Derrick Mason with the 98th overall pick in 1997 is proof that impact players are within reach in late rounds of the draft. Click here for a slideshow of the franchise's 1997 draft class.
Mason caught 63 passes for 895 yards, returned 51 punts 662 yards and 42 kickoffs 1,132 yards and gained one yard on one rush attempt that season and was selected All-Pro and to the Pro Bowl.
Four of the most prolific years by a receiver in franchise history followed, with Mason stacking together a franchise-record four straight 1,000-yard seasons. Mason recorded a career high 1,303 receiving yards on 95 catches in 2003 when he again made the Pro Bowl.
The Oilers obtained the 98th and 165th picks from Atlanta in a trade for QB Chris Chandler. The Oilers traded pick 165 to New Orleans along with pick 116 for the 107th spot where they selected Pratt Lyons. The Saints took WR Keith Poole at 116 and TE Nick Savoie at 165.
The 1997 draft also included trades with Kansas City and St. Louis. The Oilers traded down in the first round by sending the 13th and 110th spots to Kansas City in order to receive the 18th, 81st, 116th and 181st overall picks that year.
The Oilers tabbed DE **Kenny Holmes at the 18th spot**, T Scott Sanderson at 81, traded 116 and took LB Dennis Stallings at 181. Kansas City selected TE Tony Gonzalez with the 13th pick.
Holmes recorded seven sacks in his rookie campaign when he played in all 16 games and made five starts. He started 11 of 14 games in 1998 and seven of 14 games in 1999 when he had four sacks and two interceptions. Holmes started 13 of games in 2000 when he recorded eight sacks and forced fumbles in four consecutive games.
The Oilers also traded a sixth-round pick (179th overall) to St. Louis for DE Robert Young.
The Oilers used their other picks on WR Joey Kent in the second round, CB Denard Walker in the third round, DB George McCullough in the fifth and DB Armon Williams in the seventh. Walker started 56 of 61 regular season games in four seasons and made seven interceptions.
The chart below shows the players selected by the Oilers in the 1997 NFL Draft:
1a-pick traded to Kansas City with fourth round pick (110th) for first (18), third (81), fourth (116) and sixth (181) round picks
1b-pick acquired from Kansas City (see 1a)
3b-pick acquired from Kansas City (see 1a)
4a-pick acquired from Atlanta with sixth round pick (165) for QB Chris Chandler
4b-pick acquired from New Orleans for fourth (116) and sixth round picks (165)
4c-pick acquired from Kansas City (see 1a)
4d-pick traded to New Orleans with sixth round pick (165) for fourth round pick (107)
6a-pick acquired from Atlanta and traded to New Orleans with fourth round pick (116)
6b-pick traded to St. Louis for DE Robert Young
6c-pick acquired from Kansas City (see 1a)