NASHVILLE, Tenn. –** Justin Hunter (lacerated spleen) is the latest Titans player to land on injured reserve. With Hunter on the shelf, it's up to the rest of the receiving corps to pick up the slack.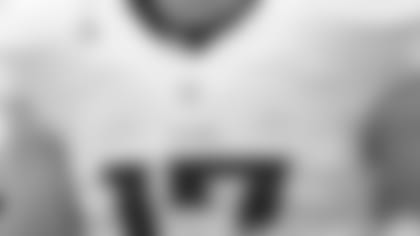 "I've been an advocate of being accountable," veteran receiver Nate Washington said. "Here's another opportunity.  It's unfortunate when you have a brother go down. The opportunity is there for me but also for Derek Hagan, Kris Durham and Kendall Wright."
Hunter leaves a void of 498 receiving yards and three touchdowns that ranked second among Titans wideouts. Washington will likely pick up a bulk of the slack as the 10-year pro has recently been heating up. In four of Tennessee's last five contest, Washington has gone for 60-plus yards and scored touchdowns in two of those games.
Kris Durham is another name to keep your eye on going forward. The Titans added Durham early in the season, but the veteran receiver has only been able to crack the active roster one time. That is all but guaranteed to change against the Giants on Sunday.
"I don't have any question he'll be ready to contribute," said head coach Ken Whisenhunt when asked about Durham's progression behind the scenes this season. "He knows the offense. He's done a good job with that. He's gotten a lot of reps in practice, he just hasn't played in the games. The one thing I don't worry about is that he is a veteran. He's got a lot of experience, so I would expect that it won't be too big for him. It shouldn't be too big of an adjustment."
Durham had the best season of his four-year career in 2013 with the Detroit Lions, logging 38 catches for 490 yards and two scores. This season he says has been all about patience.
"I just do what I'm supposed to do, keep my head down and grind," Durham said. "That's always been my mentality. I'm excited to get out there and show what I can do. It's been a while since I've gotten to play a little football so I'm definitely looking forward to it."
The former Georgia Bulldog was a fourth-round pick of the Seahawks in the 2011 NFL Draft. He and quarterback Zach Mettenberger's paths crossed at Georgia and again this season in Tennessee, making this a comfortable opportunity to step into.
"When I got to college, Zach's mom worked upstairs with the football office so I've known Miss Tammy and Zach since he was a freshman in high school," Durham said. "When he came to Georgia as a freshman we played together for two springs so we've had a connection for a while."
Hunter returned to Nashville Wednesday afternoon after spending three days in a Houston hospital. Washington said he spoke with Hunter every day since his injury against the Texans and that it's hard to see his teammate go down.
"This game is bigger than just football," he said. "Justin is a good man. He's a warm-hearted, good-spirited guy. He's depressed about the situation not being able to be out there with us, but in the same sense, he's still high spirited and healing up to get ready for next year."
Whisenhunt told reporters Wednesday he plans on having Hunter around for the rest of the season which is not always the case for guys on injured reserve. That includes travelling on road trips, something Washington couldn't be happier about.
"Justin is like a little brother to me," he said. "To have him with us is bigger than football. To have him around, to play cards, to joke and laugh at team meals - that comradery is beneficial. Having him be there to support us will be great."