**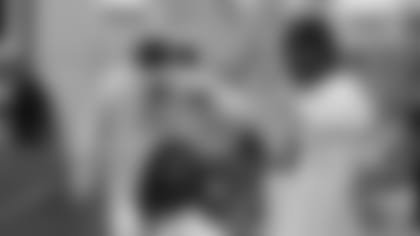 The Titans have emphasized the run game during practice this week, looking to increase their rushing production prior to the season opener at Pittsburgh.
NASHVILLE, Tenn. -** Three preseason games in, the Tennessee Titans' running game has been nearly invisible. Pro Bowl running back Chris Johnson is averaging an anemic 1.8 yards per carry, and LenDale White isn't much better.
Not that anyone here is worried. After all, it's just preseason, and Jeff Fisher's Titans know how to run the football.
"Somebody on the outside looking in, me and CJ, we have more than enough confidence in our offensive line and we know when we crank this thing up and we're running the ball and we're getting the opportunities to run the ball that everything's going to be OK,'' White said.
If history and recent success are any hint, the Titans do know what they're doing when it comes to running the ball.
The Titans rank seventh in the NFL since the start of Fisher's first full season in 1995 in yards rushing per game, averaging 121.3 and 4 yards per carry. Among the league's top 10 in rushing in that period, only Pittsburgh (7,248) and Denver (6,852) have run more successfully than Tennessee (6,764).
Tennessee has ranked fifth, fifth and seventh in rushing in each of the past three seasons. Johnson and White have set the goal of becoming only the fifth duo in NFL history to run for 1,000 yards apiece in 2009 after coming up just short in 2008. Johnson ran for 1,228 yards, while White gained 773.
Those kind of numbers have not come this preseason.
The Titans (2-1) are averaging 2.8 yards per carry, better than what Johnson has managed alone. The longest rush is from the backup punter on a fake punt, and Johnson, the only rookie voted to the Pro Bowl in 2008, has just 15 carries for 27 yards. Not that he's a big fan of the preseason anyway.
"It kind of teases you,'' Johnson said. "You go in there knowing a lot of times ... how many carries you're going to get or how many plays you're going to get off them. A couple plays, you want to make a play so bad at times you might take your eyes off your read or mess up.''
Opposing defenses seem to be focused on stopping Johnson whenever he's on the field, loading up at the line and blitzing to fill gaps. Cleveland (1-1) is the next team to try Saturday night.
But Tennessee also has been spreading the workload. Rookie Javon Ringer, an All-American at Michigan State, leads the team with 98 yards on 16 carries. Chris Henry, a second-round pick in 2007, also has had 16 carries as the Titans decide if it's worth keeping him.
Fisher isn't concerned. He's spent just a few hours planning for these exhibitions, and he said preseason is preseason.
"We've won two ballgames in the preseason, and we've got two more and we're going to continue to work through camp. There is always issues that you address throughout training camp. We have things specifically that we have to work on this week,'' he said.
The Titans also are working out the rhythm and kinks in their passing game after bringing in new wide receivers Nate Washington and Kenny Britt and tight end Jared Cook. They have thrown 13 times more than they've run so far.
"We know the running game is going to come along,'' Johnson said. "We're testing things out trying to see where our passing game is. Our passing game is coming along great right now. I'm really excited for our offense and what our offense can do this year.''
The main pieces of the running game returned intact with all five offensive line starters back. But All-Pro center Kevin Mawae has yet to practice as he recovers from a torn left triceps tendon, and the Titans haven't had starting right tackle David Stewart the past two exhibitions.
Pro Bowl left tackle Michael Roos said the Titans aren't resting on their past success and instead are making sure everyone is prepared if needed.
"We know we're capable,'' he said, "and obviously once we start game-planning more and looking at teams we're going against, I think we'll be fine.''