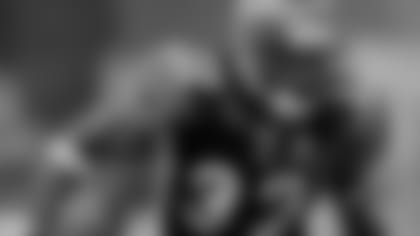 Bengals running back Cedric Benson returns to the lineup this week. He has rushed for 458 yards on 117 attempts and two TDs in 2011.
NASHVILLE, Tenn. — Tennessee's ability to stop the run early has been an informative metric for outcomes this season.
The Titans allowed 45 total yards rushing against Baltimore, 59 total yards against Denver, 84 total yards at Cleveland and contained Indianapolis to 69 yards rushing until the fourth quarter when quarterback Curtis Painter scrambled for about half of the Colts' 158 rushing yards.
Tennessee won all four of those games, but lost when giving up yards on the ground before halftime. The Titans surrendered 89 of 163 total rushing yards to Jacksonville, 114 of 174 rushing yards to Pittsburgh and 83 of 222 rushing yards to Houston in the first halves of those losses this season.
"You've got to stop the run," Titans defensive coordinator Jerry Gray said Thursday. "Anytime a team can run the football and pass, play-action pass is going to show up and then you've got to defend the whole field. That's really what no coordinator wants to do."
The winless Colts used a pass-first approach — throwing on their first eight plays — Sunday in a 27-10 Titans victory at LP Field. Cincinnati (5-2), however, prefers balance rush and pass attempts.
Cedric Benson has rushed 117 times for 458 yards (3.9 per carry) and two touchdowns. The Bengals have rushed 194 times this season and attempted 230 passes.
"You've got to dominate the run more than you've got to worry about the pass, so once you stop the run and get them one-dimensional, the game becomes easier," rookie defensive tackle Jurrell Casey said. "But if you let them keep on running up and down on you, and they've also got a passing game, it's tough to play like that. What we're doing is trying to shut down their run and make them pass the ball."
Rookie Andy Dalton has attempted 218 of Cincinnati's passes and completed 136 of those attempts (62.4 percent) for 1,479 yards. Dalton has thrown nine touchdowns and seven interceptions and has a passer rating of 82.7.
Tennessee players and coaches complemented the job that Dalton has done so far, but said they want to force him to beat them Sunday and increase the level of pressure against Dalton.
"They're a running team," rookie defensive tackle Karl Klug said. "They want to get the running game started and if we can win first down, and get them in predictable (situations), then we can rush the passer."
Klug and Jason Jones each sacked Colts quarterback Curtis Painter last week, and Tennessee defenders pressured Painter six times, knocked away 12 of his 49 pass attempts and intercepted him twice. Klug's team-leading third sack of the season put Indianapolis in a fourth-and-19 from its own seven-yard-line and immediately preceded Patrick Bailey blocking a Pat McAfee punt that Titans cornerback Jason McCourty recovered in the end zone for his first career touchdown.
"It feels great, but that's just a credit to the defensive backs," Klug said of his sack. "I think everyone feeds off the defense, I guess. When you can get an opposing offense to go three-and-out, that kind of rallies the whole team."
Gray said Klug and Jones are capable of doing great things in one-on-one situations, especially with matchups against interior offensive linemen. More of the same would be fine with Klug and Jones, who has split plays this season at defensive end and moved inside during expected pass situations.
"Coach Gray and (defensive line) Coach (Tracy) Rocker preach about that: Whoever is one-on-one has to win it," Klug said. "Anytime you do get a one-on-one, it's definitely a lot better when you have a center or a guard on you."