**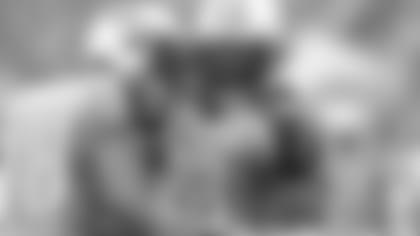 Chris Johnson (28) and Kenny Britt (18) have led the Titans to the league's second-best scoring output through seven weeks of the 2010 season.
NASHVILLE, Tenn. -** Vince Young has missed most of two games with a sprained left knee and ankle, yet the Titans keep scoring. Backup quarterback Kerry Collins has a torn tendon in a finger on his throwing hand.
And the Titans keep scoring.
Tennessee now ranks second in the NFL, averaging 28.4 points per game. The Titans improved to 5-2 with their third straight win by scoring a franchise-record 27 points in the fourth quarter to beat Philadelphia 37-19 on Sunday. Now even the defense is getting into the act as cornerback Cortland Finnegan polished off the win running back an interception for a touchdown.
The latest win has the Titans alone atop the AFC South for now with Indianapolis and Houston, both 4-2, coming off bye weeks.
And they're sounding greedy. Coach Jeff Fisher said he's almost disappointed in the production because he wants more.
"I think we can play better in all three areas,'' Fisher said Monday.
The Titans have won four of their games scoring at least 30 points and put up 29 in another win at the Giants. Mix that with the defense limiting opponents to 16.7 points per game - third stingiest in the NFL - and it keeps adding up to big wins for a team that feels like it still has plenty of room for improvement.
"We're just coming into our own now,'' fullback Ahmard Hall said after the latest win. "Hopefully, we can keep it going week in and week out.''
Whether the Titans have Young back Sunday when they visit San Diego (2-5) remains to be seen. Fisher said he's optimistic Young could play even as the quarterback remains day to day. Tennessee has its bye Nov. 7, so Young would have three full weeks to recover before preparing to visit Miami on Nov. 14.
"Vince is most effective when he has his legs underneath him, not just as a runner, but as a passer,'' Fisher said. "To be able to throw with accuracy, it's all about your feet. That was a concern of ours going into the ballgame, and it will be a concern on a daily basis.''
Not that the Titans missed a beat with Young watching from the sideline. Collins wrapped up the 30-3 win Oct. 18 at Jacksonville, and Fisher confirmed Monday the 16-year veteran needed the middle finger on his right, throwing hand drained because of a torn flexor tendon. Collins will need treatment but not surgery.
"He was just not going to miss any time,'' Fisher said of Collins. "That's just the way he's always been, but you can imagine it's difficult to handle that ball.''
That might be why Collins was intercepted twice and lost the ball when hit by the Eagles. Collins was 6 of 14 for 62 yards in the first half and finished 17 of 31 for 276 with 225 yards going to Kenny Britt.
The second-year receiver tied his career high with seven catches and also scored a career-best three touchdowns on a day he came off the bench in the second quarter as punishment for his role in a bar fight Friday morning. More punishment may be coming because Fisher said he continues to collect information and the NFL also is looking into the incident.
An attorney representing the man who says Britt struck him several times did not return a telephone message left by The Associated Press on Monday but told The Tennessean police may have enough for an arrest warrant after interviewing Harold Pointer, 26, again over the weekend.
Fisher said he hopes the situation is resolved soon.
"There is always the potential for the league to impose disciplinary action, but I think we have a responsibility as an organization too, in the event that these things happen,'' Fisher said.
For now, Britt ranks second among the AFC's top scorers with seven touchdowns and a two-point conversion. Chris Johnson, the focus of so many defenses, is tied for third with seven TDs of his own. Kicker Rob Bironas is tied for the NFL lead in scoring among kickers with 63 points off 21 extra points and 14 field goals.
"Basically, we want to go out here and make plays,'' Johnson said. "We want to end the game. We always don't want to put it on our defense. The kind of defense we've got, if we're able to keep putting up the points like this, we'll be pretty hard to beat.''