NASHVILLE – Mike Vrabel's golf game at the American Century Championship last year at Lake Tahoe was a lot like his football team in 2019.
The Titans head coach started off slow, but he finished strong.
Vrabel hopes to do even better when he plays in the annual celebrity golf tournament again this summer.
"I was nervous as hell," Vrabel, speaking on a conference call on Tuesday, said of last year's event. "(But my game) kept getting better as it went along."
Once again, Vrabel will be among a star-studded group at the tournament.
Stephen Curry, Aaron Rodgers, two-time defending champion Tony Romo, Charles Barkley, Larry Fitzgerald, Ray Romano, Roger Clemens, Jerry Rice, and 10-plus active NFL players/coaches and 15 other Hall of Famers are also in the field for the tournament, which is scheduled for July 8-10 at Lake Tahoe.
On Tuesday, Vrabel joined Major League Baseball Hall of Famer John Smoltz and Pro Football Hall of Famer/Heisman Trophy winner Tim Brown on a conference call to discuss golf, and some football.
Known for its rowdy crowds, this year's event at Lake Tahoe will be played without fans and under social-distancing and health/safety guidelines, the tournament said.
Vrabel shots rounds of 92-86-82 in his tournament debut last year, and he finished in 50th place among 90-plus competitors a year ago.
Vrabel parred five holes but had eight double-bogies in his first round a year ago. On Day 2, Vrabel shaved six strokes off his score with a birdie and four pars, and only two double bogies. Vrabel saved his best round for last when he tallied three birdies and four pars on the final day, part of his tournament best score of 82. He made a two on the par 3, 17th hole.
"I'm going to miss the (fans) and the families (on the course)," said Vrabel, whose thoughts heading into last year's tournament were "to have a good time, with low expectations."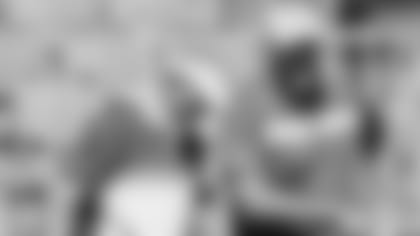 Vrabel said he's enjoying his getaway before the Titans kick off training camp late in July.
On Tuesday, he was in Atlanta to watch his youngest son, Carter, play in a baseball tournament. Vrabel's oldest son, Tyler, returned to Boston College, where he plays football, last week. Carter, who attended Father Ryan High School, is headed to Wabash Valley College in the fall to play baseball.
"It will be watching baseball, to get in as much baseball for Carter as I can before I go to camp and he goes off to college," Vrabel said. "This is a good time for all of our coaches who put a lot into the offseason in the Zoom meetings to unwind for this season that we hope and are confident will happen."
Vrabel said he's looking forward to the 2020 season.
Coming off a season when the Titans advanced to the AFC Championship Game, however, he knows it comes with no guarantees.
"Every year is a new year -- that's what I learned in the National Football League as a player, and a coach," Vrabel said. "Everybody starts back over. There's free agency, and you add players and you lose players. There's the draft, and player acquisitions.
"I would say that we had as good a virtual offseason as I could have expected. … I am somewhat happy that we aren't a new staff. This staff has been together, the players, the nucleus has been on it going on three years, and I am hopeful when it is safe to go back out there that we will be able to pick up where we left off and continue to try and build a football team."