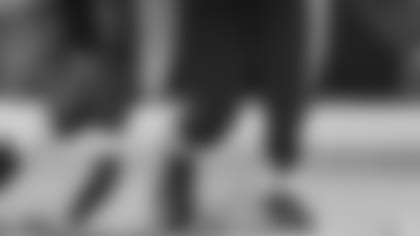 The Titans began their day on defense by selecting North Carolina LB Zach Brown with their second-round pick.
NASHVILLE, Tenn. --
The Tennessee Titans need plenty of help on defense, and they started trying to fill some of their needs on the second day of the NFL draft by selecting speedy North Carolina linebacker Zach Brown and Michigan tackle Mike Martin.
The Titans need to improve a pass rush that ranked next to last in the NFL last season with only 28 sacks. They drafted receiver Kendall Wright in the first round, then used their second and third round picks on Friday to address the defense.
They went for a linebacker in the second round for a second straight year with Brown and then grabbed Martin, someone Titans pass rush specialist Keith Millard compared to old teammate, Hall of Fame lineman John Randle.
With four picks left on Saturday, general manager Ruston Webster said he feels they had a productive day.
"Zach Brown's probably as talented a football player as you can find,'' Webster said. "Big, fast, very athletic, and then Mike Martin is what you want in a nose tackle. I mean he is tough as nails. He's a grinder, doesn't mind doing the dirty work and brings the kind of mentality we want on our defense. So feel good about both picks and looking forward to seeing them when they get in here.''
The Titans can only hope that Brown contributes immediately, following in the footsteps of Akeem Ayers - who started all 16 games as a rookie in 2011.
But Brown's not the defensive end many thought the Titans would select very early in the draft. The Titans, however, also had the 82nd pick overall in the third round among the seven total selections they have in this draft. The Titans also have a handful of players at linebacker, but coach Mike Munchak said three play heavily on special teams while Brown brings something different with his speed.
"We got a guy we think is versatile, that can play the weakside backer,'' coach Mike Munchak said. "We like to bring that linebacker, he's someone who has good rush skills, having five sacks this year as an outside linebacker that's something we really haven't had from that position. The fact that he can cover and run with the people that we have to cover in our division ... there's a lot of things he offers.''
The 6-foot-1, 242-pound Brown set the North Carolina record with a 6.72-second time in the 60 meters as a member of the Tar Heels track team in 2009. He was timed at 4.44 in the 40-yard dash at the NFL Combine in February and was even faster at his pro day (4.37 seconds in the 40).
Brown had seven career interceptions at North Carolina, and he had his best season as a senior. Brown had 105 tackles with one fumble recovery, three forced fumbles and 13.5 tackles for loss to go along with 5.5 sacks.
The Titans wound up with two rookies starting at linebacker by the end of last season when fourth-round pick Colin McCarthy replaced veteran Barrett Ruud and started the last seven games. Gray said Brown's speed will let him play in space while also rushing the quarterback, and the coordinator isn't worried about being too young at linebacker if the rookie winds up pushing past veterans Will Witherspoon and Gerald McRath to earn the starting job.
"He's going to be competing and the best guy's going to get the job,'' Gray said.
Linebackers coach Frank Bush said Brown is a big, fast athlete eager to learn one position.
"One thing I can't coach is speed, and he's got it,'' said Bush, who added that he's heard talk about Brown not being a physical linebacker.
"We are just going to have to see now,'' Bush said on a conference call. "Everybody that said that's the knock, they are going to find out when the season comes.''
The Titans also had two rookies play heavily at defensive tackle in 2011 in third-round pick Jurrell Casey and Karl Klug, a fifth-rounder.
Martin is another former high school wrestler who had 10 career sacks at Michigan along with 25 tackles for loss. Munchak said Martin is the kind of player centers and guards do not like to play against because he's such a nuisance to block and can make offensive linemen look bad if they don't play hard.
But Martin, who played 49 games in four years at Michigan, is 6-foot-1, 306 pounds. Webster said that size is no problem playing inside at the nose tackle, and Millard said Martin resembles Randle for his tenacity and passion: "He's the total package.''