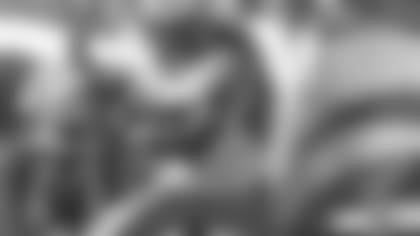 A meeting between Titans RB Chris Johnson and club officials Tuesday was described as "beneficial" by Titans GM Mike Reinfeldt.
NASHVILLE, Tenn. -Tennessee general manager Mike Reinfeldt said Wednesday's meeting with Chris Johnson was beneficial even though no deal was reached to end the running back's holdout.
The GM expects to talk with the running back's agent again in the "next day or so.''
Reinfeldt and Vin Marino, the Titans' vice president of football administration, met Wednesday morning with Johnson and his agent Joel Segal. Reinfeldt said in a statement he felt it was important for them to meet face to face.
"I'm not sure there was any progress made, but I do think it was beneficial to meet. We were able to discuss several different elements of a potential contract, but there was no agreement on those topics,'' Reinfeldt said. "I do expect to have another conversation with Joel in the next day or so to discuss things further.''
Neither Johnson nor his agent immediately responded to messages from The Associated Press.
The Titans and Johnson have been far apart on an extension, even though Tennessee officials have said they are ready to make the three-time Pro Bowler the highest paid running back in NFL history. Segal was the first person Tennessee called when the lockout ended.
Johnson has said he will not report until he gets a new deal even with two years' left on his contract and missed all of the Titans' camp, which wrapped Monday. The running back leads the NFL in yards rushing over the past three seasons and has said he wants at least $30 million in guaranteed money. Each time a free-agent has signed a high-priced contract since the end of the NFL lockout only seems to bolster his pay demands.
"CJ's the best back in the game,'' fullback Ahmard Hall said. "He makes everybody's job that much more easier. You go out there, you just have to get in front of your guy, get a good connection with your guy, and he's gone. Everybody's seen it around the nation.''
Coach Mike Munchak said the fact Johnson came to town is a good sign that they're at least headed in the right direction.
"I know he wants to get this thing resolved,'' Munchak said. "I know he wants to play this year. I don't think he wants to take the chance of missing games early so you hope his thinking is the same as ours.''
Asked about the money Johnson reportedly wants, Munchak said the numbers involved in contracts today shock him. But he said that's why players went on strike in 1987 to get free agency.
"''CJ, I'm sure he's trying to get what he thinks he deserves ... Hopefully, it'll get worked out real soon,'' Munchak said.
The Titans open the season Sept. 11 at Jacksonville, and Munchak said when a deal is done could limit Johnson's workload. If the stalemate threatens to continue into the season, the Titans likely will need to add a veteran running back.
Javon Ringer has shown flashes backing up Johnson the past two seasons as a fifth-round pick in 2009, but the All-American out of Michigan State has only 59 carries for 287 yards and two touchdowns. He also missed the past week with a bruised hip.
Rookie Jamie Harper has looked very good this preseason, especially last weekend when he started at St. Louis. The fourth-round pick out of Clemson currently leads the team with 110 yards rushing on 19 carries with two touchdowns.