**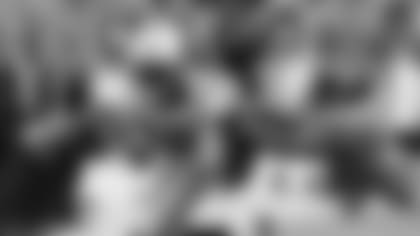 Wide receiver Nate Washington set season highs in receptions (7) and receiving yards (66).

TWO ROOKIE DBs START:Two rookies received their first career starts in the defensive backfield for the Titans. CornerbackJason McCourty, a sixth-round draft pick, was in the lineup to replace injured starter Cortland Finnegan (hamstring), and third-rounderRyan Mouton** started as the nickel defensive back when the Jaguars opened in a three-receiver package against the Titans.
LONGEST SCORING DRIVE OF SEASON: The Titans got on the scoreboard in the first half after completing their most time-consuming scoring drive of the season through four games. They went 78 yards on 14 plays on a drive that took seven minutes and 23 seconds. It also was the highest number of plays during a Titans scoring drive in 2009. Rob Bironas nailed a 29-yard field goal to end the effort.
HAYES NOTCHES SACK: Second-year defensive end William Hayes helped the Titans avoid a late first-half field goal by the Jaguars with an 11-yard sack of David Garrard. The sack was Hayes? first solo sack of the season, giving him 2.5 for his career.
COOK?S FIRST CATCH: Titans rookie tight end Jared Cook caught his first NFL pass in the third quarter, a five-yard reception from Kerry Collins.
COLLINS MOVING UP PASSING LISTS: With a five-yard completion to Bo Scaife in the third quarter, quarterback Kerry Collins moved into ninth place on the franchise?s all-time passing list, passing Cody Carlson (4,469). Later, a 14-yard pass to Nate Washington pushed Collins past Dave Krieg (38,147) for 12th place on the NFL?s all-time passing yards list.
COLLINS SEASON-HIGH IN PASSING: Kerry Collins threw for a season-high 284 yards. His previous high was 244 yards passing in the season opener at Pittsburgh.
COLLINS FINDS PAYDIRT: Kerry Collins scored his first rushing touchdown since the 2005 season when he ran for a 10-yard TD in the fourth quarter. It was the 10th rushing touchdown of Collins? career.
CAREER DAY FOR BRITT: Rookie wide receiver Kenny Britt notched his first career 100-yard receiving game, catching a career-high seven passes for 105 yards. Britt?s previous career highs included four receptions (twice) and 85 yards receiving.
WASHINGTON SETS HIGHS AS A TITAN: Wide receiver Nate Washington caught seven passes for 66 yards, both highs as a Titan, and scored his third touchdown in as many games, hauling in a 14-yard scoring pass from Kerry Collins in the third quarter.