**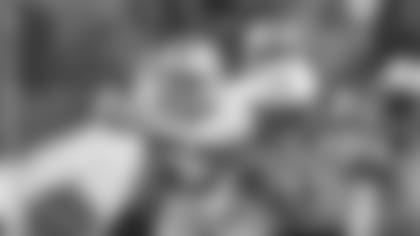 The Titans open the 2010 season on Sunday, Sept. 12 at home against the Oakland  Raiders.*
NASHVILLE, TENN. –** The Tennessee Titans will play at least two primetime games this season, as they will host the Indianapolis Colts on Thursday Night Football on December 9th and visit the Jacksonville Jaguars on Monday Night Football on October 18th. Tennessee will open its regular season on Sunday, September 12th against Oakland.
"It is always a privilege to open the season at home and we will be facing a much-improved Oakland team," said Titans head coach Jeff Fisher. (WATCH VIDEO)
"The middle part of the schedule with four of five games on the road will certainly be a challenge, but historically we have fared well on the road. With five of our last six games against division opponents, reaching our goal of winning the division will be determined during this stretch to end the year. The bye comes at an ideal time with long road trips before and after."
The Titans schedule features home games against Denver, Oakland, Pittsburgh, Philadelphia, Washington, Houston, Indianapolis and Jacksonville. Tennessee will travel to Dallas, Kansas City, Miami, the New York Giants, San Diego, Houston, Indianapolis and Jacksonville.
Preseason games also were finalized today and the Titans will begin the preseason at Seattle on Saturday, August 14th.
Again this year, the NFL will feature "flexible scheduling" for the Sunday night game in Weeks 11-17. Teams will be given two weeks notice if a game is moving from an afternoon game to a night contest.
Single-game tickets for the 2010 season will go on sale in July.
The Titans 2010 schedule contains several interesting stories:
· The schedule features five total games against four playoff teams: Indianapolis (twice), Dallas, Philadelphia and San Diego
· The Titans will play the New York Giants in the new Meadowlands Stadium on September 26th.
· The Titans will make their first regular season trip to Dallas since 2002 and first regular season game in Cowboys Stadium.
· The Eagles and Redskins will make their first appearances in Nashville since 2002.
· Five of the final six games are against division opponents.
· The Titans carry a nine game winning streak against the NFC into the 2010 season.
· The Titans regular season finale will be at Indianapolis for the third time in four years.
· This will be the latest bye week for the Titans since the 2005 season.
· The Titans and Raiders have become familiar opponents as they face-off for the ninth time (regular season and post season) over the last 12 years.
San Diego and Tennessee will face each other for the fifth consecutive season, dating back to 2006.