**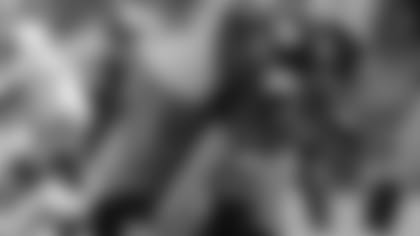 Linebacker Will Witherspoon sacks Steelers QB Dennis Dixon in the first quarter.
NASHVILLE, Tenn. --** Pittsburgh coach Mike Tomlin isn't sure who's going to play quarterback next for his Steelers. The way his defense is playing, it might not matter.
Antonio Brown scored on an 89-yard kickoff return to open the game, and the Pittsburgh Steelers forced seven turnovers in defeating the Tennessee Titans 19-11 Sunday.
This is the team that won't get Ben Roethlisberger back from suspension for two more games. Left tackle Max Starks is injured, Byron Leftwich was cut to add depth on the defensive line and Dennis Dixon even hurt his left knee early and didn't return. Tomlin said needs Dixon to undergo some tests.
''I know it won't be me,'' Tomlin said of his starter at Tampa Bay. ''I'm not good enough.''
Charlie Batch replaced Dixon, and Pittsburgh (2-0) was outgained 238-127 on offense. But the Steelers swarmed the Titans (1-1) to come up with four sacks and force the most turnovers by Tennessee since 2000. Jeff Reed kicked four field goals off those turnovers.
The Titans even tried pulling Vince Young after his third turnover. Kerry Collins was intercepted to end his first series and had a fumble himself but nearly rallied the Titans anyway.
''We've been playing pretty good,'' Steelers safety Troy Polamalu said. ''There are some mistakes we've got to learn from. They were in the game still even with all the turnovers they had, so we still have to get better.''
Titans coach Jeff Fisher said he was looking for a spark and promised Young will start against the New York Giants next week.
''That defense has created some very difficult opportunities for a number of quarterbacks in this league year after year after year, even the most veteran quarterbacks,'' Fisher said. ''This is his first opportunity against them. He'll get more opportunities against this defense, I'm sure.''
Polamalu helped eat up the clock by leaping over the line and tackling Collins for a loss on first-and-goal. Collins did toss a 2-yard touchdown pass to Nate Washington two plays later, and he found Kenny Britt for the 2-point conversion to pull within 19-11 with 58 seconds left.
After Colin Allred recovered the onside kick for the Titans, Bryant McFadden broke up Collins' pass to Washington in the end zone with 13 seconds left. After two straight false starts by the Titans, Collins tossed a short pass to Chris Johnson, who was tackled by Lawrence Timmons to seal the victory.
''Our guys stayed together,'' receiver Hines Ward said. ''We had a fourth-string quarterback out there playing. We were interchanging with our offensive line who were cramping up. We still find a way to win ballgames. We know we've got to get better offensively, but it's great to be 2-0.''
Pittsburgh snapped Johnson's 100-yard rushing streak at 12 straight. The NFL's rushing champ had a chance to move a game away from the league record of 14 held by Barry Sanders, but he finished with just 16 carries for 34 yards. An 85-yard touchdown was wiped away by a holding penalty.
The Steelers did all this without injured nose tackle Casey Hampton. James Harrison had three sacks, forced a fumble and recovered another.
The Steelers intercepted Young twice, sacked him twice and caused him to fumble once. Young was slammed to the ground awkwardly by Harrison, and Collins came in on the next series to loud cheers from the crowd.
Pittsburgh led 7-3 with the Titans threatening to take the lead when Polamalu picked off Young in the end zone. LaMarr Woodley ended another drive with an interception at the Steelers 37. Timmons stripped Johnson of the ball just before halftime, and Harrison recovered to set up another field goal from Reed for a 13-3 halftime lead.
The turnovers helped the Steelers hold the ball for more than 33 minutes to wear out Tennessee despite wearing their black jerseys with the temperature at kickoff at 87 degrees - the hottest ever in the 90 games played at LP Field.
Ward said he thought all the Steelers had fluids intravenously before the game and at halftime.
''They put us in the black jersey thinking that was going to be a mental edge. For us, we fought through it,'' he said.
Tennessee came in having won nine of 11 dating to last season. The Titans came up with four sacks and a turnover of their own. It just wasn't enough to overcome an offense that couldn't hold onto the ball. Tennessee had its most turnovers since also committing seven against Cleveland 10 years ago.
''The turnovers are what killed us, and even with all the turnovers, the defense still had our back, and played well for us and gave us a chance to win,'' tight end Bo Scaife said.
Brown was the Steelers receiver who imitated Johnson in practice all week, and the rookie showed he could do more than just provide a good look. He took a handoff from Mewelde Moore on a reverse and went to his right untouched on his kickoff return for the 7-0 lead to stun the sold-out crowd.
Then Stevenson Sylvester stripped Titans rookie Marc Mariani of the ball after a 33-yard return.
NOTES: Pittsburgh now is 14-3 in September against the Titans since 1970. ... It was Polamalu's 22nd interception of his career. He also had one last week. ... The Steelers hadn't won in Nashville since Nov. 25, 2001. ... The Steelers came into this game with an NFL-least 825 points allowed since the start of the 2007 season. ... Johnson has yet to reach 100 yards rushing in three games against Pittsburgh. Johnson had averaged 145.6 yards in his previous seven home games.