The Titans made the most of an opportunity to end the first half but were unable to do so in the second and fell 20-13 to the Seahawks Sunday at CenturyLink Field.
It marked the second loss in as many weeks after which the Titans (3-3) lamented a handful of plays they didn't make that could have won the game.
"We can't keep getting in the same situations. I thought our defense played well," Titans coach Mike Munchak said. "Our defense kept us in the game, throughout the game. They did a nice job up here against a good offense. Our offense only scored six points. We had two turnovers and that's not good enough."
Tennessee took a 10-7 halftime lead on Seattle with a 77-yard fumble recovery returned by Jason McCourty for a touchdown on the final play of the first half.
"It was big. It gave us seven points going into the half," McCourty said. "We talked about just coming out in the second half and playing our game, taking advantage of it, trying to score points on offense, our defense continues to get off the field. We just didn't do a good enough job of that."
McCourty forced and recovered the fumble by Chris Maragos, who bobbled the snap of a field goal attempt and tried to scramble. Maragos was filling in for punter/holder Jon Ryan, who was going to attempt the kick in place of Steven Hauschka, who had been injured earlier in the second quarter when trying to tackle Darius Reynaud on a 40-yard kickoff return.
As Michael Griffin was tackling Maragos, McCourty came up and stripped the ball away. He fielded it cleanly, received a key block from Bernard Pollard and picked up a convoy of Titans the rest of the way.
"When I saw Griff' making the tackle, it was already fourth down, so the ball was going to be ours at the end of the half," McCourty said. "So I was just trying to get the ball out. Once the ball was on the ground, you try to get seven points out of it."
After the Seahawks (5-1) tied the game in the third quarter, the Titans had another opportunity for a scoop and score early in the fourth quarter. Moise Fokou forced a fumble on a 6-yard loss by Marshawn Lynch. Zach Brown tried to pick up the ball, but it eluded his red gloves and bounced directly to Seahawks QB Russell Wilson at the Tennessee 11-yard line. Wilson was sacked by Ropati Pitoitua for a 4-yard loss on the next play but managed a 29-yard field goal by Steven Hauschka for a 13-10 lead.
Tennessee QB Ryan Fitzpatrick, who started the second week in a row in place of injured Jake Locker, threw his second interception of the game on the Titans' next play. Fitzpatrick tried to hit Nate Washington on a deep ball against Richard Sherman, but Sherman picked off the pass at the Seattle 41-yard line. Fitzpatrick finished 17-of-29 passing for 171 yards with no touchdowns and a passer rating of 46.8.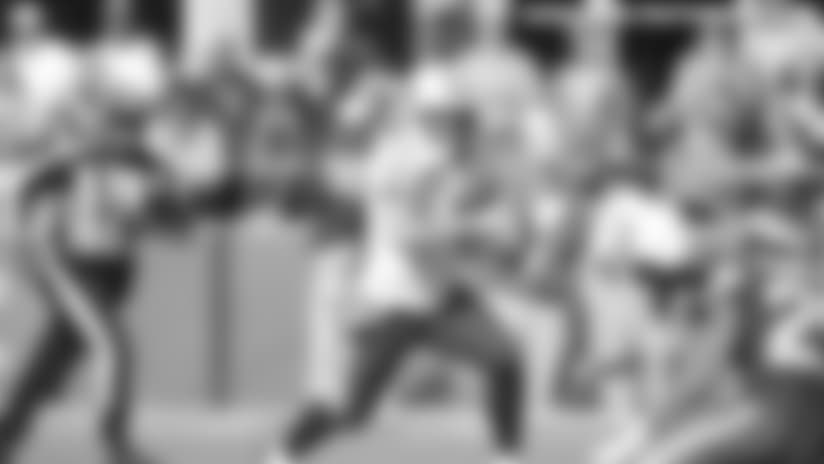 ](http://www.titansonline.com/media-center/photo-gallery/Week-6-Titans-at-Seahawks/ccf5d8f1-5082-48e9-b92c-f8d0d0a5d260)
Ryan Fitzpatrick scrambles during Tennessee's 20-13 loss at Seattle. Click here for the slideshow from the game.
"They're a good defense but I think if you look at the game, we couldn't get into a rhythm on offense and a lot of that is me," Fitzpatrick said. "I didn't play well today, really for the last two weeks, played poorly and we haven't won a game, it's hard for me to come in and I feel like the momentum has kind of gone into a halt the last two games and the way that we played on offense because the defense is still playing great and making plays out there and I'm not doing enough out there to consistently move the ball for the offense."
The Seahawks built a 20-10 lead seven plays later when Lynch scored his second short touchdown run. That drive included a completion by Wilson to Lynch for a gain of 10 on third-and-four and an 18-yard pass where Sidney Rice artfully landed with both feet in bounds along the sideline.
The Titans got the ball back with 7:33 remaining and answered with a 14-play, 69-yard drive that ended with a 25-yard field goal by Rob Bironas with 2:18 remaining.
Tennessee opted to kick the ball deep rather than attempt an onside kick, and Jermaine Kearse returned the ensuing kickoff 40 yards. The Seahawks were able to run out the clock, assisted by a 5-yard offside penalty against rookie Lavar Edwards that awarded a first down before Seattle attempted a third-and-4 play.
Seattle finished with 404 net yards, compared to 223 by Tennessee and held the ball for 33:22, including more than 19 minutes of the second half.
Chris Johnson finished with 33 yards on 12 carries, and Fitzpatrick added 33 yards on six scramble plays for the Titans. The Seahawks benefited from more balance on offense, getting 151 yards rushing (77 on 21 carries by Lynch and 61 on 10 attempts by Wilson). Wilson finished 23-of-31 passing for 257 yards, doing most of the damage on a throw across the field to Lynch that gained 55 yards on the first play of the fourth quarter.
Tennessee missed an opportunity to build on its 10-7 lead early in the third quarter when Fokou forced a fumble by Rice after a 13-yard completion. Griffin recovered the ball at the Tennessee 46-yard line, and the Titans were awarded possession at the Seattle 39 after a personal foul penalty was assessed to Michael Bowie.
A pair of incompletions sandwiched a 2-yard gain by Johnson, however, and the Titans were forced to punt.
"That was big; you have to be able to take advantage," Fitzpatrick said. "That would have been a big momentum changer right there. The fact that the defense got the ball back for us and we were in good field position. To have a three-and-out there and have to punt is not a good thing."
Seattle then mounted a 12-play, 75-yard drive that consumed more than six minutes and ended with a 31-yard field goal by Hauschka, who returned in the third quarter and played the rest of the game.
Tennessee appeared to be mounting an answer with gains of 8, 4 and 5 by Johnson, but a holding penalty pushed the Titans backward. Fitzpatrick completed a 14-yard pass to Johnson to set up third-and-1, but he had the wind knocked out of him on the play. An injury to bruising back Jackie Battle made him unavailable on the short-yardage play for the Titans, who were already without Shonn Greene because of a knee injury suffered in the season opener. Tennessee handed to Reynaud, but he was stuffed for no gain, and the Titans opted to punt on fourth-and-1 on the final play of the third quarter.
Kendall Wright led the Titans with five catches for 69 yards, including a 32-yarder in the first quarter that helped set up a 38-yard field goal by Bironas.